It's trick-or-treat time in the Tanner house.
Netflix has just released a spooktacular new teaser for the second season of "Fuller House" that features Tanner sisters D.J. (Candace Cameron Bure) and Stephanie (Jodie Sweetin) carving pumpkins for Halloween.
D.J.'s best friend Kimmy Gibbler (Andrea Barber) bursts upon the sisters with a "Boo!" and the three housemates share a bit of BFF banter.
"Nice costume," sassy Stephanie quips at Kimmy.
"Costume? I'm not wearing a costume," Kimmy replies.
The best part? Flustered Kimmy gets to try out Stephanie's classic "How rude!" catchphrase for herself.
RELATED: Have mercy! New 'Fuller House' photos show Tanners spreading holiday cheer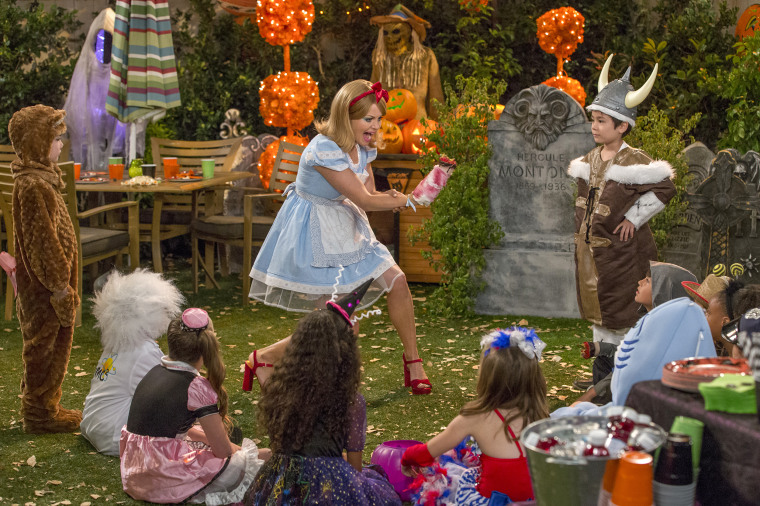 The popular Netflix reboot finds the three women living together in the Tanner house after the death of D.J.'s firefighter husband.
Just as Uncle Joey (Dave Coulier) and Uncle Jesse (John Stamos) helped single dad Danny Tanner (Bob Saget) raise his girls in the "Full House" original run, which ran from 1987 to 1995, this time around Kimmy and Stephanie help widowed D.J. raise her three children.
The whole cast is back again for Season 2 — except for Mary-Kate and Ashley Olsen, who played the youngest Tanner tot, Michelle. These days the twins are busy running their own fashion empire, and have declined to join the reboot.
RELATED: 'Fuller House' cast celebrates Dave Coulier's birthday — see the photos
Season 2 of "Fuller House" hits Netflix on Dec. 9.