/ Source: msnbc.com contributor
Note to Hilary Swank: We dig your performance in "Million Dollar Baby" and think you have a great shot at best actress.
However, we are bored of your speeches.
It's great that you feel others deserve recognition for your success. But you're eerily calm and regurgitating previous speeches. Surely Clint Eastwood must tire of you saying he gave "the performance of his career" and your hubby Chad must just nod knowing he will once again be called your "everything."
This was also the case five years ago, when your Oscar speech was nearly a carbon copy of your Golden Globes speech (with the exception of forgetting to thank Chad). This is a major offense in award-accepting. Only Renee Zellweger, who inserts new directors & actors but gives the same speech verbatim every year from a shopping list she carefully extracts from her purse, does worse.
Acceptance speeches don't have to be boring. They can be brief (Joe Pesci's: "It was my privilege. Thank you."). They can be controversial (Michael Moore's "Shame on you, Mr. Bush!" tirade in 2003). They can even inspire another film, as Tom Hanks did in 1994 when he may or may not have outed his gay drama teacher after winning for "Philadelphia." (The film allegedly born? "In & Out.")
It's time to reach into improvisational mind of an actor and change it up.  Shed a tear. Do a little jig. Use a thesaurus. (And while you're at it, thank your husband first.)
Here are some lessons we've learned:
Get rid of the laundry list
Despite the begging of Oscar producers, winners feel the humble need to acknowledge anyone's contributions to their great performance (including, strangely, their lawyers). But how many times can you hear the name Harvey Weinstein in one evening?
"Titanic" producer Jon Landau made the biggest mess of this when he read 45 names after winning best picture in 1998. His non-stop prattling made telecast producer Gil Cates "want to blow my brains out."
One way to get around this is to limit your names. 1997's best actress Frances McDormand ("Fargo") glossed over the studio honchos, cast and crew by saying "You know who you are" and focusing her thank-you's on just three people: The Coen brothers (one of whom, Joel, is her husband) and son. Russell Crowe spent nearly all his thanks on "one bloke," "Gladiator" director Ridley Scott, in his 2001 best actor speech.
Another tactic is to lump people in groups. Thank "everyone involved with the movie," your hometown, your home country. Even better: as more than one winner (Maureen Stapleton, Kim Basinger, Julia Roberts) has done, thank "everybody I've ever met in my entire life." That pretty much covers it.
If you must do the list, spice it up
In 1998 two boys from Boston, Matt Damon and Ben Affleck, brought their moms to the Oscars and wound up receiving a best original screenplay award for "Good Will Hunting." No sooner had they begun their list in high speed that adrenaline took over and the volume increased to pep-rally levels ("Chris Moore! Yeah! Chris Moore!"). Damon and Affleck pumped fists and yelled over each other to the point where their voices were cracking, but it was a welcome shot of energy during a long evening.
It also helps if most of your audience doesn't understand you. Pedro Almodovar, accepting best foreign language film for "All About My Mother," proved this in 2000 when he paused in his list-reading to continually remind the crowd: "I live in a different country. We are from Spain. This is my culture."
In 2001, Oscar producers tried to reinforce the 40-second rule with enforced cutting-off music and the bribe of a new TV to the shortest speech. Cinematographer Peter Pau ("Crouching Tiger, Hidden Dragon") turned this threat into one of the funniest speeches in recent memory by pulling out his paper and breathlessly naming all of the Chinese-named cast and crew so fast the honorees were likely laughing too hard to listen for their names. It wasn't the shortest speech, but it was definitely the fastest.
Be eloquent (yet concise)
And by that we don't mean writing down your speech on a ledger-size sheet and reciting it with your head down the whole time. Both "Beautiful Mind" winners Jennifer Connelly (best supporting actress) and producer Brian Grazer (best picture) barely looked up as they read in monotonous tones, "I am so honored," as if they were reading a statement by the real winner who couldn't make it.
They could have taken a cue from the film's best director Ron Howard, who sincerely admitted, "I'm not a good enough actor anymore to be able to stand up here and make you believe that I haven't imagined this moment in my mind over the years and played it out over a thousand times." He then launched into a genuine, pat tribute to his mother, who predicted his win before her death 18 months before the Oscars. "She also made this prediction for every movie I've directed since 1983."
Another best director, "Traffic's" Steven Soderbergh, in 2001 gave one of the best all-time speeches by eschewing individuals altogether.
"Rather than thank some of them publicly, I think I'm going to thank them all privately," he said. "I want to thank anyone who spends part of their day creating. I don't care if it's a book, a film, a painting, a dance, a piece of theater, a piece of music. Anybody who spends part of their day sharing their experience with us. I think the world would be unlivable without art."
Some winners love analogies, but the Dan Rather nonsensical approach only works if  you're from another country, aka Italy's Roberto Benigni, who famously said in 1999: "I feel like diving into this ocean of generosity … I would like to be Jupiter and kidnap everybody and lie down in the firmament making love to everybody."
But in the last two decades, no one's soundbite as been mentioned more (at least since Sally Field gushed "You like me! Right now, you like me!" in 1985) than best documentary short subject winner Jessica Yu, who quipped in 1997: "You know you're in new territory when you realize your outfit cost more than your film."
Only blather on if you're emotional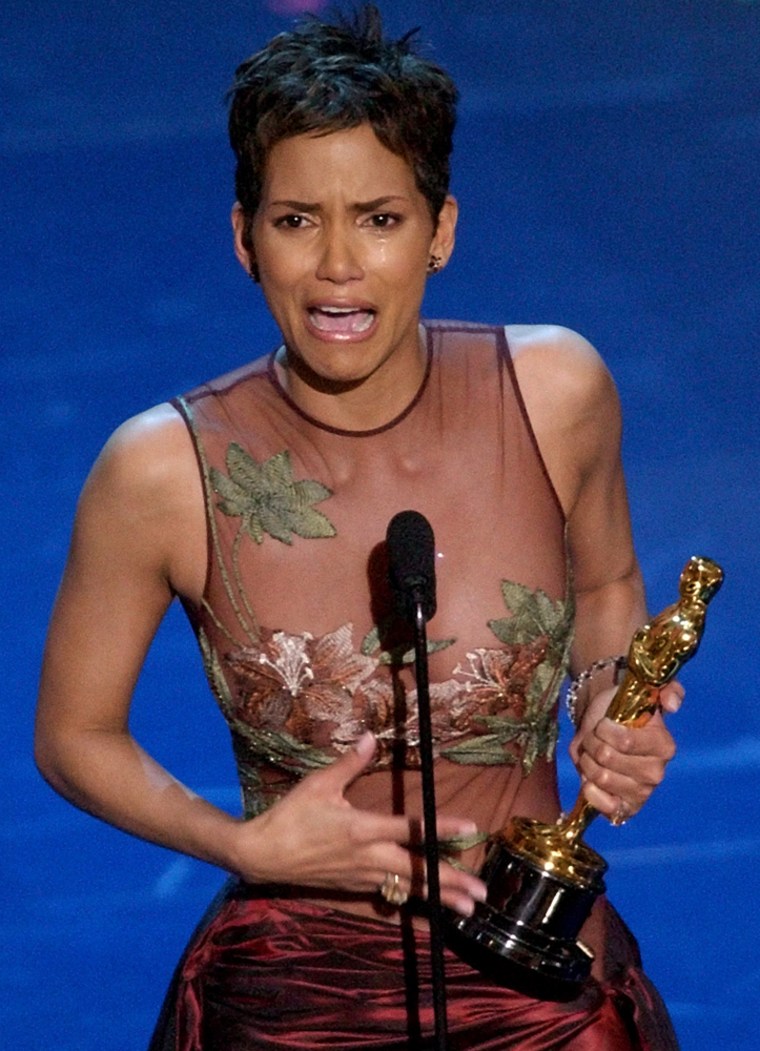 Face it: Though Julia Roberts giggled on for three minutes, you enjoyed her 2001 best actress speech for "Erin Brockovich" just for being in the moment. She pauses to make her dress pretty. She interrupts herself just to shriek, "I love it up here!" She wards off the "stick man" from cueing up the exit music. She also perfectly summed up any actor's justification of spending an exuberant moment with their award: "I may never be up here again."
This sentiment may prove true for best supporting actor Cuba Gooding Jr. (unless he changes his current course of script selection), but he made the most of his 1997 moment when his tears turned into a joyful holler of "I love you! I love you!" over the crescendoing music and punctuated the moment by leaping up into the air and hooting.
On the other end of the scale, Michael Caine made stars sob when he turned his 2000 win for "The Cider House Rules" into a moving tribute to his fellow nominees. While jabbing at rival Tom Cruise ("If you'd won this, your part price would have gone down so fast. Have you any idea what supporting actors get paid?"), he humbly declared that he did not feel like a winner, but won the award to represent "what I hope you will all become, a survivor."
Less coherent was 2002 winner Halle Berry, but given that win made her the first African-American best actress ever, we understand the weighty emotion. Berry sobbed through her acknowledgment that "this moment [is] so much bigger than me" and gave thanks to mentors Spike Lee and Warren Beatty who helped her early in her career. She also remembered to thank her lawyer (what is it with lawyers?).
Be honest (to a point)
Composure isn't a necessity. The year after her win, Berry landed on the receiving end of every man's dream — to kiss Halle Berry — when a shocked Adrien Brody ("The Piano)" reacted to his best actor win by planting a wet one on her. "There comes a time in life when everything seems to make sense," he went on to say. "And this isn't one of those times."
"The English Patient's" Juliette Binoche was so stunned in her 1997 best supporting actress upset over Lauren Bacall (nominated for "The Mirror Has Two Faces") that she said what everyone in the room was thinking: "I thought Lauren was going to get it." In a gracious move, she added: "And I think she deserves it."
Whether or not he believed he deserved best director for "Saving Private Ryan," Steven Spielberg made like a giddy schoolboy by stammering, "Am I allowed to say I really wanted this?" — a welcome relief from the many who pretend it's just an honor to be nominated, then frown when they lose (that means you, Burt Reynolds).
Feeling possibly a little reluctant, best supporting actress Judi Dench admitted in her win for "Shakespeare in Love":  "I feel that for eight minutes of screen time, I should only get a little bit of him."
And perhaps composer Randy Newman said it most candidly when, after 16 consecutive losses, finally won best song for "Monsters, Inc." he stated, "I don't want your pity … I want to thank the music branch for giving me so many chances to be humiliated."
But there's a fine line between being yourself and being, well, too real. Who can forget Angelina Jolie's 2000 declaration that "I'm so in love with my brother right now," which gave a new tabloid twist to creepy love (that is, until Billy Bob came along).
Or "Titanic" director James Cameron, who did nothing to quash his arrogant reputation by declaring, "I'm king of the world! Woo hoooooo!" This is not only one of the cheesiest delivered speeches in Oscar history, but reminded us that borrowing the most maligned line from your movie may not be the wisest way to be remembered.
Take note, Hilary.