In their joint memoir "Hound Dog," music pioneers and songwriters Jerry Leiber and Mike Stoller share the fascinating story of their wild ride in the music industry. Best known for writing the song "Hound Dog," which was eventually recorded by Elvis Presley, the duo were inducted into the Rock and Roll Hall of Fame. An excerpt.
Stoller
Because all nice Jewish boys were expected to attend college, Jerry and I, at least for a while, attended Los Angeles City College on Vermont Avenue. As you can guess, our hearts weren't in our studies. Our hearts were in the music scene.
Los Angeles was a mecca of black music. The concentration of bebop was certainly not as great as in New York, where the new form was born, but Bird and Diz came through. Their Los Angeles disciples — like Dexter Gordon, Teddy Edwards, and Wardell Gray — were regular fixtures around town. Then there was the thrill of Central Avenue. What Fifty-second Street was to New York, Central Avenue was to L.A. At the Club Alabam, the Dunbar Hotel, the Turban Room, or the Five-Four Ballroom, I'd see everyone from T-Bone Walker to Johnny Moore's Three Blazers. Over on Wilshire Boulevard, near the Ambassador Hotel, the Haig was happening.
That's where I'd go see Gerry Mulligan, who'd formed a pianoless quartet with my former bandmate Chet Baker. One night I went in there with a composition under my arm. During the break I said to Chet, "I wrote something you guys might like."
Chet nodded approvingly and told Mulligan, drummer Chico Hamilton, and bassist Carson Smith to meet him in the kitchen. They read it down and played it beautifully. I thought it was great.
"You have a two-part construction," said Mulligan. "We only do three parts." He handed me back my music. It was, Thanks, but no thanks.
I was hurt. Maybe they really did play only three-part constructions, but I had the feeling that Mulligan preferred that he write all the material, no matter how many parts.
Mulligan was a principal architect of the Cool School, and here I had missed out on the chance to contribute to his groundbreaking combo. I got over my disappointment by transforming the piece into something I entitled "Suite Allegro," switching the trumpet/baritone sax parts to clarinet/bassoon and adding sections for violin and cello. Four or five years later, I scraped together enough money to record it.
Leiber Norman Granz's Jazz at the Philharmonic was all the rage in the early fifties. In LA these jam sessions happened at the Shrine Auditorium. Everyone was playing with everyone else. The swing masters — Coleman Hawkins and Roy Eldridge — would blow with the boppers like Bird and Charles Mingus. Big Jay McNeely would fall on his knees and even on his back, raising his horn to the heavens and screaming out the kind of raunchy honking solos that marked the start of what would later be called rock and roll.
Lionel Hampton's brilliant band of this period showed off similar paradoxes, the kind that made music freaks like me and Mike especially happy. Hamp had a swing band, a bop band and, at the same time, a rocking, rolling R&B band. It was all exemplified by his big hit, "Flying Home." We liked that song so much that Mike and I wrote lyrics for it, putting words to the famous Illinois Jacquet tenor solo. Amos Milburn recorded our version. That form, matching lyrics to improvised jazz solos, was called "vocalese" and first developed by linguistical hipsters like King Pleasure and Eddie Jefferson.
We also wrote lyrics to "Bernie 's Tune," an instrumental West Coast jazz anthem that Mike 's pal Chet Baker had recorded with Gerry Mulligan. We were making inroads and finding ourselves welcome not only into the world of blues, but jazz as well. Our hearts were in the music, and our hearts were taking us places our minds could have never imagined.
Stoller
Gradually we were building a reputation. The Los Angeles rhythm & blues world of minor labels with major talents was small but bustling. Recording was cheap, shellac was cheap, ads in the trade journals were cheap — and product was in demand. Songs were needed, and we supplied that need.
LeiberWe had a champion in the form of Lester Sill, and Lester loved singing our praises. But we didn't have an agent or a song plugger, and we never promoted ourselves. Mike and I couldn't hustle if we had to. We didn't know how to sell ourselves. We believed in what we did, but only because we were convinced of its authenticity.
If someone said to me, "Leiber, you got a good voice — you record the song," I'd say, "Hey, listen. We give ourselves a pass when it comes to writing. But singing? White guys can't sing the blues. I want Muddy Waters or Ray Charles to sing the blues." In fact, Ray Charles, even before he hooked up with Atlantic Records, did cut one of our songs — "The Snow Is Falling."
The fact that we were selling songs didn't excite our ambition; it was hearing those songs sung by master singers that had us running back to Mike 's little upright piano. At the same time, we inevitably ran into the characters — some shady, some legit — who hung around the edges of the business.
Harry Goodman ran his brother Benny's publishing firm. Harry was the guy who got us to put words to "Flying Home," a Benny Goodman–Lionel Hampton composition. Not only did he work Benny's tunes, but he had a publishing deal with Chess Records.
That meant he needed blues songs, and we assured him that the blues was our specialty.
"You got hits?" Harry asked.
"We got hits," I answered.
He invited us over to his bungalow at Selma and Vine. Mike and I arrived, ready to knock him out with our newest tunes.
Harry dressed like the Duke of Windsor — if the Duke had had the head of a hippo. He reeked of high-priced French cologne and wore a diamond stickpin in his tie. The razor-sharp crease in his trousers could cut you and draw blood. Next to his desk was a wastebasket covered in khaki-colored leather.
"Pops," he said to me, "how many hits you got for me today?"
"Eight," I said.
"Eight's great. Go."
Mike went to the piano while I handed Harry a lyric sheet. Two notes into the song, Harry stopped us.
"It's sh--," he said, then crumpled up the sheet and threw it in the leather wastebasket. "What else you got, Pops?" he asked.
I handed him another sheet, and Mike started playing another tune.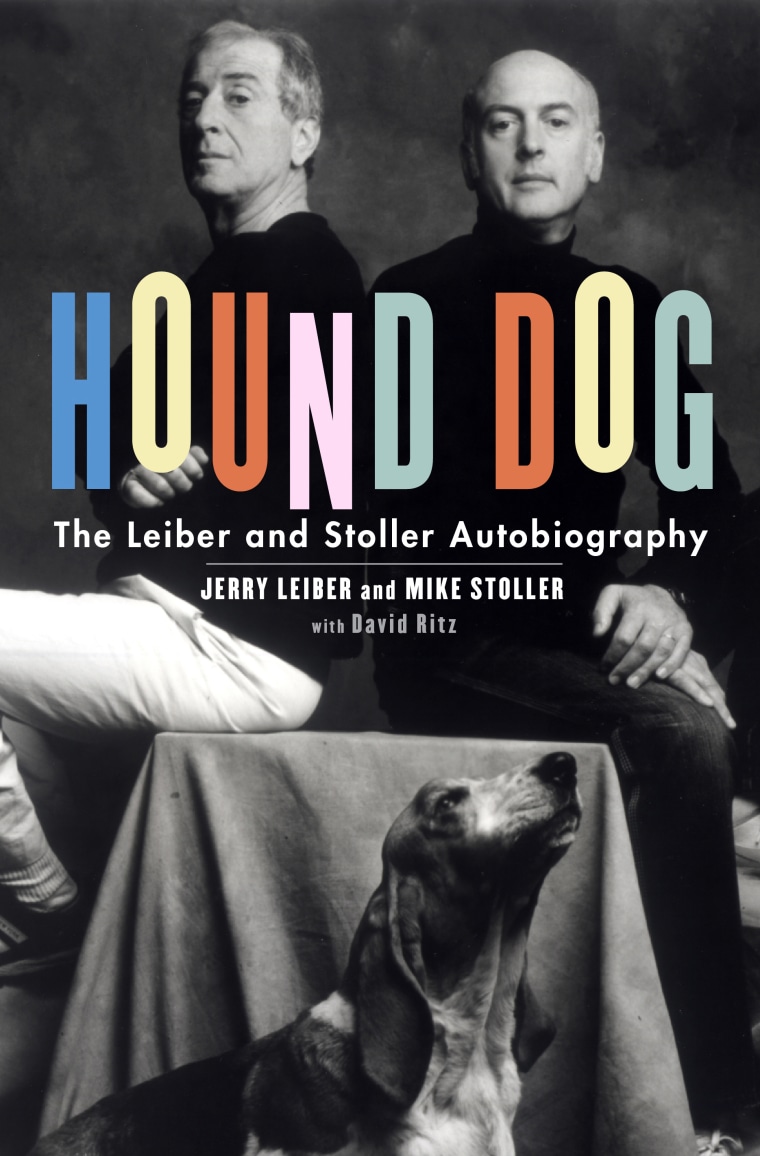 Again, he stopped us. "It's sh--," he declared. Again, he crumpled up the sheet and threw it in the basket.
Same thing for songs three, four, five, six, and seven. The wastebasket was filling up fast.
Discouraged, I took the last one, number eight, crumpled it up and threw it in the wastebasket myself.
Harry got up from his chair and went to the basket. He fished out the sheet and smoothed it out on his desk before asking Mike to play the melody. Mike played the melody.
"What do you think?" I asked.
"It's sh--," said Harry. "But it's the kind of sh-- I need."
I can't tell you the name of the song or whether it actually got recorded. All I remember is Harry Goodman's diamond stickpin and leather-covered wastebasket.
Stoller
Money wasn't pouring in; payouts on record royalties take forever, and when they finally arrive the check is usually half of what you expected.
I wasn't much of a dresser in those days. I'd write notes to myself on my chino pants and mend the holes at the knees with duct tape. On the other hand, Jerry always looked sharp. Rather than reject the fine wool slacks that irritated him, he wore flannel pajamas underneath to protect his skin. He had a keen eye for shoes. Elegant shoes were his thing.
One day we're driving down Fairfax, Jerry in his old Chevy, me following behind in my '37 Plymouth. Jerry spots an outlet shoe store and pulls over. I stop as well.
Jerry and I survey the window. He spots a pair of butter-colored British loafers. I spot a pair of alligators.
We go in and approach the proprietor, who eyes us suspiciously. He quotes the prices — the British loafers are $35, the alligators are $15, perhaps due to the warped soles and sun-faded color.
I have just enough cash for mine. Jerry is tapped out, but he has an idea.
"Do you need a second car?" Jerry asks the proprietor.
"What the hell are you talking about?"
"Well, I have another car," Jerry lied, "and I don't really need two. I'll trade you the one out there for this pair of shoes."
"Are you crazy?"
"No, I just want those shoes."
"What's wrong with your car?"
"Nothing. Here are the keys. Take it for a spin."
"Who's gonna watch the store?" he asks with ever-mounting suspicion.
"We will," I say. "Don't worry."
The proprietor takes a spin and returns in five minutes.
"Well, okay," he says, "where's the registration?"
"I'll get it to you in the next day or so."
And that's it. We slip on our new shoes and head for my car, Jerry striding comfortably and looking like a million bucks while I hobble along in my warped alligators.
A couple of weeks later, our mentor, Lester Sill, invited us to join him on a trip to the Bay Area. One evening we wound up at a little joint called the Champagne Supper Club. That's where we heard Linda Hopkins, who slayed us with her version of the Dominoes' "Have Mercy, Baby." We were so excited about her ability to belt the blues that we paid for her to come to LA to make some records. "Three-Time Loser" and "Tears of Joy" were released on Crystalette Records. They didn't do much. Linda, though, went on to a big career, including a smash run on Broadway playing Bessie Smith in the mid-seventies.
Another strong blues belter cut a Leiber and Stoller song that changed the course of our lives. But before that happened, we took a little side trip to the East Coast with Lester and his friend Ricky Jacobs, the most feared gin rummy maven on any coast.
Excerpted from "Hound Dog" by Jerry Leiber and Mike Stoller with David Ritz. Copyright (c) 2009, reprinted with permission from Simon & Schuster.