"Hoosiers: Collector's Edition"As we get closer to March, we get closer to March Madness. That's the time of year when normally mild-mannered individuals go bonkers for college basketball. Office pools abound. Water cooler talk turns to folks like Bob Knight and Mike Krzyzewski. Men and women who haven't picked up a basketball in years grab that roundball and spin it in their hands, even though they're usually sitting on the sofa while they do it.
And eventually, talk will turn to "Hoosiers," considered by many to be the best sports movie ever made. Watching "Hoosiers" at this time of year is a little like watching "It's a Wonderful Life" around Christmas.
The story by now has become familiar, although this one never gets old. Gene Hackman plays Norman Dale, a basketball coach with a fall from grace in his past who takes over a high school team in a small Indiana town. With help from the town drunk (Dennis Hopper) who used to be a star player at the school, the kids slay the giants and end up with the state title, finding personal redemption along the way.
The film was based on actual events. In 1954, the Milan Indians shocked big, bad Muncie Central to win the Indiana state title, under the direction of a coach who, like Hackman's Dale, used some unconventional methods to get results. Afterward, in a town of just over 1,000 people, a crowd of roughly 30,000 gathered to celebrate Milan's David-over-Goliath act.
"Hoosiers" had been out on DVD before in a quickie, no-frills version. But this two-disc collector's edition is a must-have for the devoted roundball freak. One of the cooler extras is the original film of the actual state championship game between Milan and Muncie Central. It's a little grainy, as you might expect, and voices crackle. But it's a nifty bit of archival footage that adds richness to an already terrific story.
There is also a splendid featurette called, "Hoosier History: The Truth Behind the Legend." It includes interviews with most of the filmmaking principals, as well as some of the players who participated in the Milan-Muncie game.
If you're a rabid basketball fan, or if you're just a casual one, or if you simply love wonderful movies, "Hoosiers" will give you goosebumps.
MGM Home Entertainment, $29.98
"Heat: 10th Anniversary Two-Disc Special Edition"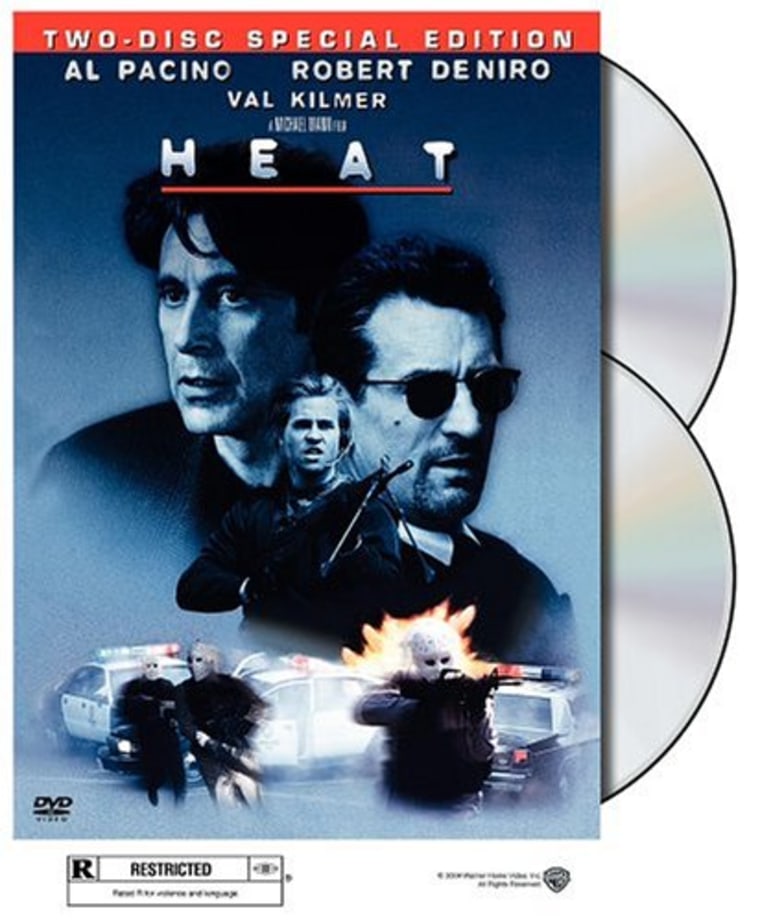 When you think about Al Pacino and Robert De Niro working together on the same project, with Michael Mann directing, you can safely assume it won't be a kids' movie. "Heat" is a crime thriller — melodramatic, stylish and action-packed. If you love this genre, it's one of the best ever made.
Based on true events, and a long, long time in the making, "Heat" is a cops-and-robbers yarn with a unique twist: The robbers are fleshed-out characters, with lives beyond their crimes. Certainly on the surface their actions are hardly admirable, yet Mann — who also penned the screenplay — does a masterful job of bringing dimension to all his characters, so you care about both sides in this confrontation.
Pacino is excellent as Lieutenant Vincent Hanna, who, like most cops in movies, has trouble at home. He becomes torn between personal obligations and a growing obsession with halting a marauding gang of bank robbers headed by Neil McCauley (De Niro).
"Heat" has become famous for two scenes, one a spine-tingler and the other somewhat of a letdown given its hype.
The former is an extended set piece of a bank robbery and shootout in downtown Los Angeles. Try to suspend belief while you watch. Mann has a way of creating fireworks in a scene that are riveting but implausible if you think too hard (witness the nightclub shootout and the escape by Tom Cruise and Jamie Foxx in "Collateral").
The latter is the historic "showdown" between  Pacino and De Niro — who had never acted together onscreen before this — at a table at trendy L.A. eatery Kate Mantellini's. It's a fine scene, but hardly the scorcher it's billed to be.
This anniversary DVD package includes all the usual suspects in the way of extras. On Disk One is an outstanding commentary by Mann. Disk Two has all the featurettes, broken down into five parts. The most interesting one details the evolution of the Pacino-De Niro scene. Dante Spinotti, one of the greatest cinematographers working today, explains how that key scene was shot using cameras over both actors' shoulders in order to get consistency of performance.
"Heat" is a gripping crime thrillride and this DVD set does it justice.
Warner Home Video, $26.99