Halloween 2018 is officially over, but there's still one more treat to be had!
Some of our favorite celebrities dressed up for the big night, and while they're not sharing their candy haul, they are sharing photos from all the fun.
For instance ...
Justin Timberlake, Jessica Biel and their 3-year-old son, Silas, dressed up as a trio of "Lego Batman Movie" stars, with mom and dad taking on the villain roles (Harley Quinn and The Joker, respectively) and their little guy as the caped crusader himself.
Silas' superstar father even hit the streets with him for some trick-or-treating — as did plenty of other parents with star power.
Alec and Hilaria Baldwin took their cosmic crew — including 5-year-old Carmen, 3-year-old Rafael, 2-year-old Leonardo and 5-month-old Romeo — out for a space walk through their New York neighborhood.
Mom Mindy Kaling decided to suit up alongside her little girl, 10-month-old Katherine. But they didn't exactly head out in coordinating costumes, unless there's a link between mustard and lions.
As for Neil Patrick Harris and husband David Burtka, they pulled double costume duty for Halloween.
First they shared a ghostly theme with 8-year-old twins, Gideon and Harper.
And then they left the child's play behind and went out as "#PrincessBrideGrooms" for Heidi Klum's annual holiday bash.
And speaking of Klum, she continues to reign as the Halloween queen.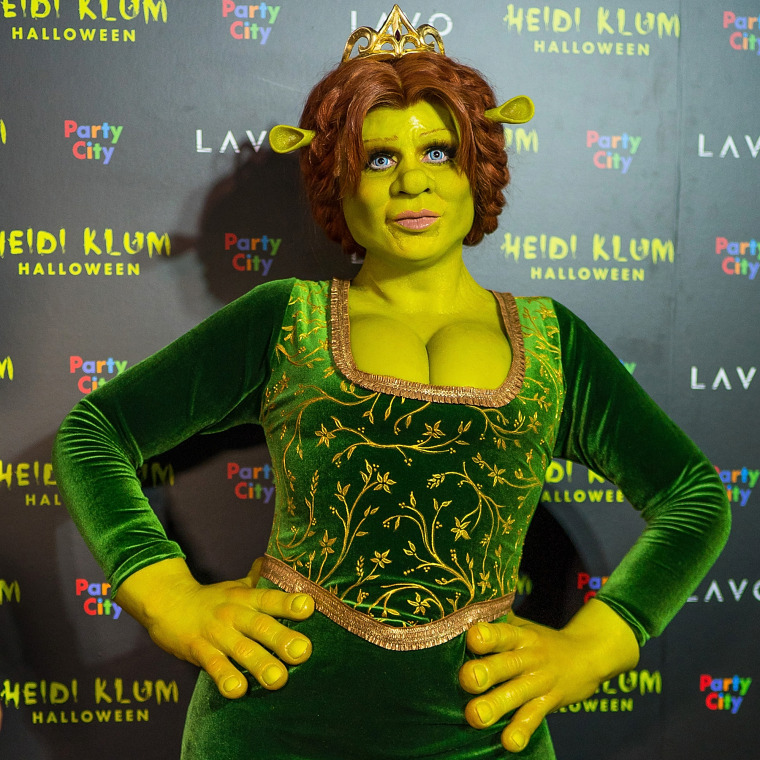 For 2018, she kept up her commitment to the holiday with the absolute best ogress act anyone has ever seen as Princess Fiona from "Shrek."
But Beyoncé was hot on Klum's heels when it came taking top honors.
Just one day after blowing everyone away with her "Phoni Braxton" costume, she brought another idol to life with her Flo-Jo tribute.
Kylie Jenner is another celeb who decided celebrate with more than one look. There was her ode to the plastic princess herself, Barbie.
And she also dressed up with her 8-month daughter for the clever theme she called "Stormi Weather."
Gwyneth Paltrow and Brad Falchuk marked their first Halloween as a married couple with blockbuster costumes.
The newlyweds went as the leads from the big-screen hit "A Star is Born."
Meanwhile Joe Jonas and Sophie Turner picked a memorable small-screen duo — Gomez and Morticia Addams.
Oscar winner Lupita Nyong'o had some '90s movie fun with her spot-on "Clueless" costume.
Jennifer Garner not only chose to deck herself out as a wicked witch, the multi-tasking mom even put on a performance and shared a recipe, too.
And while Nicole Kidman and Keith Urban didn't share a shot of their wee ones, they did offer up a cute glimpse of their own get-ups.
Even Megan Fox, who doesn't routinely post pics of her children on social media, got in on the fun. The actress, 32, shared an Instagram slideshow of herself, dressed in a "Harry Potter" Gryffindor robe, along with the three sons she has with Brian Austin Green. Two-year-old Journey was a unicorn, while Bodhi, 4, was Gekko from "PJ Masks" and Noah, 6, got dolled up as a zombie cheerleader.
Fox also shared a photo of herself with Green and his son 16-year-old son, Kassius.
But some stars didn't wait for the big day to show off their costumes. Instead, they played dress-up a little early last weekend at a number of big Hollywood bashes — and they didn't hold back.
Trust us, some of these costumes will have you doing a double take!
One of the biggest celebrations in Tinseltown was the Casamigos Halloween Party, and the men who founded the tequila label, George Clooney and Rande Gerber, were there for the event.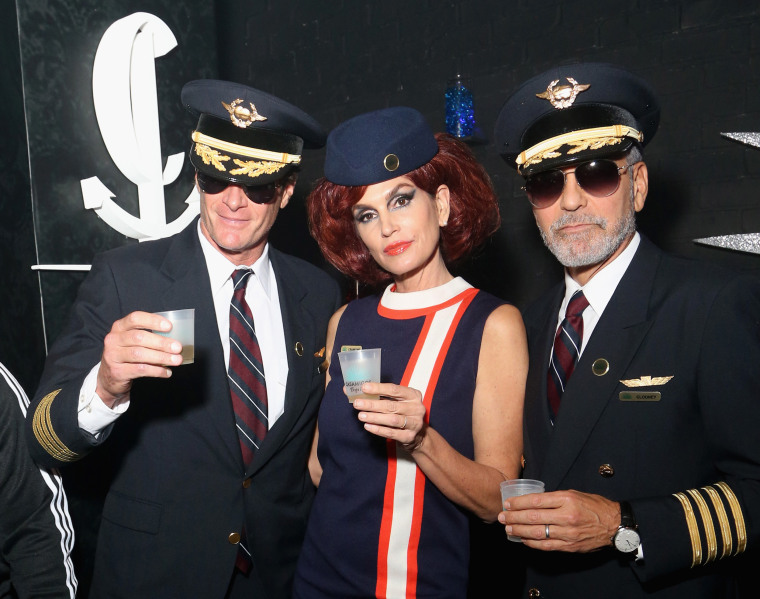 The A-lister and the businessman showed off their matching pilot costumes, while Gerber's wife, supermodel Cindy Crawford, brought some retro realness as an old-school flight attendant.
Also in attendance were Kendall Jenner, who channeled her inner "Austin Powers" fembot, and heartthrob rom-com star Noah Centineo as everyone's favorite Disney baddie, Gaston.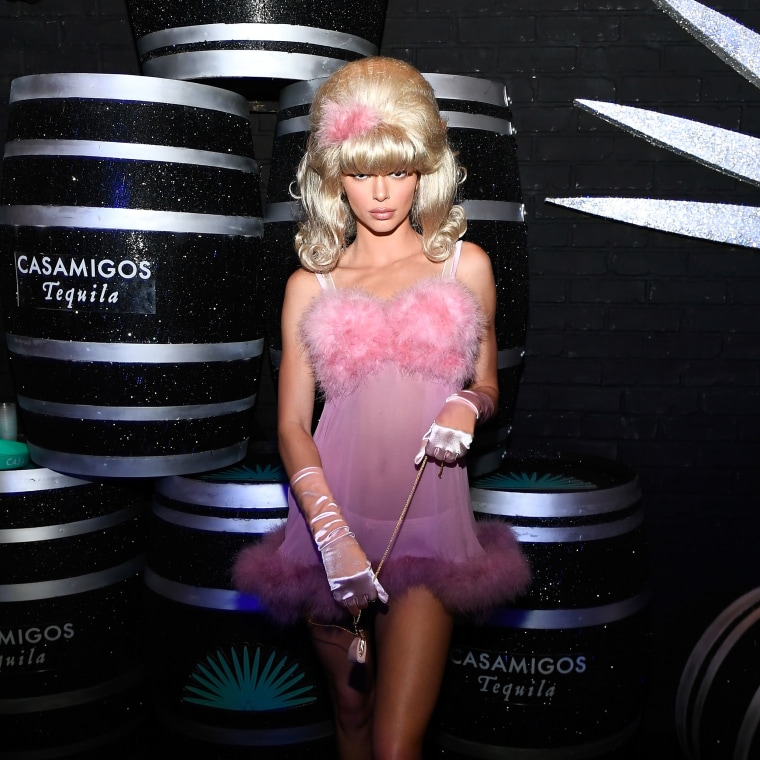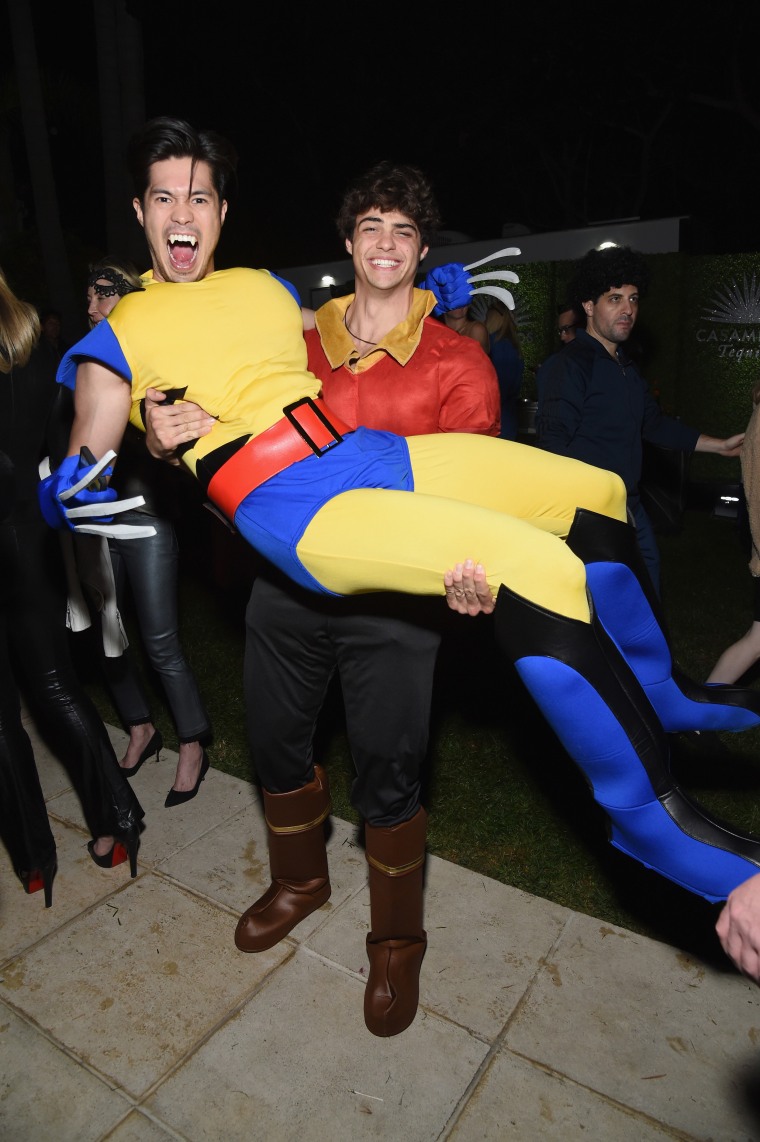 But the best costume of the bash had to be the one worn by Harry Styles, in which the singer was a dead ringer for another superstar vocalist — Elton John.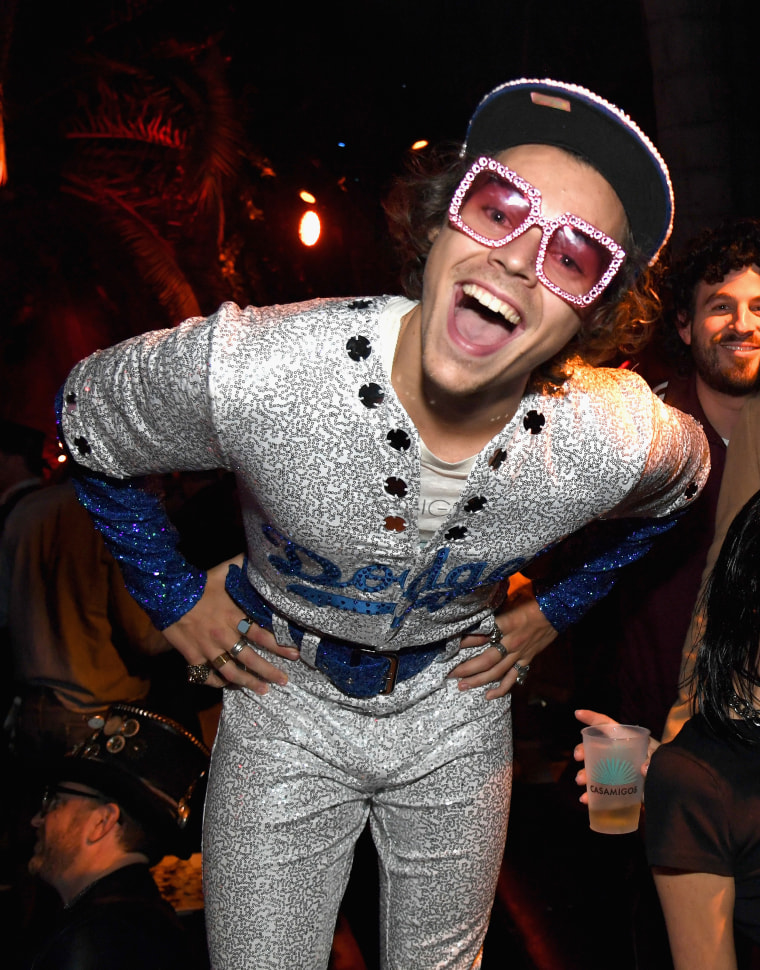 Styles was far from the only star to style himself as another famous face. In fact, it was quite the trend at other shows and celebrations.
From Rita Ora's amazing transformation into rap star Post Malone:
To Ariel Winter and Levi Meaden's take on former couple Pamela Anderson and Kid Rock:
To Jonas' makeover into ... his very own fiancee?
Yes, the singer-actor actually dressed up as partner Turner's character from "Game of Thrones." (Be sure to click or swipe through to see the other shot he shared for the full fun effect.)
While there weren't any ghosts or ghouls among these famous faces, there were a couple of classic costumes in the mix.
For instance, Jerry Seinfeld dressed up as the Big Bad Wolf (dressed up as grandma) alongside wife Jessica's Little Red Riding Hood.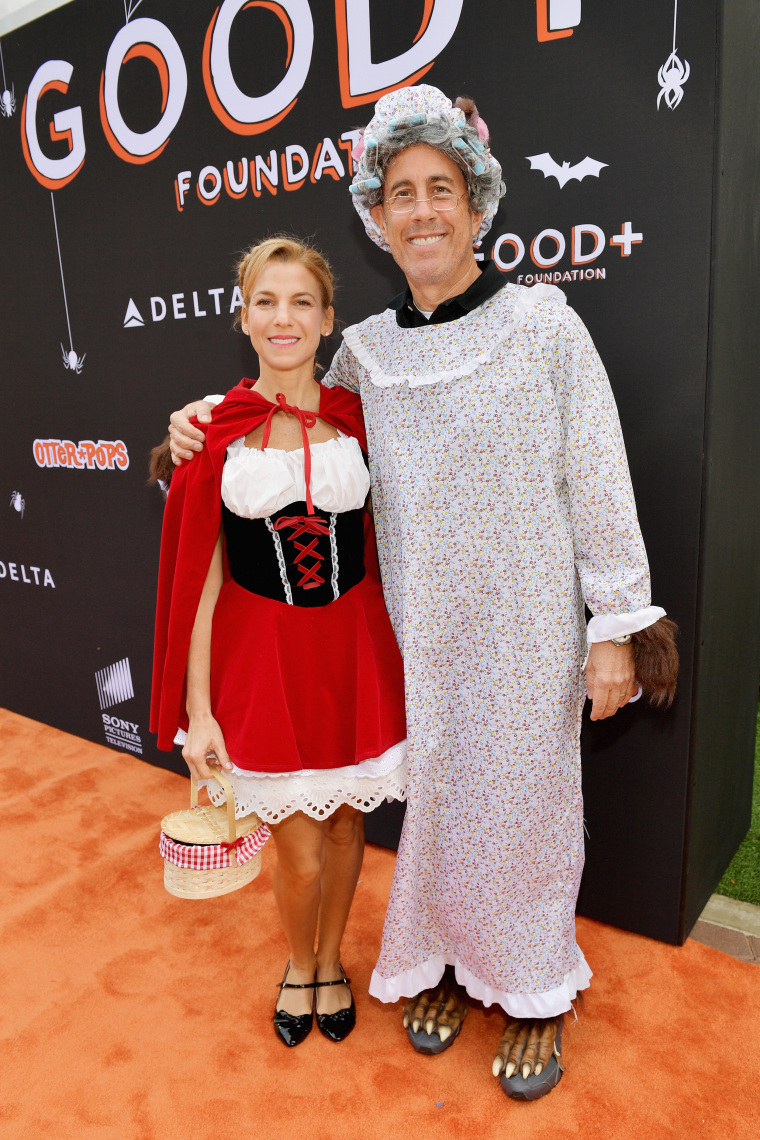 And two stars not only went the classics for their pre-Halloween outfits, but they brought their kids along, too.
John Legend played the perfect Prince Charming for his little princess, 2-year-old daughter Luna.
While Pink went out as a seafaring mama with her little pirate pal, 22-month-old son Jameson.