The presents are opened, the stocking unstuffed and the dishes are washed — or at least, piled in the sink. This Christmas, you're spoiled for choice at the movie theaters, with a batch of new movies opening and older ones still hanging out. Here's your guide to what to see, and with who.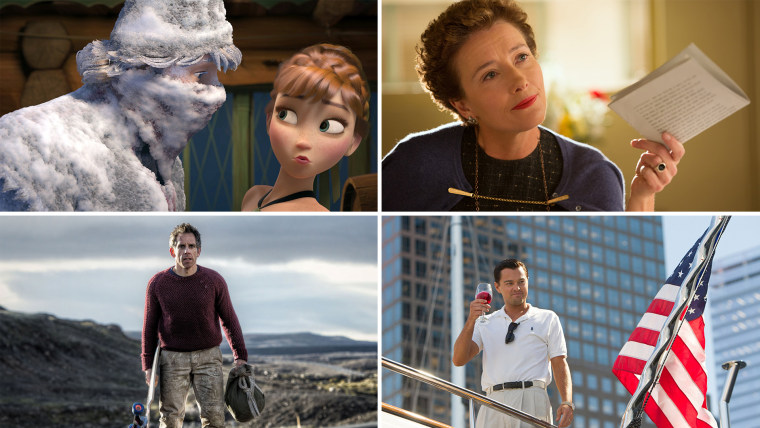 Taking the kids?
Disney's "Frozen" has been out for a few weeks, but it's the best kids' offering by far. Anna and Elsa aren't your typical princesses — they stand on their own tiny feet when eternal winter comes to their lovely kingdom. Friendly snowman Olaf (voice of Josh Gad, who's been cast in the "Gilligan's Island" movie) infuses the film with wacky humor, the songs are catchy and memorable, and the 3-D is actually worth seeking out. If your kids are seeing it for the second time, there are a few fun Easter eggs to look for, including Rapunzel and Flynn Rider from "Tangled" showing up briefly at Elsa's coronation.
Need a laugh?
"Anchorman 2" is no "Citizen Kane," but really, who wanted it to be? The sequel to the 2004 comedy reunites Will Ferrell, as newsman Ron Burgundy, with his goofy news team (Steve Carell, Paul Rudd and David Koechner) for more media mayhem. Although there may not be a quote as good as "Stay classy, San Diego," there are plenty of laugh-out-loud lines. "Who the hell is Julius Caesar?" Burgundy snaps to his wife (Christina Applegate). "You know I don't follow the NBA!"

Still bitter about not winning the lottery?
The excess that sprawls across the screen in Martin Scorsese's three-hour-long "The Wolf of Wall Street" will leave you giving thanks that you weren't one of the recent Mega Millions lottery winners. Jordan Belford (Leonardo DiCaprio) spends his millions on cars he smashes up, a yacht that sinks, dwarf-tossing, hookers, strippers and drugs, drugs and more drugs. It ends in disaster, of course. Watching the debauchery gets awfully repetitive, but the movie picks up when Belfort and pal Donnie Azoff (Jonah Hill) start getting chased by a wily FBI agent (Kyle Chandler, "Friday Night Lights" fans). 

Think 'Mary Poppins' is a practically perfect movie?
"Saving Mr. Banks" is a dazzling Disney tearjerker. Yes, the story of how Walt Disney and crew convinced author P.L. Travers to let them turn "Mary Poppins" into a movie isn't quite factual. But if you accept that going in, you'll enjoy the film immensely, and the more you know the original "Mary Poppins" movie, the better.

Want to be spellbound?
Seek out the little-publicized "Her," featuring Joaquin Phoenix as Theodore, a lonely man who falls in love with his computer operating system (voice of Scarlett Johansson). That sounds strange, but the film successfully creates a not-too-distant-future world in which we can envision this as just one step up from the smart phones we have now. Their romance feels real, and with realism comes the eventual heartbreak. But on the way there, "Her" spins out a dazzling tale that'll stay in your mind long after you leave the theater.

Think your family is tough to deal with?
"August: Osage County" will have you giving thanks for Mom's nagging and Grandpa's oblivious blathering. The three daughters in this film have an alcoholic (and now missing) father (Sam Shepard) and a pill-popping and cruel mother (Meryl Streep), and when they come together, it turns out every one has a secret. And when do you get to see an actual physical fight between two powerhouse actresses like Julia Roberts and Streep?

Want to go back in time?
Con men and 1970s clothes and hair and a cast that won't quit: Who knew a film about the ABSCAM scandal could be so riveting? "American Hustle" is earning critical raves like crazy, and with a cast that includes Christian Bale, Amy Adams, Jennifer Lawrence and Bradley Cooper, you'll be in the know at Oscar time if you see it now. As with "Saving Mr. Banks," don't expect accuracy. Even the tagline at the beginning of the movie hedges, reading "Some of this actually happened."

Ready for some family-friendly action?
Action movies opening on Christmas Day include Keanu Reeves' martial-arts adventure "47 Ronin" and the Navy SEAL movie "Lone Survivor," about an Afghanistan mission gone wrong. But if you're taking the family, the best action choice is "The Hobbit: The Desolation of Smaug," the nearly three-hour second chapter in the "Hobbit" trilogy. Seek out the 3-D, it's worth it, and settle in for dragons, orcs, dwarves and elves aplenty.
Need some inspiration?
Nelson Mandela traveled through many worlds in his 95 years on this earth. He was a cattle boy in his small village, grew up and became a Johannesburg lawyer, then an anti-apartheid leader, spent decades in prison and eventually was released and became South Africa's first black president. The biopic based on his autobiography, "Mandela: Long Walk to Freedom," can't include all those events, but it touches on many, putting his life into context for those who may only know rough outlines of who the leader was.
Have big dreams?
The James Thurber character Walter Mitty has become a term for regular Joes with gigantic dreams. The story was famously made into a 1947 Danny Kaye movie, and now Ben Stiller stars in the remake, "The Secret Life of Walter Mitty." Reviews are mixed, but if you're a Stiller fan looking for quirky laughs, here's your gift.