On the off-chance that you missed the Westminster Dog Show, you may be interested to know that Malachy, a delightfully foofy-looking little Pekingese, took top honors. When Kathie Lee and Hoda played a clip of Malachy in all his glory this morning, they each noticed something different about his … unusual hair.
"That dog needs a keratin treatment," said Hoda. Oh, Hoda, please don't give people ideas.
Kathie Lee, of course, pointed out his eerie folicular resemblance to 1) a troll doll, and 2) Hoda's Favorite Picture: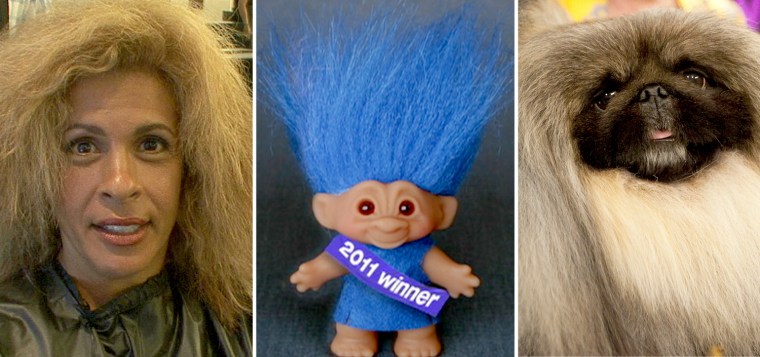 It's a testament to Hoda's infinite tolerance for these antics that she was able to laugh off the photo and the very mature barking sound effects that accompanied it. Oh, dear. Hoda, you're beautiful; please don't get a complex from this. Does it help if we note that Malachy is a really adorable dog? Nope, that doesn't feel good to type.
At least she's not alone: Earlier comparisons were made between Malachy and the hypothetical love child of a Wookiee and an Ewok. Man, this just gets worse and worse.
"I told them not to do it," laughed Kathie Lee. Aw, of course you did.
Well, Hoda ... your sense of humor is best in show? OK, we'll stop now.
Julieanne Smolinski is a Today contributor. She has no sense of humor about her hair.