Legolas — otherwise known as actor Orlando Bloom — is back, and to no one's surprise, he still knows how to wield a bow. The handsome blond elf is seen in this exclusive image from "The Hobbit: The Desolation of Smaug" about to let fly an arrow. And he's not alone. Equally proficient at archery is red-headed Tauriel, (Evangeline Lilly), the head of the elven guard.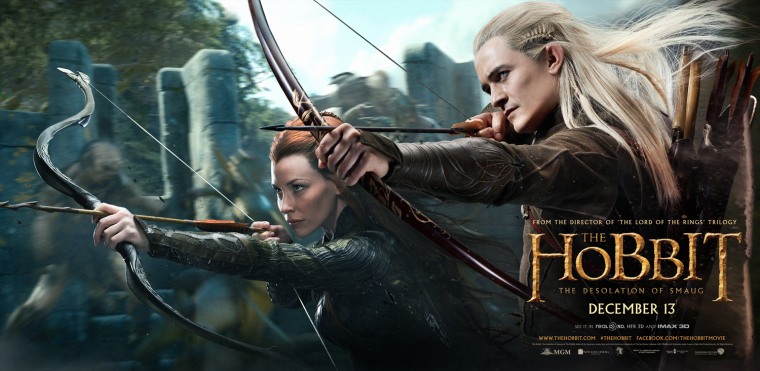 Bloom and his "Hobbit" co-star Ian McKellen appeared on TODAY Tuesday morning to introduce the new trailer for the long-awaited film. McKellen teed it up saying, "there's lots of action," and the trailer delivered what he promised. 
Bloom explained that despite starring in the films, he initially had no idea what his finished scenes would look like since he's often filmed "hanging upside-down with wires on a green screen." He said he spent "hours flailing around, stabbing at things in the air" and then when he finally saw the film discovered that "it looks better than I thought!" 
"The Desolation of Smaug" is the second film in director Peter Jackson's trilogy, following 2012's "An Unexpected Journey" and preceding the 2014 film, "There and Back Again." Martin Freeman stars as Bilbo Baggins, the middle-aged Hobbit who sets off from his comfortable home in the Shire with Gandalf the wizard and a band of dwarves to find adventure and fight the fearsome dragon Smaug.

"The Hobbit: The Desolation of Smaug" will open on Dec. 13. Watch the complete trailer on YouTube.