After so many tragic tales of waste-filled homes, animal deaths and human suffering on A&E's "Hoarders," it's hard to imagine finding anything on the show truly shocking anymore. Well, it was hard to imagine that before Monday night's episode, which featured a woman whose cat obsession went beyond anything viewers of the docu-series had seen before.
As the episode opened, hoarder Terry explained what inspired her feline fascination.
"I really feel like the reason I collect cats is that I have this feeling in me that I'm helping save something," she said.
A glance around her living space soon proved that Terry wasn't saving cats or herself the way she was living. Floors and counters were covered in excrement and sick animals crawled over the scene.
"The complete number is probably about 50 cats," she guessed.
But that low-estimate only included the living cats, and the dead ones outnumbered them by far.
"I probably have, in frozen and refrigerated cats, between 75 and 100 -- if not more," Terry said.
Terry had hoped to have them all cremated, but finances didn't allow for that, so over time, she "saved" them all in the appliance, which wasn't up to the task of preserving the cats. In fact, once the cleanup was underway, the "Hoarders" crew discovered that many of the cats had liquefied.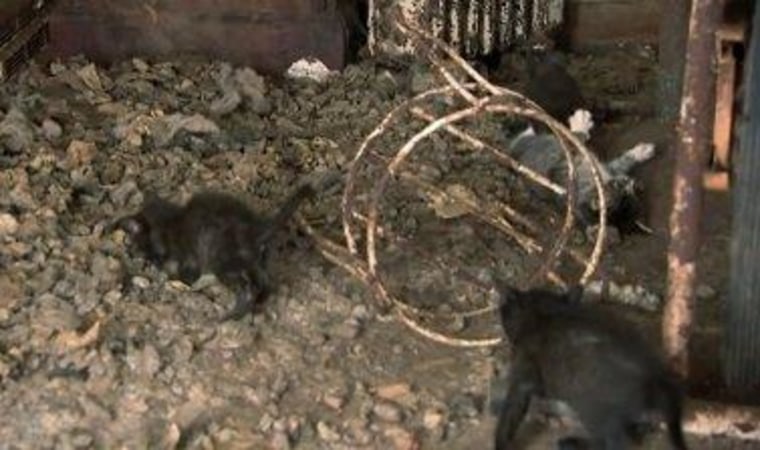 The removal process was difficult for Terry who broke down many times and finally seemed to see her hoarding problem as others viewed it.
"I can't even say anymore that I love animals 'cause I treated them so horrible," she said through tears.
By the end of the show, most of the mess and all of the cats were out of the home.
If you want to see the episode for yourself -- and be forewarned, the feline footage gets far more graphic than the photos above -- it's available to view online at the A&E website.
More in The Clicker: