Even famous people get caught in the zombie apocalypse. In Sunday's episode of AMC's "The Walking Dead," Pittsburgh Steeler (and "Dancing With the Stars" champ) Hines Ward was one of the rotting zombies seen in a prison scene.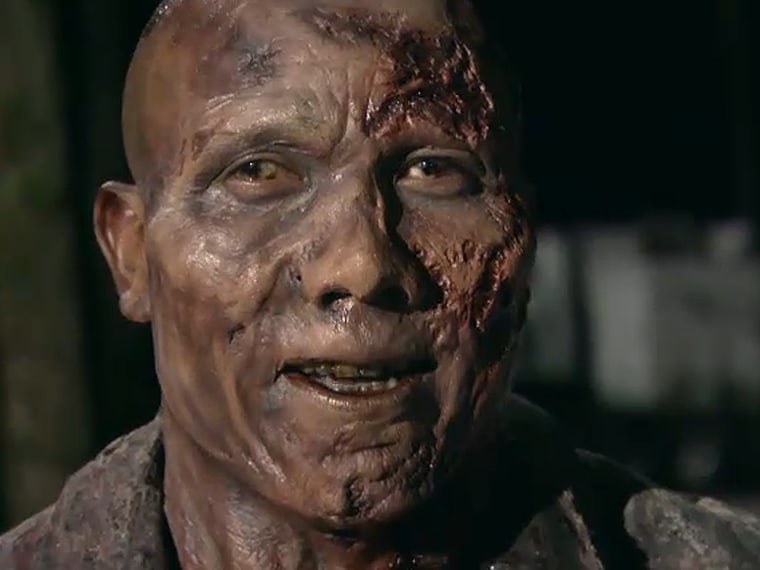 IronE Singleton, who plays T-Dog, was Ward's college teammate at the University of Georgia. (Sunday was an eventful episode for T-Dog.) Ward's connection to Singleton, and the fact that the show shoots in his home state of Georgia, helped him land the role.
A video from NFL Films reveals that Ward was the first real celebrity to be buried in zombie makeup.
"(Ward would) be a horrible zombie for us to deal with," said Steven Yeun, who plays Glenn on the show. "His head's like that much taller than ours, you'd have to aim up."
Even his former teammate admitted he wouldn't want to mix it up with Ward. "No, I don't want to cross his path," said Singleton. "I think he'll probably be the fastest zombie ever."
Ward put up with two hours in the makeup chair, but he received a personalized twist to his gruesome getup. His uniform number, 86, was painted on the back of his head, though it's not really visible to viewers.
This isn't Ward's first Hollywood experience. He won "Dancing With the Stars" in 2011, and is seen running from an exploding football field in this year's "Dark Knight Rises."
He's just as motivated in the show as on the football field. "Whoever turned me into a zombie, I'm taking it out on all the survivors that's left," Ward told NFL Films. "I'm in full attack mode."
Did you spot Hines Ward among the zombies? Tell us on Facebook.
Related content: