Diamonds may be forever. But this Valentine's Day, chocolate with a limited shelf life is the hot commodity. And if it's not boutique chocolate, it's not chocolate.
What are boutique chocolates? It's not clear how and where the term came from — or even what it means — but experts in the field and some high-end chocolatiers are more than willing to share their thoughts.
"If boutique is the name for a high-end store, then the 'boutique' store would probably be nicely decorated; the product would be top quality; and the staff would be knowledgeable to speak about chocolate in general and the store's product specifically," says Jacque Torres, a celebrity chocolatier of sorts, who has appeared on Food Network and is known around "town" for his mean cup of hot chocolate, made with real bits of dark chocolate.
"Chocolate sold from a 'boutique' store might be better because of the quality of the chocolate and the ingredients. For me, that means a clean label natural chocolate and fresh ingredients — no flavorings, no chemicals, no preservatives," says Torres, who recently opened up a 8,000-square foot factory in Manhattan, where visitors can watch chocolate in the making.
Using the best ingredients and to some extent, where the chocolates are sold, is important, says Clay Gordon, editor and publisher of chocophile.com. But a better indicator of quality may be time. "It takes more time — a lot more time — to make a great chocolate than an average one," says Gordon.
Great quality, short shelf lifeQuality chocolate starts with quality cocoa beans and demands a higher level of care, time and attention to detail during all phases of the post-harvest and manufacturing processes. "You can't rush the processing of a good cocoa bean," says Gordon.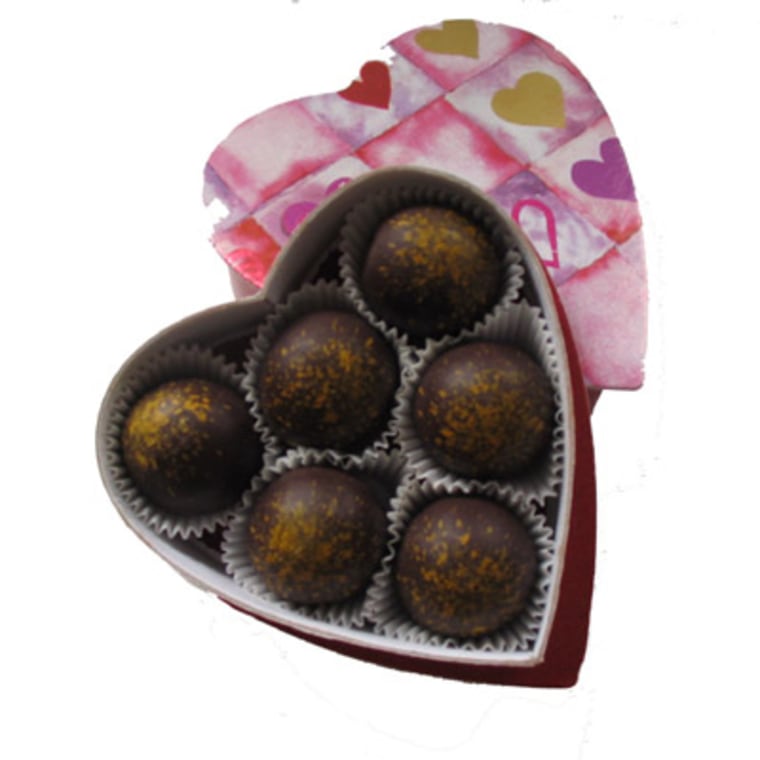 On the flip side, boutique chocolates have a limited shelf life. Boutique chocolates should be eaten as soon as possible, preferably the same day they are purchased, certainly within two to three weeks and within one week is better, says Gordon.
Although chocolate snobs favor the dark variety, there's no relationship between cocoa content and quality. There are "bad chocolates with high cocoa content" and "unsweetened chocolates that are made to be eaten and many of them are quite good, if acquired tastes," says Gordon. "Think of Baker's unsweetened chocolate. One hundred percent cocoa equals 100 percent inedible because it's designed for baking with, not eating."
Also, don't be fooled by location. A Fifth Avenue address or a boutique setting does mean the chocolate sold there are boutique chocolates.
"Godiva is not a boutique chocolatier even though they are some times sold in boutiques," says Gordon. Distribution is too widespread and the shelf life of the chocolate is too long — six months at room temperature, he explains. Recently Godiva added a high-end artisan-crafted "G" line, which some may consider a boutique chocolate.
Boutique specialtiesOne boutique shop that stocks several brands of boutique chocolates is Bierkraft on Fifth Ave in Park Slope, Brooklyn. Chocolates are sold by the piece, ranging from $1.25 to $1.95, and the small, unassuming shop ships them just about anywhere in the United States and around the globe, says Daphne Scholz, co-owner of and chocolate buyerat Bierkraft. Just call them at (718) 230-7600 to place an order, she says.
One "brand" of chocolate sold at Bierkraft is Eric Girerd. "Without question, it's the absolute best chocolate I have ever tasted," says Ann Pappert, a Brooklyn resident who stops by the shop every once in awhile to treat herself to a piece.
Girerd, a fourth generation chocolatier from Annecy, France who set up shop in Greenpoint, Brooklyn after spending time in Tokyo and Korea, is best known for his Asian infusions and urban spices including wasabi, anise, corundum and nutmeg. But he also creates chocolates with a full range of flavors, from fruit flavored to classic caramel and vanilla to tea-infused, such as Jasmine and Earl Grey. "He is a master at balance," says his office manager in the Brooklyn factory. "He's incredible at packing complex flavors into small packages," she adds.
At Brooklyn Chocolate & Cocoa Co., Girerd's masterpieces are neatly organized into collections. Anything from the wine and champagne or truffle family is a natural for Valentine's Day. Oh and about the price — a 1-pound box of truffles sells $90. Most other chocolates cost $2 a piece and come in 18-, 30-, 42- and 72-piece boxes for $36, $60, $84 and $144.
On the West Coast, there's Fran's Chocolate. And thank you Fran for sending a sample my way. It is the absolute best chocolate I've ever tasted and it wasn't dark chocolate — rather her signature "Gold Bites," chocolate-covered caramels with roasted almonds. Fran has been named the best Chocolatier in America in several food publications, including "The Book of Chocolate."
For V-day, Fran packaged some of her best into red and pink heart-shaped boxes. Each heart-shaped box sells for $42 and contains 20 pieces, a mix of bittersweet, raspberry, bitter in white, milk chocolate truffle, hazelnut crunch, milk and dark chocolate caramel truffle, pure dark chocolate, milk and dark espresso, whiskey, oolong tea, white chocolate and orange. Orders for Valentine's Day must be placed by 12 p.m. PT on Friday Feb. 11 for overnight delivery on Monday Feb. 14.
Other chocolate choicesOther boutique chocolates shops that boxed up its chocolates in special way for V-day include:
Garrison Confections of Providence, Rhode Island offers two sizes of its legendary lovers collection, packaged in a cherry red box with a pink, white and red ribbon. Flavors include honey lavender, passion fruit, strawberry mint, raspberry rose, and peaches and cream. The six-piece box sells for $9; the 12-piece box costs $18.
At Chicago-based Vosges, it's all about champagne and rose petals. The Gatsby and Daisy collection is a mix of dark and white champagne-flavored chocolate truffles, covered with real red and pink rose petals. A 9-piece box sells for $25; a 16-piece box costs $39.
Heart-shaped boxes at Jacques Torres are filled with an assortment of chocolate truffles, which features three new flavors — chocolate silk, Kir Royal and orange white chocolate. A small box holds about six truffles and costs $8. The medium-sized box holds about 20 truffles and sells for $25.