Hey hey hey, it's the summer's hottest viral video/mashup/lip dub/cover song, Robin Thicke's "Blurred Lines." You know the drill: Last summer, it was Carly Rae Jepsen's "Call Me Maybe" that was covered by everyone from the Olympic swim team to Cookie Monster. (We rounded up the different versions in this post.)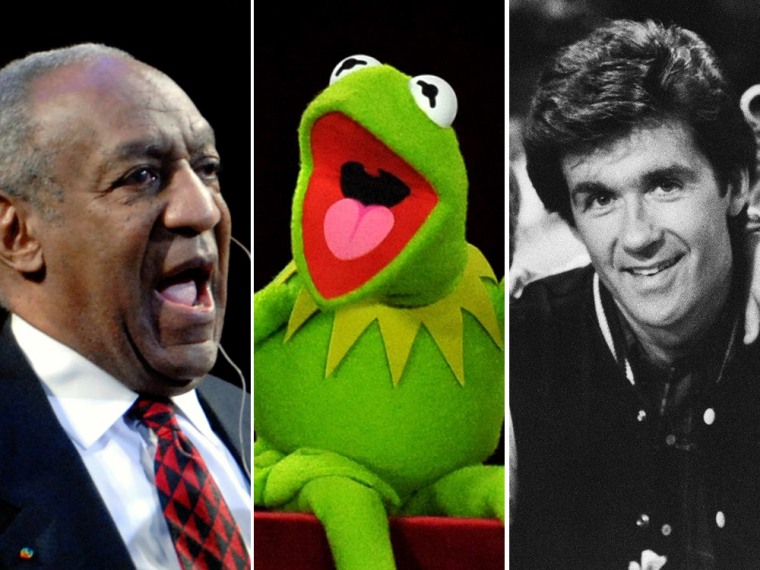 This year, the hot song is a bit more controversial than Jepsen's blockbuster -- some critics dubbed Thicke's song "rapey" for such lyrics as "I know you want it ... but you're a good girl." (Thicke says those charges are hogwash, by the way.) And the video features topless women holding goats. (We don't know.)
The controversy hasn't stopped everyone with ears from throwing together a fresh take on the "Blurred" phenomenon, often featuring famous people. From presidents to Muppets to Robin Thicke's own actor dad, everybody's blurring the lines. Here are a few of our favorites. (Note: Language is sometimes explicit, images are sometimes risque.)
'Blurring Pains'
It was inevitable. Robin Thicke's song meets his dad Alan's iconic 1980s-90s family sitcom, "Growing Pains." Retro still rules.
'Cosby Show'
Speaking of nostalgia, another awesome mashup takes the opening credits from the 1980s "Cosby Show" and shows the Huxtable family dancing to Thicke's hit.
Bill Clinton
The former president's romantic reputation makes him a believable parody topic for the sexy song. And current President Barack Obama gets to steal the show with a soulful line of his own.
Kermit the Frog and the Muppets
Oh yes, Kermit the Frog is popular with the ladies -- just ask Miss Piggy. He leads the other Muppets in an entertaining romp through Thicke's tune. It's not easy being green, but Kermie nails it.
Vampire Weekend
There's no video, just audio, but all the better to highlight this goofy-fun cover by the rock band, who don't always remember Thicke's lyrics.
Mod Carousel
Thicke's video was criticized by some for featuring several lovely topless women stalking around while the men remain fully clothed. This risque version, by "boylesque" troupe Mod Carousel, reverses the genders for some equal-opportunity almost-nudity.
Jimmy Kimmel
The host of "Jimmy Kimmel Live" showed his own take on the video on his talk show. Let's just say Thicke, Pharrell and his crew of models are not so thrilled to have Kimmel and pal Guillermo trying to nudge their way into the action -- especially when Kimmel gets up close and personal with Thicke's face.
Super Mario Bros.
Mario, King Koopa and the whole 1980s video game crew get into a whole weird 8-bit area with this version. Thank you, Mario, but our princess is in another castle.
There are plenty of other versions out there -- including a country-western take and yes, even a kids' version (which substitutes G-rated lyrics like "I know you wanna ... join a Kids' World").
Lines getting too blurry for you? Vote in our poll and pick your favorite version.