Sean Lowe is a hands-on dad, but his wife Catherine Giudici is an even busier mom. Since the couple met on season 17 of "The Bachelor," they've gotten married, moved to Dallas and have become the parents of two boys: Samuel and Isaiah.
Because Lowe has an affinity for DIY projects, he's partnered with Lowe's and Craftsman as a spokesperson — and he hopes to pass his love for building things along to his kids.
"You can do it yourself, and there's a lot of pride in that. That's kind of been my philosophy — if I can do it myself, I'm going to. I'd rather not have to call someone and pay them to come to my house to fix it if I can do the job myself," Lowe told TODAY. "I want to instill that in my sons as well. There are some life lessons in there too — it doesn't just pertain to DIY projects. I think if you can take accountability and tackle things head on, you're much better off. And like I said, I look forward to passing those traits on to Samuel and Isaiah."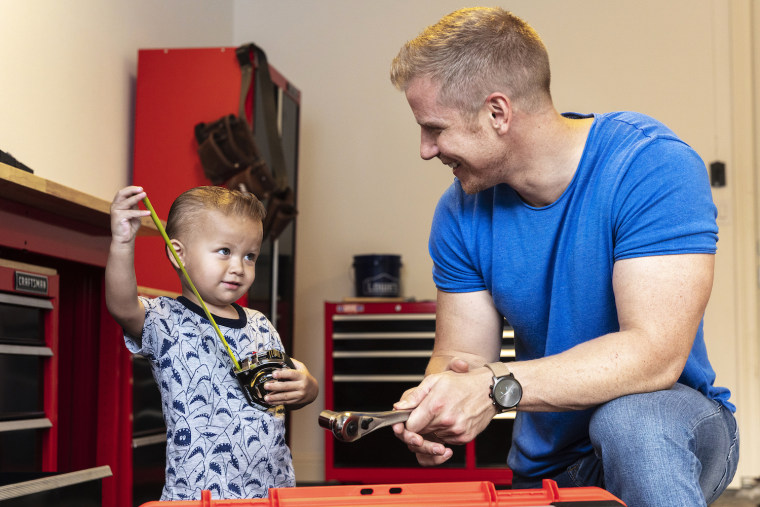 We caught up with the DIY dad to ask him about marriage, family life and his thoughts on the latest "Bachelorette" season finale.
The time after having a baby is usually considered the most stressful time in a relationship. A lot of marriages don't make it. What has been the most stressful for you about having two young kids and how do you guys get through it?
I got very lucky by marrying such a wonderful woman, because she has been the one to get a lot of sleepless nights. As the mom, she's breastfeeding Isaiah, so when he wakes up in the middle of the night, there's not a whole lot I can do to help. Catherine has not only done it, but she has done it with a smile on her face. I've definitely gotten more sleep than she has in the past couple of months. She has handled everything so extremely well. I try my best to help her out, and that usually involves taking care of Samuel, our 2-year-old, so she can devote her time to the baby.
I would say a lot of times, lack of sleep can be very stressful. I may be more fortunate than other guys out there just because Catherine has performed beautifully. I think the biggest thing to keep in mind is that you're a team and you're in it together, and sometimes it's challenging, but just try your best to love each other through it and support one other. It's usually more the husband supporting the wife because they are the ones doing most of the work. Do anything you can to be supportive and helpful.
Would you want your kids to go on "The Bachelor"?
I think I would say no. I would prefer they find their future spouse the old-fashioned way. "The Bachelor" can be tricky to navigate. I'd say I navigated it fairly well and eventually found the love of my life, but for my kids, I'd prefer they did it the old-fashioned way.
If they made a reality show about your life now with two young kids, what would it be called?
Hmmm, since I love puns, how about "Lowe Life"?
Everyone has some weird parenting quirk. What do you do as a parent that people think is weird?
Well, I'm sure Catherine could tell you several, but... I do sing a lot of songs, but I don't know what the real words are, so I make up my own lyrics. I guess top of mind, that'd be it: singing lots of songs and just making up the lyrics.
Switching gears: What did you think of Becca's choice on this week's "Bachelorette" finale?
I have to be honest with you, I wasn't really able to keep up with this season of "The Bachelorette" with a 2-month-old at home! We've been fairly busy with our two young ones. Catherine has been recording them, so hopefully I can get to them soon.
What advice do you have for Becca and Garrett?
For anyone who gets engaged on "The Bachelor" or "Bachelorette," the hard work really begins when the cameras are off, because you have to learn how to be in a healthy relationship, communicate, fight in a healthy way, and forgive — all the things normal relationships go through that you don't necessarily have the opportunity to do while the cameras are rolling on the show. You have to make sure you commit to your relationship. It's so easy to be distracted with all of the shiny things that come after the show — I even fell a victim to some of this — but make sure you commit to the relationship and put that person first because it will be very challenging. But at the end of the day, you can make it work.
Who do think should be the next Bachelor?
Well, I didn't watch this season close enough to have a strong opinion, but if we're talking from any time... I know they've been saying this for a while now, so I'm going to go with Chris Harrison (laughs). Then, I could give him advice like he gave me on the show.
You and Arie Luyendyk Jr. are friends. Will you be going to his wedding?
Yeah, I think so! I know I'm getting the wedding invite because he asked me for my address the other day. It's going to be in Hawaii. The only hiccup may be what we are going to do with the kids and how we're going to organize all that, but we're going to do everything we can to get there.