Who doesn't love a good show tune? Not Queen Elizabeth, who has been known to enjoy a "rousing sing-song" every now and then, and counts musical tracks among her all-time favorites, according to a new radio documentary in honor of the monarch's 90th birthday.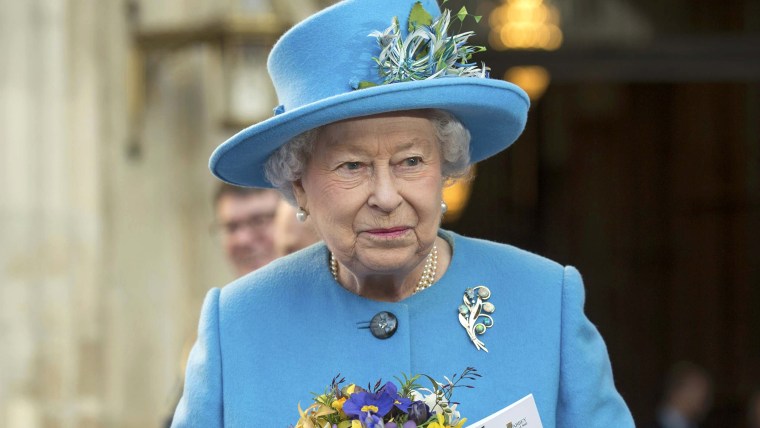 "The Queen loves the theatre and musicals like 'Showboat,' 'Oklahoma!' and 'Annie Get Your Gun,'" the queen's cousin, Lady Elizabeth Anson, told the program, "Our Queen: 90 Musical Years." The monarch celebrated her milestone birthday in April.
The show, which will air June 12 on BBC Radio 2, reports that those closest to the queen have described her "lovely voice" and said her musical tastes are "mainstream, no airs and graces."
RELATED: Queen Elizabeth (and dogs) grace Vanity Fair cover by Annie Leibovitz
"We did a lot of singing at Kensington Palace," Lady Elizabeth said. "Nobody thought it was odd after dinner if we put on a record and all sang, 'Doing The Lambeth Walk,' so music has always been part of her life."
The queen's cousin also noted that the monarch is "a fantastic dancer — she's got great rhythm."
Here are Queen Elizabeth's 10 favorite songs, according to the documentary:
1. "Oklahoma!" by Howard Keel
2. "Anything You Can Do" (from "Annie Get Your Gun") by Dolores Gray and Bill Johnson
3. "Sing" by Gary Barlow and the Commonwealth Band featuring the Military Wives
4. "Cheek to Cheek" by Fred Astaire
5. "The White Cliffs Of Dover" by Vera Lynn
6. "Leaning on a Lamp Post" by George Formby
7. "Praise, My Soul, The King Of Heaven" (hymn)
8. "The Lord is My Shepherd" (hymn)
9. Lester Lanin Medley
10. Regimental March Milanollo
Might we see the royal join her fellow Brit James Corden for a rousing Carpool Karaoke ride at some point? If only wishing made it so...