While chatting with Hoda Kotb on the TODAY set, Academy Award winner Helen Mirren said finding love when she was 38 has been rewarding — even if the passage of time can be daunting.
When Kotb asked the 70-year-old actress and four-time Oscar nominee if her husband, director Taylor Hackford, is the love of her life, Mirren delivered her usual quick wit. "I don't have much life left, do I?" inquired Mirren, cracking up Kotb in the process. "So, I hope he's the love of my life." (In other words, don't read too much into the kiss she gave Stephen Colbert as a "Late Show" guest last week.)
MORE: Helen Mirren has strong words for drunk drivers in Budweiser Super Bowl ad
Mirren, who won her Oscar for playing Queen Elizabeth II in 2006's "The Queen," contended there's a major benefit to discovering love beyond one's 20s. "The great thing about finding a partnership later on [in life] is that you recognize it as such," she said. "You recognize the partnership level of this relationship as much as the love and the lust and all the rest of it."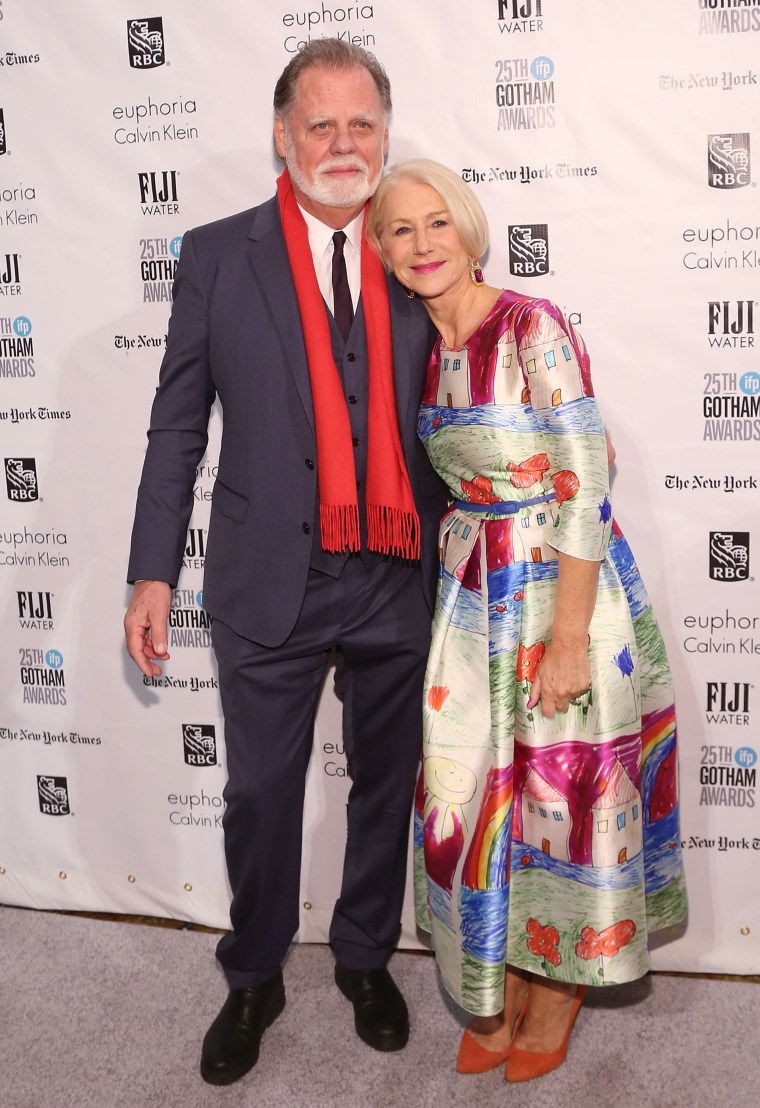 Earlier in her TODAY interview, Mirren explained the story behind and spiritual meaning of her hand tattoo: a simple symbol of two interlocking V's.
"I used to tell people I got it in the prison before my sex change," she said, laughing. "I got it, oh, because I was drunk. I got it in America. It was on an Indian reservation in Minnesota. And a girl did it with a safety pin and it was unbelievably painful."
Starring as Col. Katherine Powell — a role originally scripted for a man — in the current theatrical release of "Eye of the Sky," Mirren found a way to relate her ink to her movie, which explores the moral dilemmas of international drone warfare.
RELATED: See Alan Rickman in last on-screen role in thrilling 'Eye in the Sky' trailer
"[My tattoo means] equal and opposite," she said. "That, actually, funnily enough, [relates to a theme from the movie], which is to see the people who are so different from you as basically being your equal, of equal value as yourself."
Follow TODAY.com writer Chris Serico on Twitter.