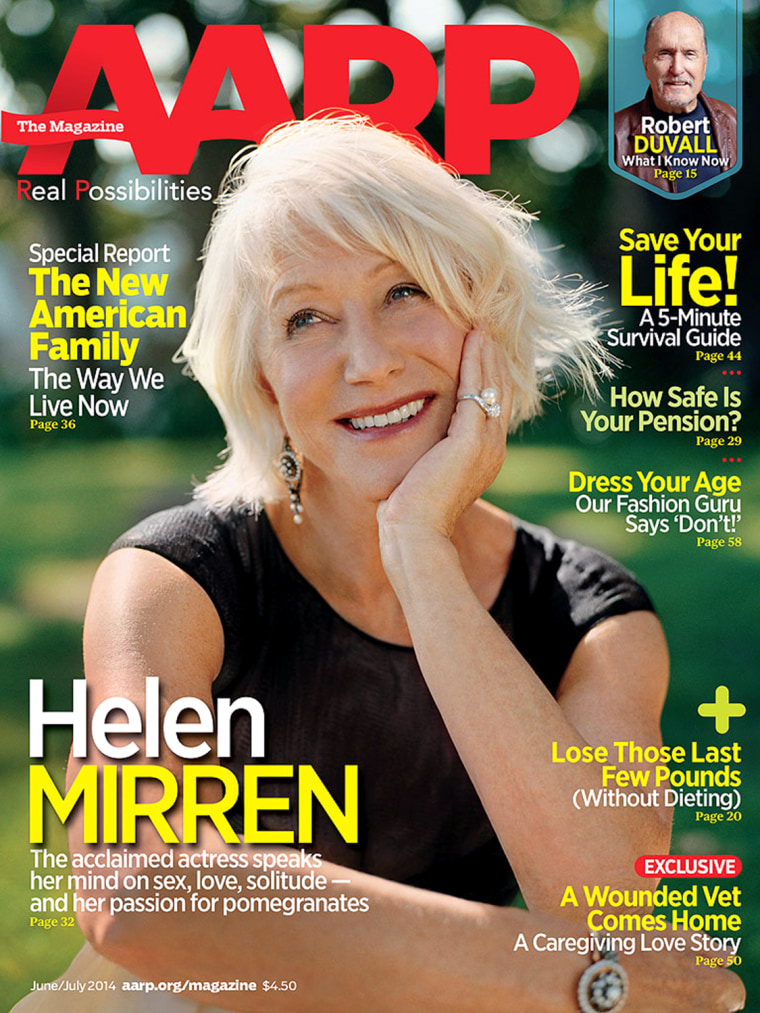 Step off, Emma Thompson. Helen Mirren has one-upped you for a spot on the straight-talkin' express train. In a new interview with AARP the Magazine, the Oscar winner shares her frank thoughts and revelations on a number of topics including marriage — which she calls "voluntary imprisonment."
Mirren, 68, has been married to director Taylor Hackford since 1997, but the actress told the magazine she was in no rush to settle down and has no regrets about not having kids. "I never felt the need for a child and I never felt the loss of it," she said. "I'd always put my work before anything."
Work and love collided when Mirren met Hackford during an audition for 1984's "White Nights." The star and director quickly became a couple, in part because the timing was right, Mirren says today.
"Both of us already had successes; we were well-traveled and experienced at life, and neither of us put up with much (expletive)," she told AARP. That independent spirit carried over to the couple's wedding ceremony 12 years later, when Hackford sported a kilt and Mirren wore dress from a 70-percent-off sales bin.
The actress says things would have turned out differently had she and Hackford met in their much younger years. "We probably wouldn't be together now (if we had)," she said. "I couldn't have dealt with him early on. He would have been much too difficult. He was quite difficult as it was, but I got through that."
Don't expect Mirren to warm to social media, however. Like Thompson, she's not a fan. "It reminds me of a stinky old pub," she said. "In the corner would be this slightly disgusting old man who sits there all day, every day. If you went up and talked to him, you'd get the kind of grumpy, horrible, moldy, old meaningless crap that you read on Twitter."
Follow Randee Dawn on Google+.