When "Frasier" star John Mahoney died at the age of 77 on Sunday, his fellow entertainers took to social media to honor him.
Now, his TV son Kelsey Grammer has shared his grief in a heartfelt Twitter post.
On Wednesday, the Emmy winner, 62, paid tribute with a tender photo of the the two actors embracing, writing, "He was my father. I loved him."
Peri Gilpin, who played Roz on the long-running sitcom, also honored her late co-star on Monday by urging fans to re-watch some of Mahoney's greatest works.
Mahoney earned two Emmy nominations for his role as gruff retired cop Marty Crane on the beloved sitcom during its 11-season run. One of the show's ongoing jokes was that beer-drinking, sports-obsessed Marty had trouble relating to his erudite and cultured sons, psychiatrists Frasier (Grammer) and Niles (David Hyde Pierce).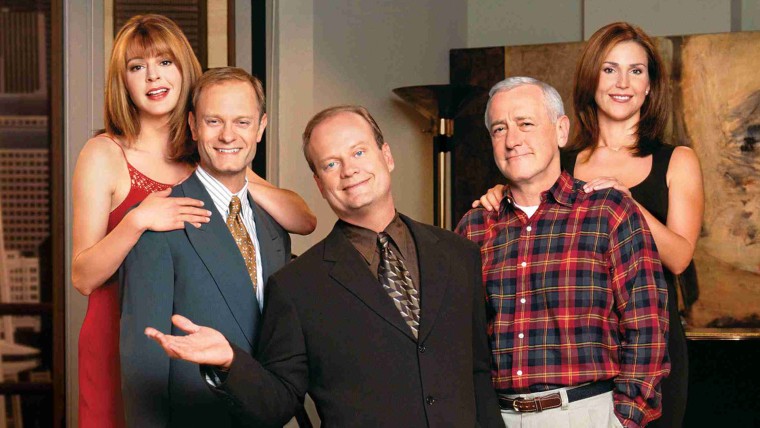 But in real life, Mahoney, who spent nearly 40 years as an ensemble member of Chicago's legendary Steppenwolf Theatre Company, passionately loved opera and shared his knowledge of it with his younger TV son — who played an opera fanatic — Pierce revealed in a 2010 interview with Time magazine.
Over his long career, British-born Mahoney also starred in movies including "Say Anything," "Moonstruck" and "Barton Fink" —and won a Tony Award n 1986 for his role in "The House of Blue Leaves."
More recently, he appeared on several episodes of "Hot In Cleveland" as Betty White's love interest.