Imagine a world in which heart attacks are rare, heart disease is detected early and accurately so few people will ever need angioplasty or coronary bypass surgery. This is the world Dr. Arthur Agatston believes we can live in. Not 10 years from now, but today, right now. Dr. Agatston, author of best-selling book, "The South Beach Diet," has a new book, "The South Beach Heart Program." Dr. Agatston was invited on TODAY to discuss his new book. Read an excerpt:Chapter One
You Don't Have to Have a Heart Attack!
Imagine a world in which heart attacks are rare and death from a premature heart attack is virtually unknown — a thing of the past. Imagine a world in which heart disease is detected so early and so accurately — and treated so effectively — that very few people will ever need to be subjected to invasive and expensive procedures such as angioplasty or coronary bypass surgery. Imagine a world in which we can confidently look forward to healthy and productive lives free from the threat of heart attack and stroke.
You may be thinking, "Gee, my kids or grandchildren might be lucky enough to live in such a world, but this isn't going to happen in my lifetime."
If that's what you're thinking, you're wrong.
The exciting news is that we now have the knowledge and ability to prevent the great majority of heart attacks and strokes. We can save hundreds of thousands of lives each year — maybe even yours. I'm not talking about what we will be able to do 10 years from now, or even 5 years from now. I'm talking about what we can do right now. What's even more remarkable is the fact that right now we have noninvasive — no cutting, no pain, no recovery required — diagnostic techniques that can identify people who are at high risk for developing coronary artery disease (or CAD), so that they can be treated early. We also have highly effective treatments, including medications and lifestyle changes, that can reverse damage to the heart's arteries without requiring patients to go under the knife. These treatments are simple and inexpensive when compared to angioplasty or bypass surgery.
I know this is true because I prescribe them every day in my medical practice. Many of you may know me as the doctor who created the South Beach Diet, but I am an accidental diet doctor. For nearly 30 years, I have been a cardiologist — a specialist in disorders of the heart — and for more than 20 years, I've been an associate professor at the University of Miami Miller School of Medicine at Mount Sinai.
Much of my medical career has been devoted to noninvasive cardiac imaging, the technology that allows us to get detailed pictures of the heart and coronary arteries from outside the body. If you have ever had a heart scan—either a computed tomography (CT) scan or an electron beam tomography (EBT) scan—you were probably given a Calcium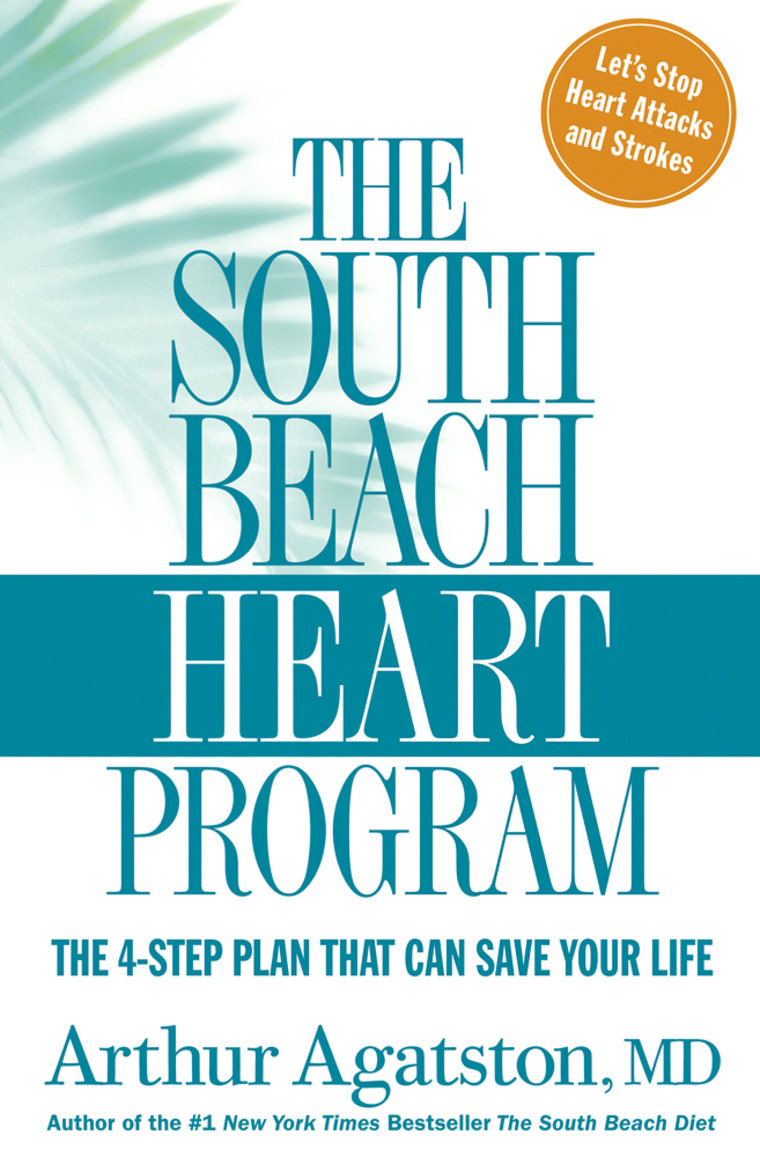 Score as part of your test results. That measure of coronary calcium is often referred to as the Agatston Score, and the method for calcium screening is called the Agatston Method. Both come from my early work with my colleague Warren Janowitz, MD, developing a method of imaging plaque-clogged arteries that can be employed years before heart attack symptoms occur. In fact, the diagnosis and prevention of heart disease has been my focus and passion throughout my professional life.
A Passion for Prevention
Today, an unbelievable 66.5 percent of Americans are either overweight or obese, and 40 percent of those over the age of 40 are prediabetic. Nearly 21 million Americans actually have diabetes, and that number is growing daily. What's more, we are exporting our epidemics of obesity, prediabetes, and diabetes to the rest of the world at an alarming rate. People who have these conditions, which are largely due to poor diet and lifestyle habits, are prime candidates for heart disease.
I developed the South Beach Diet to help my patients lose weight, improve their blood chemistries, and avoid becoming diabetic. It was a piece of the prevention puzzle and it worked. Thanks to the world-wide success of my first book, I have been given the unique and wonderful opportunity to help change the way America eats. And while I am thrilled that millions of people are following the South Beach Diet, I have an even more ambitious agenda.
My goal in writing The South Beach Heart Program is to speed the pace of the cardiac prevention revolution currently taking place in this country. I believe that one of the great failings in medical practice today is that cardiovascular disease is not diagnosed and treated in its earliest stages. Every time I hear that someone has died of a "sudden heart attack," I can't help but think that it shouldn't have happened. A life could have been saved if the victim had just had the benefit of the latest diagnostic techniques and medical treatments.
The South Beach Heart Program is based on these cutting-edge tools, which are currently being used by prevention-oriented cardiologists and internists around the country. It shows you how to make the most of these advances, while improving your diet and lifestyle as well.
Heart Attacks Can Be PreventedFrom the moment I graduated from medical school, I had a great interest in preventing heart disease, but I didn't know how. That changed with the development of cholesterol-lowering drugs, new noninvasive coronary screening methods, advanced blood testing, and a much more accurate understanding of how heart attacks happen.
Although I had been practicing a form of what I like to call "aggressive prevention" for years, it wasn't until the late 1990s that I was able to take advantage of all these new strategies and implement the heart disease prevention program I use today. Now, thankfully, I am hard-put to remember the last time I got a late-night call from the emergency room telling me that a patient of mine had suffered a heart attack. I don't have 40-, 50-, or 60-year-olds in my practice suffering heart attacks or strokes. And among people whom I've treated over a period of time, I rarely find it necessary to refer them for invasive procedures such as angioplasty or bypass surgery. I don't pick only heart-healthy patients, either. I treat primarily high-risk men and women with multiple risk factors and often a family history of heart disease. In fact, many of my patients have come to me after already suffering a heart attack at a young age. If they follow my program, they don't go on to have another.
As I've said, this is not just my experience. One of the best-kept secrets in medicine today is that many doctors who practice aggressive prevention have essentially stopped seeing heart attacks and strokes among their patients. When we meet at conferences and compare notes, it's common to hear "I've hardly had a heart attack in my practice this entire year" and "If hospitals had to rely on my referrals for surgery, they'd have very quiet operating rooms." We don't wait until our patients are crippled by chest pain or in the throes of a heart attack to act. At that late stage, an invasive approach is usually essential.
Instead, we use the latest technology to identify people who are at high risk for a heart attack years before they experience any symptoms. We educate our patients about the right diet and exercise. And we prescribe cholesterol-lowering drugs and other medications that are proven to help prevent heart attacks and strokes. We closely monitor our patients and our perseverance pays off.
They stay healthy, happy, and nearly always heart attack free. Watching patients who had a parent or sibling die of heart disease before age 50 reach their sixties — and often well beyond — has brought me my greatest satisfaction as a physician. There is usually nothing routine about saving lives. Yet, in cardiology practices using aggressive prevention techniques, saving lives has become routine. My program works because it is a synthesis of what I have learned over the years from so many leaders in cardiology research and practice, and I owe them a great debt of gratitude. In the Foreword to this book, I have named those who have had the greatest influence on me.
Millions Are Missing OutDespite all the advances and our proven success, I am frustrated that more Americans aren't getting the preventive care enjoyed by my patients and the patients of other preventive physicians. In fact, heart disease is by far the number one killer in the United States, accounting for 1 in 5 deaths annually. And it's not just the stereotypical middle-aged or older man who falls victim. Heart disease is an equalopportunity killer — approximately 500,000 women die of hear-trelated ailments each year. And women, take note: If you have a heart attack, you are twice as likely as a man is to die from it. I want you women readers to realize that what I say in this book is as relevant toyou as it is to your husband, sons, father, and brothers.
Most deaths from heart disease result from a condition known as atherosclerosis, or "hardening" of the arteries, which occurs when artery walls are gradually filled by plaque, a toxic soup consisting mainly of cholesterol, inf lammatory cells, and scar tissue. But all plaque isn't created equal. A heart attack occurs when a soft, cholesterol-rich plaque bursts, resulting in the formation of a blood clot that blocks the f low of blood to the heart. (The mechanism of most strokes is similar, except that it occurs in the arteries in or leading to the brain.)
Despite the fact that most heart attacks are preventable, there are about 865,000 new and recurrent heart attacks each year. And notwithstanding what preventive cardiologists are seeing every day, the total number of invasive heart procedures is actually on the rise. More than 1 million angioplasties are performed each year to open clogged arteries. In addition, some 467,000 coronary bypass operations are performed annually in the United States.
Patients are often told that having angioplasty or bypass surgery will prevent them from having a first or second heart attack. In the majority of cases, this simply is not true. While angioplasty (which involves opening a blockage by inf lating a balloon at the end of a catheter) can be lifesaving when performed early in the course of a heart attack or when symptoms are severe, it is too often being done on patients with mild or no symptoms of heart disease. In other words, this invasive procedure is being performed on people who are otherwise leading normal lives and for whom opening a chronically blocked artery will do nothing to prevent a future heart attack. And while bypass surgery (which reroutes bloodf low around blockages in the coronary arteries using veins and/or arteries transplanted from other parts of the body) can be lifesaving or life-extending in certain people, too many patients are undergoing this very serious procedure even though it will neither prolong their lives nor make them feel better.
Reprinted from "The South Beach Heart Program" by Arthur Agatston, MD. Copyright 2007 by Arthur Agatston, MD. Permission granted by Rodale, Inc.