When 16-year-old Harry Potter fan Johnnie Blue handed J.K. Rowling a letter to thank her for "saving lives," he didn't expect to receive a reply — or to be likened to Harry himself.
But that's exactly what happened to Johnnie, who lives in the Scottish county of Ayrshire and has been a fan of the wildly popular books and movies for as long as he can remember.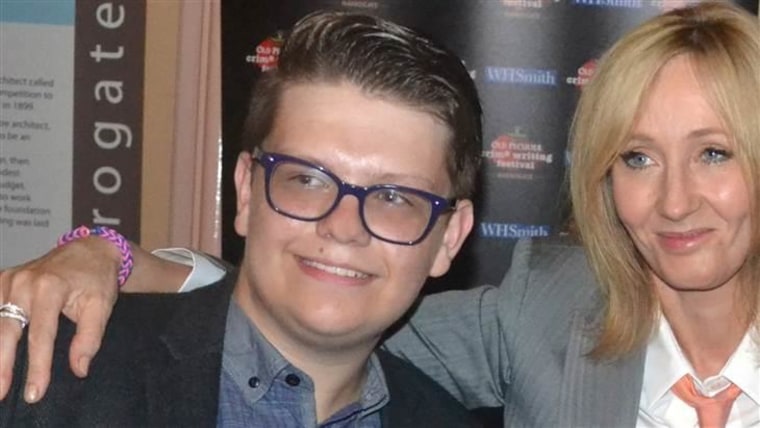 "[I love] how detailed they are," Johnnie told TODAY.com, of Rowling's books. "You just get such a clear image in your head of what exactly it would look like. And the friendships. And the message that they portray throughout the story: that love wins over evil."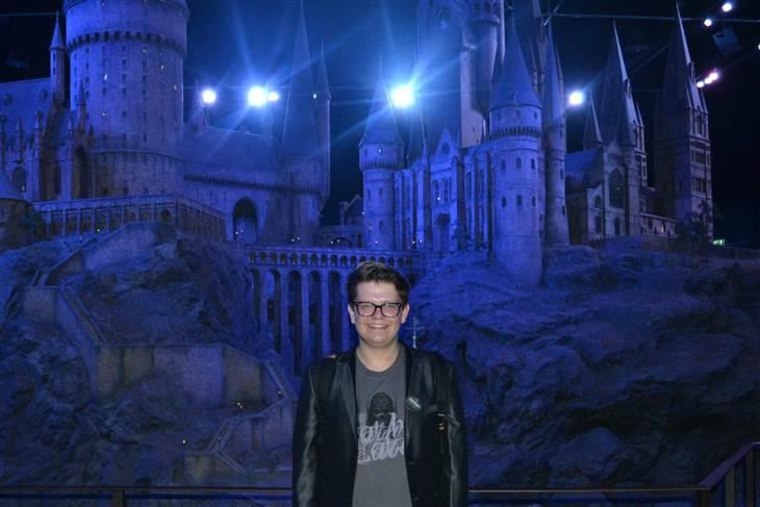 The bond between author and fan began last year on Twitter, where Johnnie cajoled the author into a reply by offering "Dobby eyes," a reference to the sympathetic look of a beloved Harry Potter character.
It worked.
On July 18, Johnnie met Rowling when she appeared at the Harrogate Festival in England.
"I reminded her that I was the 'Dobby eyes' boy, and she said that she remembered me," he recalled. "She invited me back at the end of the event, because she wanted to meet me again. ... And I got a photo, she said, 'only because you're the 'Dobby eyes' boy.'"
That day, he gave her a Harry Potter-themed notebook as a gift. Inside it, he said, was his letter addressed to Rowling, thanking her for helping him stay positive when he was bullied in his early childhood.
"[I was bullied] in primary school, for seven years," he told TODAY.com. "And that's why Harry Potter meant so much to me, and still does mean so much to me. It managed to [help me] escape all of that."
Posing for a photo with Rowling, as Johnnie did at the Harrogate Festival, would have been the memory of a lifetime for any Harry Potter fanatic. But that's not where the story ends.
Exactly one month after Johnnie handed her the notebook containing his letter, a reply arrived in an envelope lined with purple tissue and stamped with "Chamber of Secrets" postage, he said.
"That was surprising, because I didn't think I was going to get a letter at all," Johnnie said with a laugh. "It was just amazing to know that she'd actually read the letter and that she took the time to reply to it."
Dated Aug. 15, the letter attributed to Rowling opens with praise for his handwriting, but shifts focus to "more important" matters.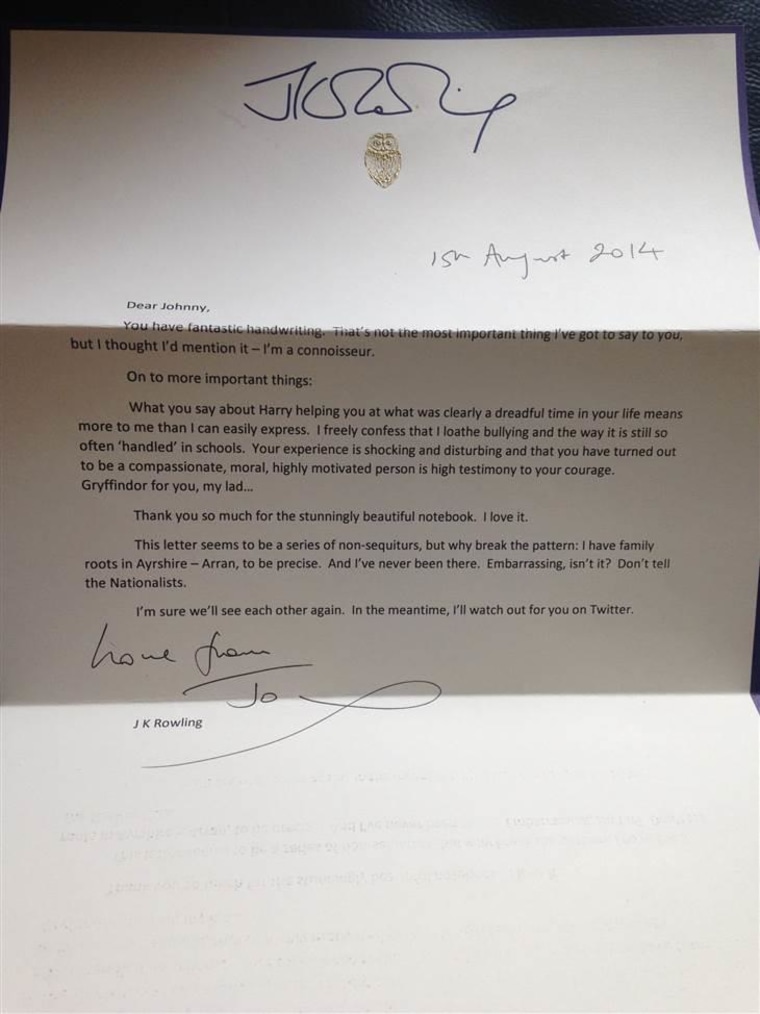 "What you say about Harry helping you at what was clearly a dreadful time in your life means more to me than I can easily express," reads part of the letter. "I freely confess that I loathe bullying and the way it is still so often 'handled' in schools. Your experience is shocking and disturbing and that you have turned out to be a compassionate, moral, highly motivated person is high testimony to your courage. Gryffindor for you, my lad."
In the Harry Potter series, members of Hogwarts' House of Gryffindor include the heroic title character, and are celebrated for their courage, bravery and chivalry.
Thrilled by the comparison, Johnnie said he's confident Rowling's Gryffindor declaration overrules the outcome of her Pottermore website, whose Sorting Hat program had assigned him to the House of Ravenclaw.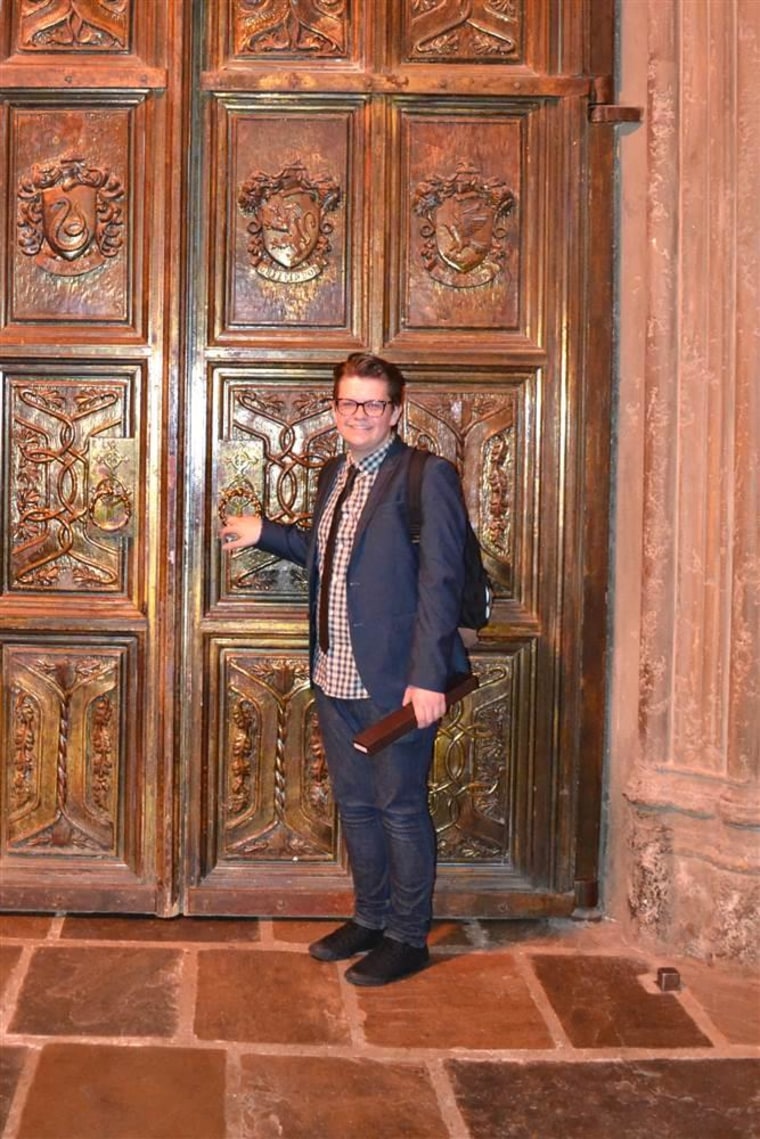 That letter also thanks Johnnie for the notebook and mentions a family connection to Johnnie's home county. "I have family roots in Ayrshire — Arran, to be precise. And I've never been there. Embarrassing, isn't it? Don't tell the Nationalists."
The letter concludes: "I'm sure we'll see each other again. In the meantime, I'll watch out for you on Twitter. Love from Jo, J K Rowling."
News of the letter and its contents went viral this week on social media, where the two continue to keep in touch.
Johnnie is happy to report that the bullying stopped a few years ago, adding he's grateful for the way Rowling's writings helped him heal.
"Harry Potter," he said, "saved my life."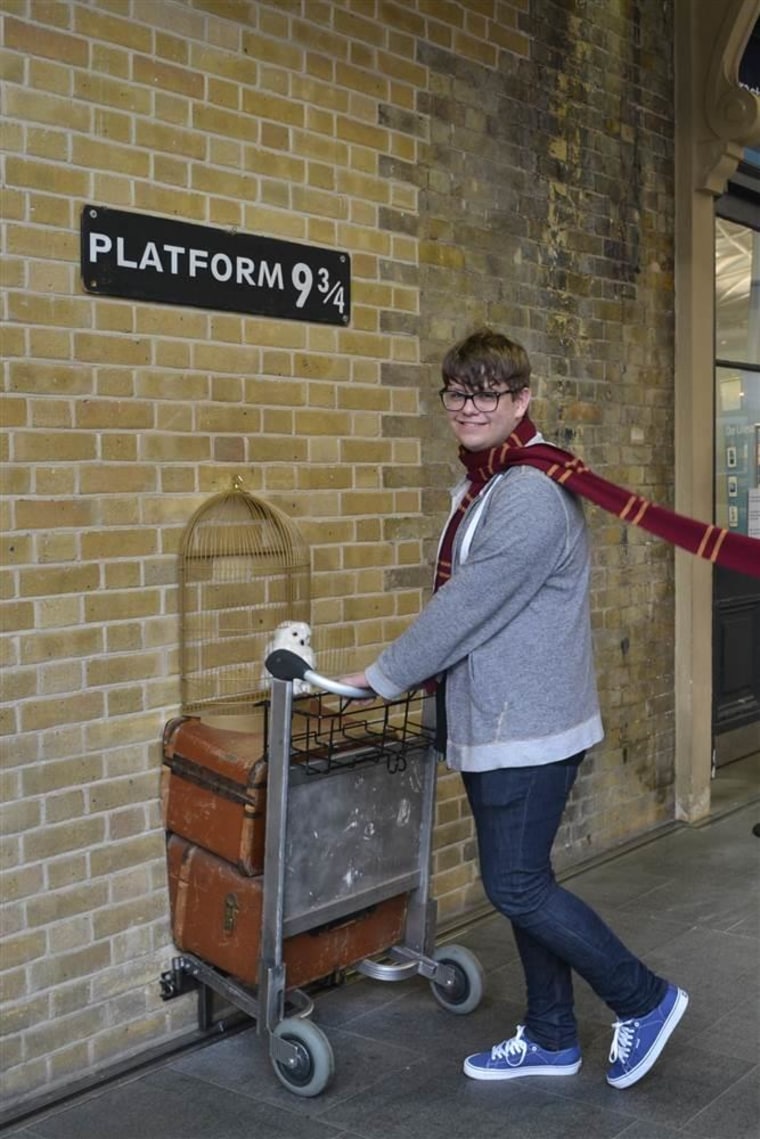 Follow TODAY.com writer Chris Serico on Twitter.
This article was originally published Feb. 19, 2015 at 6:04 p.m. ET.