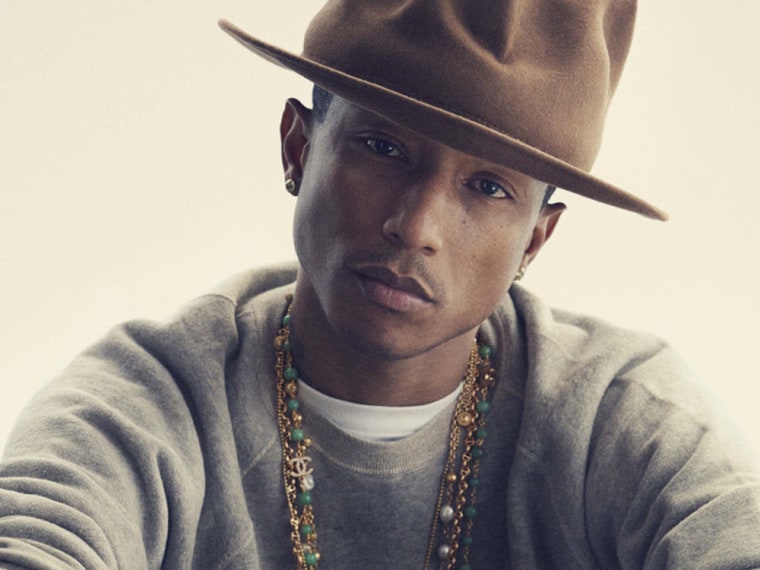 NBC revealed some "Happy" news on Monday: Musician Pharrell Williams of Smokey the Bear Grammys-hat fame is joining "The Voice" next season as a coach. (But don't count on an appearance by the famous headpiece. Arby's bought the iconic hat in a charity auction.)
"It's been a huge year for Pharrell, with recognition for his contribution in the world of music — the 'Despicable Me' franchise soundtracks, his Oscar-nominated song 'Happy' and his Grammy-winning collaboration with Daft Punk on the breakout dance hit 'Get Lucky,'" Paul Telegdy, NBC Entertainment's president of alternative and late-night programming, said in a statement. "He has already made a considerable impact as a mentor, drawing on an impressive track record as both a producer and performer. It is a perfect fit for 'The Voice' as we evolve and reach for new heights with this franchise."
"Continuing in 'The Voice' tradition of having the biggest and most current music stars as coaches, Pharrell fits perfectly," added executive producer Mark Burnett.
Williams will be replacing original coach CeeLo Green, who announced in February he would not be returning to the singing competition this fall. 
"I don't want to wear out my welcome there," Green explained on "The Ellen DeGeneres Show." "I have so many other things that I want to do. I haven't released an album in four years."
In the current sixth cycle, Usher and Shakira are sitting in for Green and Christina Aguilera in the coaches' chairs, alongside original stars Blake Shelton and Adam Levine. Aguilera, currently pregnant with her second child, has not said whether she'll be back in the fall.
"The Voice" airs Mondays and Tuesdays at 8 p.m. on NBC.