Several cast members of "Happy Days" recently reunited to remember their late co-star, Erin Moran, who passed away last month at the age of 56.
Scott Baio shared this photo on his social media accounts Wednesday. He's seen standing next to Cathy Silvers, Marion Ross, Anson Williams, Ron Howard and Don Most.
"Celebrating the life of #ErinMoran," wrote Baio, who played Moran's love interest on "Happy Days" and its spinoff "Joanie Loves Chachi."
Moran was found dead in her Indiana home on April 22. An autopsy showed that she likely died of late-stage cancer.
Following news of Moran's death, her "Happy Days" co-stars took to social media to pay tribute.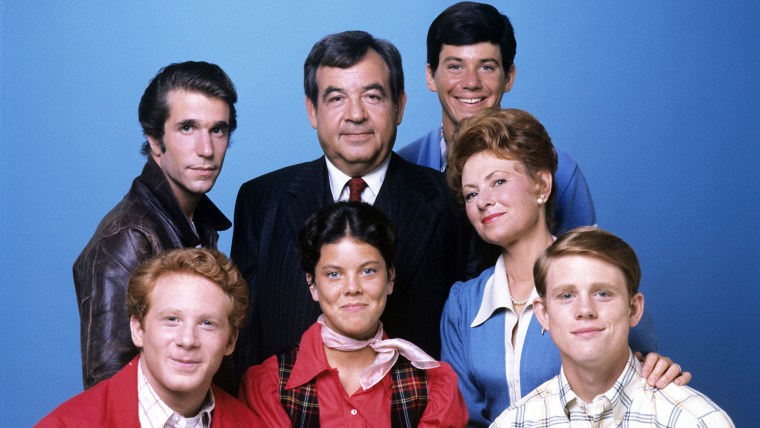 Howard, who played Moran's on-screen brother, Richie Cunningham, wrote, "I'll always choose to remember you on our show making scenes better, getting laughs and lighting up tv screens."
RELATED: 'Happy Days' stars Ron Howard, Henry Winkler and more react to Erin Moran's death
Henry Winkler, who famously played the Fonz, tweeted, "OH Erin... now you will finally have the peace you wanted so badly here on earth ...Rest In It serenely now.. too soon."
Baio remembered Moran for her "contagious smile, warm heart and animal loving soul," and offered condolences.