Being queen of the romantic comedy is not an easy job. You have to play sweet and vulnerable, yet witty and savvy at the same time. And the only modern actress who's convincingly been able to pull this off time and time again is ... Meg Ryan, whose heart has broken and mended over and over again in some of the modern era's most classic rom-coms.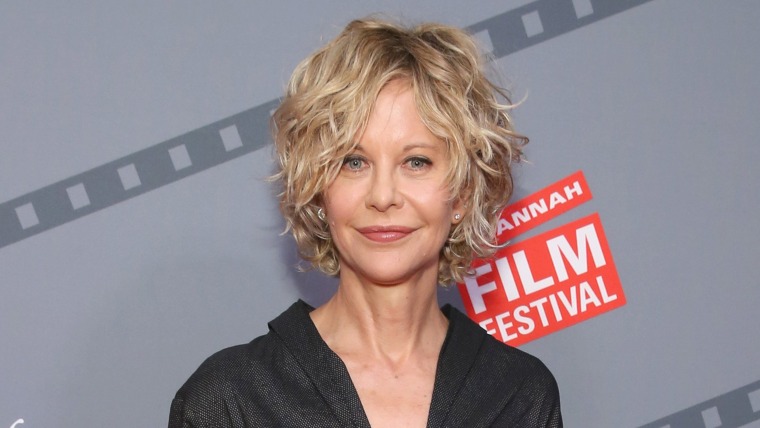 So as our favorite heroine turns 54, here's a look back at the best smooches, heartbreaks and reunions that make her royalty in our book!
1. 'When Harry Met Sally' (1989)
Sally may be a bit uptight, but she's also got a winning smile and the bounciest curls in the whole of New York City. We're still not sure what took Harry (Billy Crystal) so long to figure her out, but we're quite glad he did.
2. 'Joe Versus the Volcano' (1990)
The first pairing of Tom Hanks and Ryan, who would go on to make three more rom-coms together (see below) is largely worth remembering because it brought America's sweethearts together. After all, there's a limited amount of comedy you can get when a guy decides he wants to throw himself into a volcano.
3. 'Sleepless in Seattle' (1993)
Or, America's sweethearts meet "An Affair to Remember," in which Ryan connects with widower Hanks when he calls into a radio show, and the whole thing plays out at the top of the Empire State Building. This reunion of Hanks and Ryan perfectly plays into rom-com sensibilities, and knows it, which makes its execution so perfect.
4. 'You've Got Mail' (1998)
Well, you can't always be perfect, but "Mail" does give it a shot, as Hanks and Ryan go head-to-head as very different sorts of bookstore owners who connect not through the radio, but via the Internet.
5. 'Kate & Leopold' (2001)
Traveling through space and time to meet Meg Ryan makes sense, which is exactly what Hugh Jackman's duke does in this time-travel rom-com, where a man from 1876 connects with a cynical modern gal and sparks ignite.
Bonus: 'Ithaca' (2015)
OK, technically "Ithaca" a) is not out yet and b) is meant to be a drama. But since it pairs Hanks and Ryan again (this time as a married couple), we're already set to be charmed anew. After all, with Ryan in charge (she's directing as well), we sense we'll be delighted to see them together again, no matter how serious the circumstances.
Follow Randee Dawn on Twitter.