Happy 70th birthday, Dolly Parton!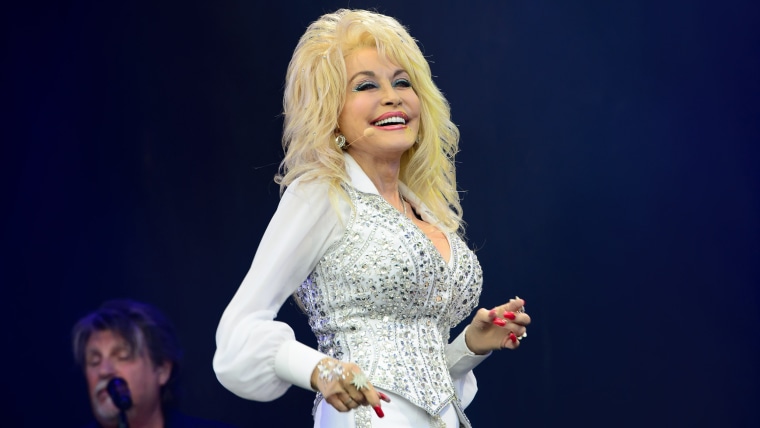 In some ways, 1986 seems like only yesterday. That's when the beloved singer-songwriter was chatting with TODAY about her 40th birthday and the wisdom that comes with that milestone.
Now, 30 years later, in honor of the seven-time Grammy winner and occasional actress, here are seven of Parton's most life-affirming lessons, which are as down-home as they are downright transcendent.
1. Hard work can go a long way.
Context: Back in 1980, when Parton joined Tomlin and Fonda in chatting with TODAY's Jim Brown about "9 to 5," she claimed the closest she'd come to making a movie was going on "the Universal Tour." True, "9 to 5" was her first movie, but it wouldn't be her last; she'd go on to steal scenes in films ranging from "Steel Magnolias" to "Joyful Noise."
Quote (from Parton's "9 to 5" theme song and a recent Instagram post): "There is a great new world for those who dare to claim it. A better day is on the way and only you can change it."
2. Be open to exciting opportunities, as you never know how long they'll be there.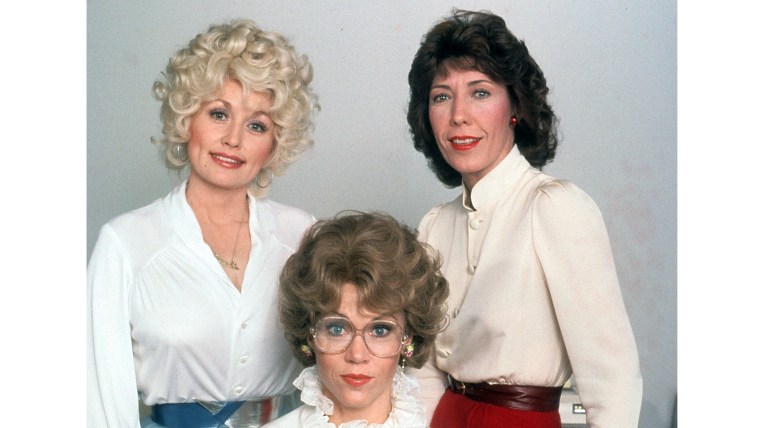 Context: During a March 21, 2014, conversation with TODAY, Parton expressed interest in a reunion with her "9 to 5" co-stars, Jane Fonda and Lily Tomlin.
Quote: "[Whatever] they're doing, I'm in! Whatever it is, all I can say is we better get to it quick or it will be '95' instead of '9 to 5.'"
3. Be judgment-free.
Context: In the summer of 2010, Access Hollywood asked Parton about an outfit worn by her unofficial goddaughter, Miley Cyrus, at the MuchMusic Video Awards ceremony a month earlier. To no one's surprise, Parton responded with grace and class.
Quote: "If you think I'm going to sit here and pass judgment on Miley, you're wrong. I think she's beautiful. I love her. She's trying to grow up."
4. Be stylish on your own terms.
Context: As someone whose TODAY show ensemble in May 2014 included white fringe pants paired with a polka-dot long-sleeve, black cravat and zebra-striped vest, Parton doesn't rely on fashion trends to dictate her fashion choices. And, because she's willing and able, she's not afraid to pay for her preferences.
Quote: "I need the money to know how much it costs to look this cheap!"
5. It pays to be happy, and to bring happiness to others.
Context: In an era of celebrity feuds, angry tweets and seemingly endless negativity, Parton continues to make people grin from ear to ear. Consider the joy she shared with Alyvia Alyn Lind when the legendary singer revealed to the child actress that Alyvia would play young Dolly in the NBC biopic "Coat of Many Colors." Or the time Parton dueted with Gage Blackwell, a 12-year-old super-fan with Down syndrome, while he and his family were visiting her Dollywood theme park. There's strength and power in positivity, and Parton is living proof.
Quote: "Smile. It increases your face value."
6. Tough times are inevitable, but they're worth fighting through.
Context: Parton's active Twitter account — "You gotta stay up with all of that," she told TODAY's Savannah Guthrie in May 2014 — is a fount of Parton's wit and wisdom. As chronicled in "Coat of Many Colors," she's endured moments of hardship, but as she noted in one of her tweets, joyful moments often followed.
Quote: "The way I see it, if you want the rainbow, you gotta put up with the rain!"
7. Tomorrow is a new day.
Context: During another May 2014 visit to the TODAY set, Parton offered fitting perspective on the past, present and future.
Quote: "I say I'm as old as yesterday but hopefully as new as tomorrow."
Follow TODAY.com writer Chris Serico on Twitter.