Dick Van Dyke celebrates his 88th birthday Friday, and the comedy legend has been much in the news recently. He was saved from his burning Jaguar, he posed with Julie Andrews for a "Mary Poppins" reunion, and he attended his grandson's art show and joked, "I feel like Justin Bieber." Here are eight reasons we love him still.
From his long-running TV comedy to his starring film roles, the veteran entertainer has done it all.
1. The ottoman empire
If you've watched his classic sitcom, "The Dick Van Dyke Show," you may have noticed the opening credits aren't always the same. Van Dyke walks into Rob Petrie's New Rochelle, N.Y., home and always an ottoman is there to confront him. In one version, he evades the ottoman, in one, he avoids it but trips on the carpet, and in this version, he takes a classic comedy pratfall and is helped up by Mary Tyler Moore and friends.
2. Never need a reason, never need a rhyme
Say what you will about Van Dyke's goofy Cockney accent in "Mary Poppins," his Bert the chimney sweep is the kind of man we'd all love to know. Somewhere there may be a musical number that makes us want to dance more than "Step in Time," but good luck finding it. Even the practically perfect Mary Poppins goes for a twirl when Bert and crew boogie down on the rooftops of London. 
3. Comedy with Carol
In 1977, Van Dyke joined the cast of "The Carol Burnett Show." He didn't last long — the show was in its final season and barely outlasted him — but he had some memorable moments nonetheless. This bit featuring him as a struggling encyclopedia salesman is classic.
4. 'Chitty Chitty Bang Bang'
Van Dyke sang songs by Richard and Robert Sherman in "Mary Poppins," and they were also the songwriters behind 1968's "Chitty Chitty Bang Bang," in which Van Dyke played an eccentric inventor with a flying car. Who wouldn't go for a bizarre ride with the affable Van Dyke, crazy inventions and all?

5. He understands what's funny and what's not
In an interview earlier this year, Van Dyke confessed that he doesn't really get modern comedies. His musings should be required reading in every comedy writing class anywhere. "I think back to 'All in the Family,' when you knew what those relationships were and the comedy that came out of that," he said. "Today it's just one line after another, and they seem to try to cover too much in the way of story in a short time. Then I think they signal when they're trying to be funny, and the minute I catch someone trying to be funny, then I won't laugh."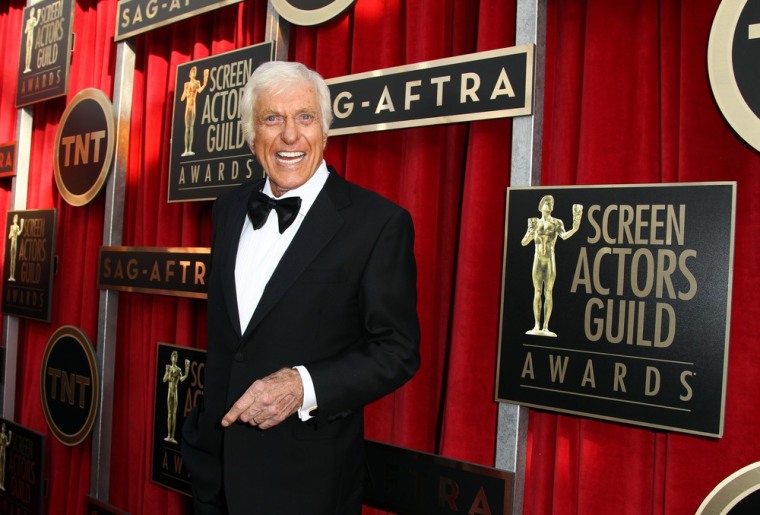 6. He's in a barbershop quartet
Dick Van Dyke and the Vantasticks have even performed the little-known lyrics to the "Dick Van Dyke Show" theme song. (Written by the late Morey Amsterdam, who played Dick's co-writer Buddy on the show.)
7. He's been open about his challenges
Van Dyke has discussed kicking his heavy cigarette habit (he uses nicotine gum), his alcoholism (he drank for 25 years), even the horrible headaches he says came from his dental implants. 
8. That smile
There's not another one like it, not in Hollywood nor anywhere. You really believe, as he sang in "Chim Chim Cheree," that he "does what I likes, and I likes what I do."