Even the biggest fan of the ongoing reality "Bachelor" (and "Bachelorette") series has to admit that a love connection forged on national television doesn't always have the greatest chance of survival.
Witness Ben Higgins and Lauren Bushnell, who paired up in November 2015's season 20 finale of "The Bachelor" and went on to have their own show on Freeform, "Ben and Laura: Happily Ever After?"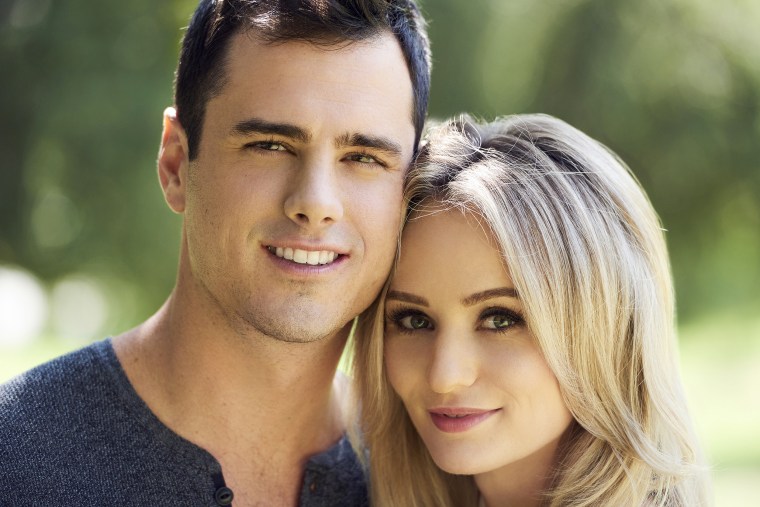 RELATED: 'Bachelor' Ben Higgins: Kissing multiple women 'makes you feel really weird'
It turns out that the question mark in the title was key, as the pair called off their planned nuptials on Tuesday's show.
During a therapy session, Ben told Lauren, "I don't want us to rush it. ... There's still things that we need to know. And I would rather do that now than get into ... after a wedding and then, all of a sudden, sit down and be like, 'What the hell did we just do?'"
He added, "I think this thing sped up real fast, and we haven't had a second to breathe. We both started to know each other. We were engaged. Like, it's weird. But now it's time not to rush anything else."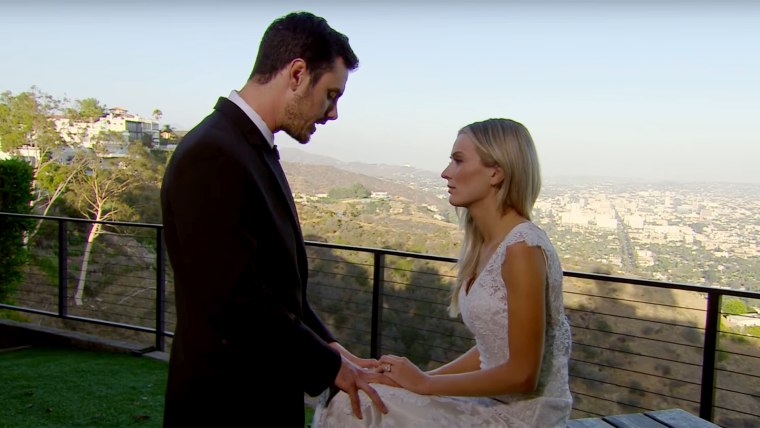 Ben insisted he was not calling things off forever, though. "I'm not leaving you," he said. "I'm not. Don't think that for a second."
But he decided now was not the time. "I feel like we have so much to figure out that it's hard for me at this point to really feel comfortable getting married."
This can hardly seem surprising: Out of 20 seasons of "The Bachelor," just three couples (including Ben and Lauren) are still together; "Bachelorette" contestants fare better — after 12 seasons, four couples are still together.
RELATED: 'Bachelor' Ben Higgins talks wedding plans on TODAY: 'I want to marry Lauren quickly'
Meanwhile, Lauren was clearly blindsided. But the show sent the pair on a road trip to Las Vegas, and on the way they sat down with a couple (Ed and Toots) who had been married for 70 years, and she seemed to feel better afterward.
"Meeting them and talking with them put everything in perspective," she said. "Ed had cold feet, too, and Toots gave him the time that he needed. And it made me realize that if Ben needs a little more time to feel comfortable getting married, that he should really have it because in the end, it won't matter if this wedding's a little bit later."
So the question mark remains, but the relationship itself seems to have a future. Good luck, you two!
Follow Randee Dawn on Twitter.