It's hard to believe it's been 25 years since a trio of blond brothers became a '90s-defining boy band, but it's true: Hanson just hit the quarter-century mark!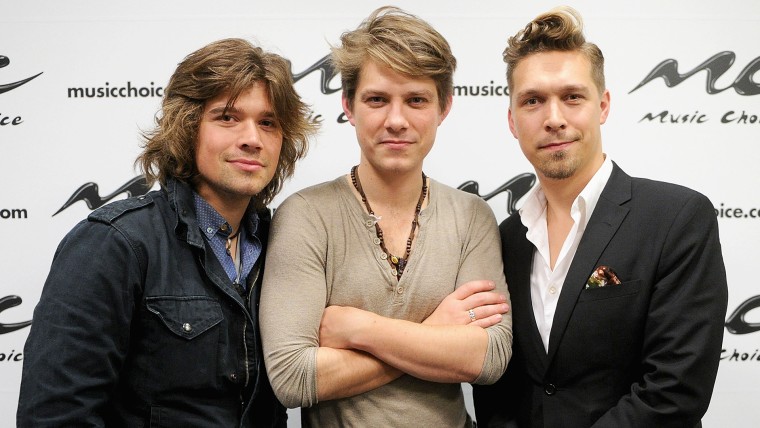 Now Isaac, Taylor and Zac Hanson are celebrating their big anniversary with their biggest tour in years.
RELATED: Nostalgia alert! Watch Hanson perform acoustic rendition of 'MMMBop'
The siblings (now 36, 34 and 31, respectively) will soon embark on their "Middle of Everywhere 25th Anniversary World Tour."
"Making music together for 25 years is a milestone that we had to acknowledge, and what better way to do it than with an anniversary tour," Taylor explained in a statement.
The tour will officially kick off in Hanson's hometown of Tulsa, Oklahoma, at the Hop Jam Beer and Music Festival on May 21, before they head overseas and get their global "MMMBop" going.
"This year is not only about the two decades of music, it's about celebrating the incredible community of fans who have been with us, singing along year after year," Isaac added.
RELATED: Hanson to the world: You've been singing 'MMMBop' wrong all this time
Here's a list of the upcoming shows:
June 1 – Cologne, Germany, at Gloria
June 2 – Amsterdam, Netherlands, at Paradiso
June 3 – Hamburg, Germany, at Mojo
June 5 – Paris, France, at La Cigale
June 7 – Milan, Italy, Fabrique
June 9 – Antwerp, Belgium – Trix
June 10 – London, England, at Shepards Bush Empire
September 12 – Dallas, Texas, at House of Blues
September 13 – Austin, Texas, at Emos East
September 15 – New Orleans, Louisiana, at Joy Theater
September 16 – Nashville, Tennessee, at Wildhorse Saloon
September 17 – Birmingham, Alabama, at Iron City
September 19 – St. Petersburg, Florida, at Jannus Live
September 20 – Atlanta, Georgia, at Buckhead Theatre
September 22 – Raleigh, North Carolina, at The Ritz
September 23 – Norfolk, Virginia, at Norva
September 24 – Silver Spring, Maryland, at The Fillmore
September 26 – Cleveland, Ohio, at House of Blues
September 27 – Pittsburgh, Pennsylvania, at Carnegie Music Hall of Homestead
September 28 – Philadelphia, Pennsylvania, at The Fillmore
September 30 – New York, New York, at Playstation Theater
October 1 – Boston, Massachusetts, at House of Blues
October 2 – Montreal, Quebec, Canada, at Corona
October 4 – Toronto, Ontario, Canada, at Danford Music Hall
October 6 – Detroit, Michigan, at St. Andrews
October 7 – Chicago, Illinois, at House of Blues
October 8 – Grand Rapids, Michigan, at 20 Monroe Live
October 10 – Minneapolis, Minnesota, at First Avenue
October 11 – St. Louis, Missouri, at The Pageant
October 12 – Lawrence, Kansas, at Granada Theatre
October 14 – Denver, Colorado, at Summit Music Hall
October 15 – Salt Lake City, Utah, at Depot
October 17 – Seattle, Washington, at The Neptune
October 18 – Vancouver, British Columbia, Canada, at Vogue Theatre
October 19 – Portland, Oregon, at Aladdin Theatre
October 21 – Anaheim, California, at House of Blues
October 22 – Los Angeles, California, at The Mayan
October 24 – San Diego, California, at House of Blues
October 25 – Las Vegas, Nevada, at House of Blues
October 27 – Houston, Texas, at House of Blues
RELATED: MMMBaby! Zac Hanson welcomes 4th child, Mary Lucille Diana — see the photo
Then get ready for even more! In addition to the around-the-world action, the band has a new release set for later in the year — a Yuletide album called "Ooh Christmas."