Can you believe "MMMBop" has been around for two decades?
Hanson is celebrating their 25th anniversary by going on a worldwide tour called "Middle of Everywhere" — a play on their breakthrough album, "Middle of Nowhere" — and releasing a greatest-hits album by the same name. But they've come a long way since the '90s.
They've gone on to start their own record label, create a beer company and have 12 children between them. And unlike the all-too-common tales of child stars, Zac, Taylor and Isaac are proud of their wholesome image.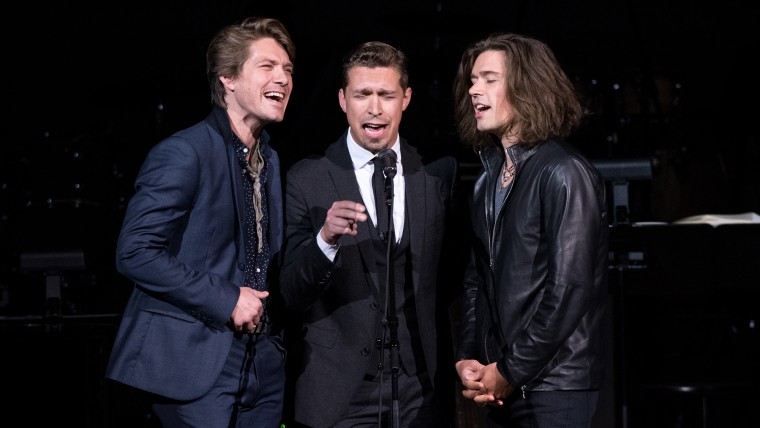 "We've made choices to be defined not by who we are, but the things that we make," youngest brother Zac told TODAY. "When people think of 'MMMBop,' they don't go like 'Oh, that guy was dating Kim Kardashian or I saw him on TMZ.' They think of the music. It's not by accident. It's by design."
While the trio has released six albums since 1997, they consciously took a break from music over the past few years and opted to raise their families in Oklahoma instead of Los Angeles or New York. "We love New York and LA, but we decided to continue building something in Tulsa," said 34-year-old Taylor. "It's more true to who we are and what we want to build into our kids' identities. I'm a proud family man." Isaac added, "We didn't want our kids raised in a place plagued by smog and plastic surgery."
RELATED: Hanson to 'MMMBop' and globetrot for huge 25th anniversary tour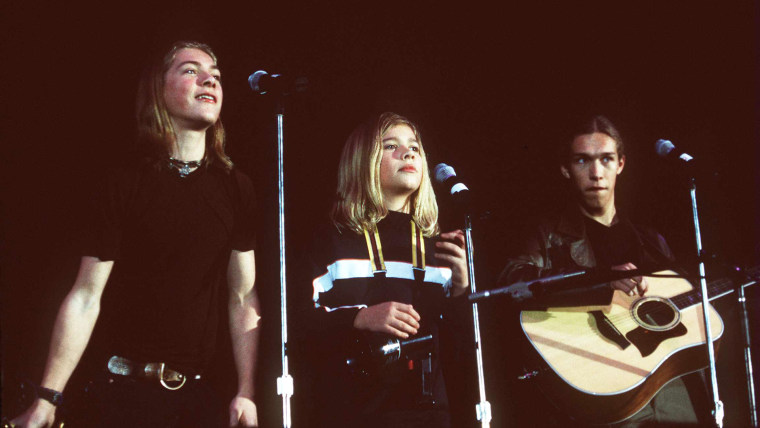 They also said living in a more rural state has allowed them to continue their business on their terms. "We couldn't be the band we want to be if we were in (LA or New York) because if nothing else, the cost of living, the studio we want to have, the building our record label is in et cetera" said 31-year-old Zac. "The idea that we would live somewhere that was nontraditional and build our business out of somewhere that is nontraditional, it's sort of our tradition."
"Oklahoma is very entrepreneurial," said 36-year-old Isaac. "I want my kids to know that what I do is work. It's fun, it's a great job, but it's work. I think they see more of the blue-collar element of the job. There is less of the showy LA scene." Taylor added, "As a parent, half the job is not making them amazing; it's not screwing them up."
Despite living a quiet life out of the limelight, their kids have still seen the famous '90s music videos.
"There are multiple Hanson music videos on the iPad that my 3-year-old watches," revealed Isaac. Taylor noted. "I don't think I have shown them anything, but they have seen them. That is just the way it works."
So, what do they think of their dad's childhood success? "They know what we do is different, but it's not different in the sense that we are 'kind of a big deal' different," said Taylor. "And we know being in Tulsa, it's even clearer. It's not like there are other dads in bands leaving on tour tomorrow. I think they get that, but they also get how that doesn't come easily and we work hard."
"I'm not yet lame to my kids. They generally like what we do," Zac joked. Isaac added, "When my son was 5, he would tell people, 'My dad plays rock 'n' roll guitar.' The other kids would be like 'carpenter' or 'accountant,' and he would say 'rock 'n' roll guitar.' So, they think it's cool."
RELATED: Nostalgia alert! Watch Hanson perform acoustic rendition of 'MMMBop'
And with so many kids in the family, could there possibly be another generation of musical Hansons?
"All of my kids are learning to play instruments," said Taylor. "There is definitely musicality and artistry in the genes," said Zac. "So, we will see what it becomes."