Former "Bachelorette" star Hannah Brown is headed down the aisle. 
On Aug. 28, Brown and boyfriend Adam Woolard announced their engagement in a sweet Instagram post. 
They shared a carousel of photos to celebrate their love story, including one of them touching foreheads as Brown subtly showed off her engagement ring to the camera.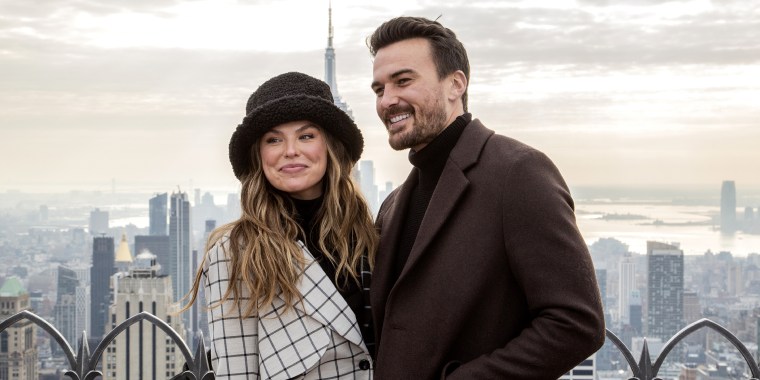 In a second picture, the couple kissed as Woolard got down on one knee and proposed. The pair appeared to be in a barn and were surrounded by candles and red rose petals. 
The 28-year-old reality television star embraced her fiancé in the final snap and smiled while burying her face into his chest. 
"So happy," she captioned the slideshow. "I love our steady love."
In the comments, Woolard wrote, "I love you sweetie."
He shared more pictures from the day he asked her to marry him on his Instagram story. 
"I live for that smile," he wrote below a photo of Brown beaming at him as they held hands. 
Woolard tagged the engagement ring jeweler, Ring Concierge, in another post and said he had "nerves of steel" on the special day. 
According to People, Brown said "yes" to Woolard on Aug. 24 at Bolt Farm Treehouse in Whitwell, Tennessee. 
She told the publication she was completely surprised. 
"I feel like I have been so busy with putting roots down in our new city Nashville and starting my new podcast I hadn't really thought about it much so if he did slip as he was planning, I did not catch on," she said. 
Brown added, "We had talked about getting engaged, but I felt so content and safe in our relationship, I wasn't rushing it."
She appreciated that they shared the intimate moment before celebrating with their friends and family, she said. 
Brown and Woolard, a 33-year-old model, became Instagram official in February 2021, according to People. 
She revealed during the Aug. 2 episode of her new podcast, "Better Tomorrow," that they met on a dating app. 
The two have frequently gushed about their relationship and celebrated many milestones on social media, like getting a dog named Wally and moving to Nashville together. 
Woolard told People that he was confident about their relationship after dating for just a few months. 
"If I had to choose one quality I love about her, it would be her authenticity," he said. "She lives and acts from the truest part of herself despite outside influence. But also that smile and how she lights up a room."
She praised him for his "calming presence and big heart."
"And how he accepts and loves all versions of me … even the crazy version," she said. 
The "Special Forces: World's Toughest Test" star first appeared on reality television in 2019 when she was a contestant on Colton Underwood's season of "The Bachelor."
She was announced as the lead of "The Bachelorette" Season 15 and accepted a proposal from Jed Wyatt at the end. They called it quits before her season finale aired in July 2019. Wyatt is also engaged.
In May, Brown reflected on her relationship with Woolard in honor of his 33rd birthday, calling him her "favorite person" in her Instagram tribute. 
She continued, in part, "It doesn't matter if we are traveling to see the beautiful world or weeknight cooking in the kitchen— it's all fun with you! You really are the best person I know and I'm the luckiest girl to be loved by you!"