/ Source: The Associated Press
They had traveled 1,400 miles and waited two decades for this night — three beautiful women from Long Island, wearing little black dresses to a concert by the pop star they'd drooled over when Reagan was president and hair was feathered. The Heidelberger sisters, together again, had flown all the way to North Dakota — to see Rick Springfield.
As they strode down the aisle of the concert hall in the Pavilion Knights Casino, this trio of blondes straight out of a Robert Palmer video, the unthinkable happened: The Grammy winner himself was calling to them, beckoning them onto the stage through his mike: "Legs at 11 o'clock."
In 1982, it would have been a teenage girl's fan-club dream — dancing with Springfield as he sang "Jessie's Girl." In 2004, it was simply an unexpected fringe benefit of the "Gold Package," purchased from the comfort of home at RickSpringfield.com. It had cost them $1,000.
The Heidelberger sisters had grown up, and access to their idol had become as simple as buying an album.
"We couldn't believe how much fun we had together," Suzanne Heidelberger says. "We knew all the words. He sounded great. The audience totally got into the show and so many memories came back to us."
The "Gold Package" offered them not just tickets to a show and its sound check, but also an autographed guitar and a few moments of one-on-one conversation with the man who once played Dr. Noah Drake on "General Hospital."
Springfield isn't the only artist who's figured out that for celebrities who want to stay in the game after superstardom has ebbed, it isn't enough to churn out albums, make movies or do "Hollywood Squares." They have to interact with fans in a way they couldn't have imagined even 10 years ago.
Hawking one-time fameLast fall, the cruise ship Carnival Triumph departed from Miami with the bands Journey, Styx and REO Speedwagon aboard. They sailed the Caribbean for seven days, performing but also mingling at cocktail parties and holding Q-and-A sessions with fans.
At HollywoodIsCalling.com, anyone with a credit card can order up a 30-second phone conversation with former "B.J. and the Bear" and "My Two Dads" star Greg Evigan for $19.95. That too pricey? Just $5 buys a video greeting card from Brooke Shields' "Blue Lagoon" co-star Christopher Atkins.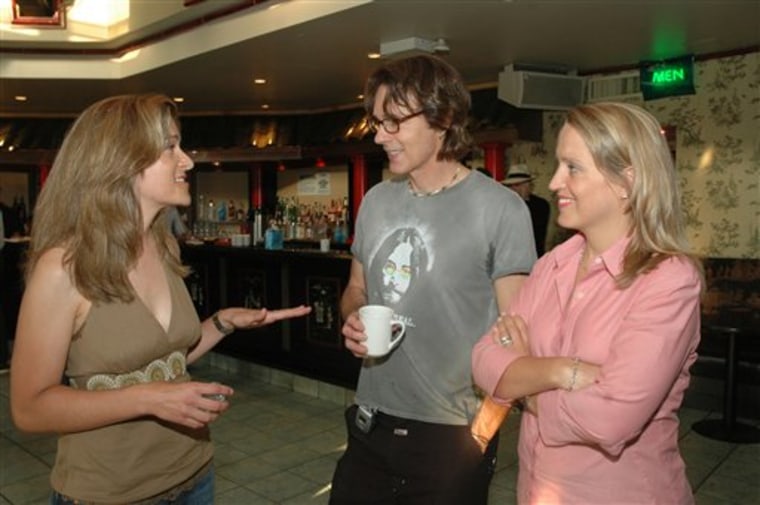 Springfield realizes that in the early 1980s, at the height of his fame, he couldn't have given fans the kind of access he does today. Nor did he need to. Going out into the audience would have been, well, perilous.
"I would have lost an arm because it was that frantic thing," he says, his face and thick, dark hair barely changed from his Tiger Beat days. "I remember being in a car with 4,000 girls trying to turn the car over and smash the windows."
The Heidelbergers never reached the screaming-masses level. Sure, they bought his albums. And yes, they spent an entire summer wearing out a cassette tape of "Success Hasn't Spoiled Me Yet" before turning to other heartthrobs — both on stage and at their high school.
Yet their one-shot blast of nostalgia last summer was intoxicating enough to become a habit. Since their trip to North Dakota, where they bonded with head sound engineer Matty Spindel and his crew, the sisters have seen four more Springfield concerts in various places, hung out in the sound booth during shows and shared drinks with the crew (and occasionally Rick) afterward. It's become their favorite way of spending time together.
"We never could have done this when we were teenagers," says Karen Heidelberger, 33, a Harvard MBA. "We didn't have the money."
This, in part, is what the Internet has done — made every commodity, including the nostalgia of long-ago teenage crushes, accessible. If technology and the credit card had been available decades ago, would Clark Gable or Montgomery Clift have been available in an all-inclusive package?
Laurie Winfield, 36, has lost track of the number of times she's seen Springfield play and spoken with him since they first met after a concert in 1997. But she says meeting him repeatedly has "enriched my life."
"He's so loving and he gives so much," Winfield says. "He doesn't get the respect he deserves."
At 55, Springfield seems surprised that he's still making such an impact.
"I met a couple of girls last year — two sisters who said, 'We haven't spoken in 20 years and we're together tonight at your concert," he said after a recent show at the China Club in Manhattan to promote his new album, "The Day After Yesterday."
"I'm not saying it's just me, but there must be something in the music that is still meaningful," he said.
'I'm flattered'The Heidelbergers aren't wistful that their untouchable crush has become a guy they see regularly. Though they now find themselves greeting die-hard fans by name, they're hardly groupies: Suzanne, 37, is a New York real estate executive who negotiates million-dollar deals in Moscow and Frankfurt when she's not listening to "Don't Talk to Strangers."
And they're pleased to find that Springfield's recent music is as much fun as his junior-high roller rink classics.
"We never would have bought the new albums if it wasn't for that first concert last summer," says Karen. "Now, they're in our iPods."
(The youngest of the sisters, Vanessa, 28, didnt attend Springfields concert on July 12. She was just days away from giving birth to her first child. But Karen, who's also pregnant, has already begun gathering autographs from Springfield for the next generation of Heidelbergers.)
Springfield seems grateful that his fans still get so much out of his concerts. After every show, he takes pains to talk to them and poses for snapshots while signing autographs at the stage door.
"I meet these women, and they show me photos of when they were little kids with my posters, and they had braces and funny hair and little, skinny bodies," he says. "And now I get to see them as adult women — intelligent, adult women — that aren't wacky fans, that have families. I'm flattered that they're not all loony bins looking for something to hang their hats on."