Gwyneth Paltrow is all about that familial love.
The Goop founder, 45, shared a sweet family photo to her Instagram Friday to wish her ex-husband, Chris Martin, a happy birthday.
"Happy birthday my brother. Thank you for giving me these two," she captioned the shot, in which she and Martin pose on the beach with their two children, Apple, 13, and Moses, 11.
In the photo, Apple has her arms wrapped around her fun-loving dad, who's making a face at the camera while balancing Moses on his shoulders.
Paltrow and Martin, who turned 41 on Friday, have maintained a close relationship even after they "consciously uncoupled" in 2014 and finalized their divorce in 2016.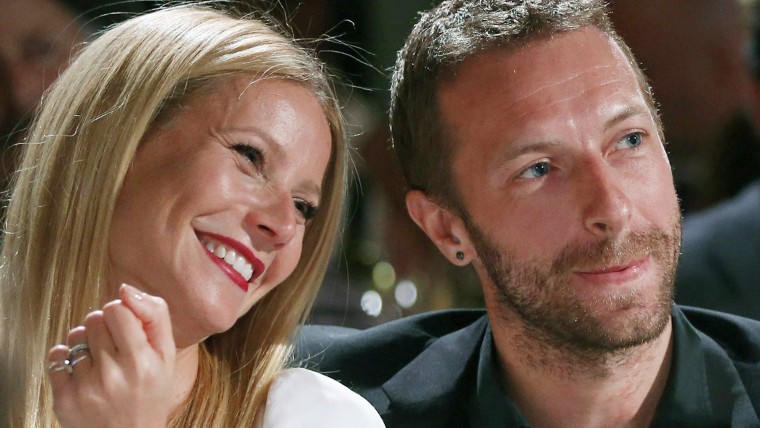 In an interview with Stephen Colbert in January, Paltrow explained that she views Martin, to whom she was married for more than 10 years, as her "brother."
"We're very familial," she told the late-night host. "It's nice, it's great."
But, she clarified, the process of going through the divorce was not an easy one.
"It was really painful," she said. "It was really hard, and I think we really genuinely wanted our kids to be as unscathed as possible. And we thought, if we could really maintain the family even though we weren't a couple, that was kind of the goal. So that's what we've tried to do."
Last November, Paltrow took the pair's platonic relationship to a whole other level when she posted a photo of Martin and her fiancé, Brad Falchuk, side by side at a table along with the hashtag #modernfamily.
"I've f----- up so many relationships, so many," Paltrow said last year on an episode of "Girlboss Radio." "I'm actually a pretty good friend and a good sister and a daughter and a mother, but I am at my potentially most vulnerable and f----- up in the romantic slice of the pie. So it's taken me a lot of work to get to the place where I have a good romantic relationship."
Paltrow and Falchuk confirmed their engagement just after the new year.