Gwyneth Paltrow discussed the status of her friendship with Taylor Swift after she was asked about the singer during her ongoing ski accident trial. 
Paltrow has been on trial since March 21 after she was sued by 76-year-old retired optometrist Terry Sanderson for allegedly crashing into him and injuring him in a 2016 ski accident. Sanderson is suing Paltrow for $300,000 in damages while she is countersuing for $1 in addition to attorney fees.
During the fourth day of the trial Friday, March 24, Paltrow's relationship with Swift was called into question while she was on the witness stand.
Kristin VanOrman, a lawyer for Sanderson, asked several questions about the $1 in "symbolic" damages the Goop founder was countersuing for, which was recorded on a livestream of the trial from Court TV. VanOrman inquired if the 50-year-old actor had gotten the idea to countersue for $1 from Swift after she won a 2017 sexual assault trial against former DJ David Mueller and was awarded her requested $1 in damages.
When initially asked by VanOrman if Paltrow was aware of Swift's trial, the actor responded, "I think I said that that point that I had not been familiar with it, but I since am."
After Paltrow confirmed again that she was not previously "aware" of Swift's trial, VanOrman questioned if the actor was "good friends" with Swift.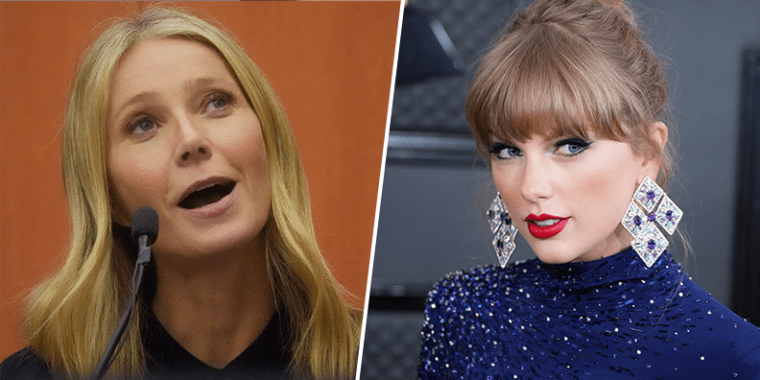 "No," Paltrow said, before she was asked again by VanOrman about her friendship with the "Anti-Hero" singer. "I would not say we are good friends. We are friendly. I've taken my kids to one of her concerts before but we don't talk very often."
VanOrman proceeded to ask Paltrow another question about her friendship with Swift, asking, "You've never given Ms. Swift personal, intimate gifts for Christmas?," which was likely a reference to Goop's holiday gift guide from December 2021 where Paltrow packed several gifts for other celebrities including Swift.
According to court documents, Sanderson claimed that Paltrow "skied out of control" and hit him from behind while on the beginner's slopes at Deer Valley Resort in Park City, Utah. He alleged the collision ended up "knocking him down hard, knocking him out, and causing a brain injury, four broken ribs and other serious injuries."
During the first day of trial, eyewitness Craig Ramon corroborated Sanderson's claims in court and said that he saw a "skier slam into the back of Terry" after he heard a scream. He claimed she left the scene minutes after the collision without asking if help was needed or identifying herself.
Paltrow previously said that Sanderon's lawsuit was an "attempt to exploit her celebrity and wealth." When the actor was called to the witness stand, she denied claims she caused the accident and said "Mr. Sanderson categorically hit me on the ski slope and that is the truth."
Earlier in the trial, two doctors and one of Sanderon's daughters had testified.
As the trial progresses, it is expected that Paltrow's two children, Moses and Apple, will also be called to the stand in addition to her husband, Brad Falchuk.