When Season 10 of "The Voice" kicks off later this month, the rotating red seat Gwen Stefani filled last season will be occupied by returning coach Christina Aguilera. But take heart, Team Gwen fans! The singer will be back.
While she won't be leading her own group of hopefuls in the vocal competition this time around, Stefani has been enlisted as an adviser by her favorite fellow coach — boyfriend Blake Shelton.
Shelton, who hasn't been shy about expressing his wishes to see Stefani return for Season 10 ever since Season 9 wrapped, told Access Hollywood the decision just made sense.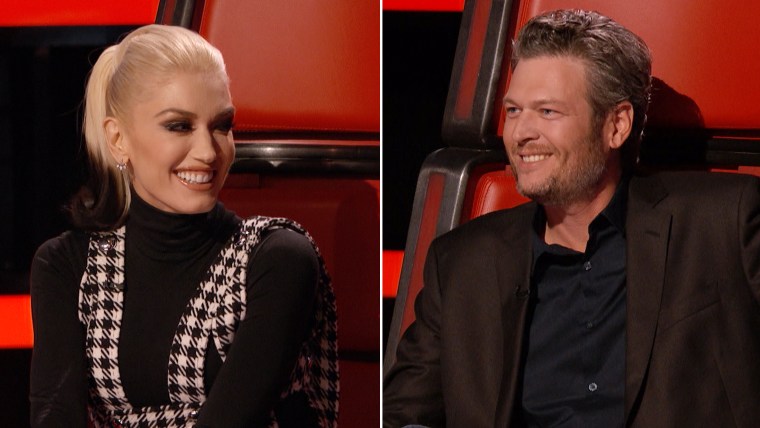 "You start thinking, 'Who are the ultimate artists out there that you can get to mentor your team?'" he said, noting that his partner immediately came to mind. "You start thinking — you do — 'Wait a minute! This is perfect. And I actually know her. It'll be easy to call her.'"
MORE: Blake Shelton and Gwen Stefani attend a wedding: See who caught the bouquet
And Shefani fans who are hoping to see more flirty banter from the dating duo on "The Voice" will likely get just that, too. They couldn't even get through their short chat with Access Hollywood without swapping sweet glances, grins and compliments.
"We know we collaborate well together as coaches, so of course I would have her as my mentor," Shelton said with a smile. "And she's so smart and talented."
MORE: Blake Shelton makes Gwen Stefani blush on 'The Voice'
As for him, "He's really perceptive about voices," Stefani said. "I mean, [he's] just really good at what he does. That's why he's a winner."
See them work together for a Team Blake win when Season 10 of "The Voice" kicks off Feb. 29 at 8 p.m. ET on NBC.
Follow Ree Hines on Twitter.