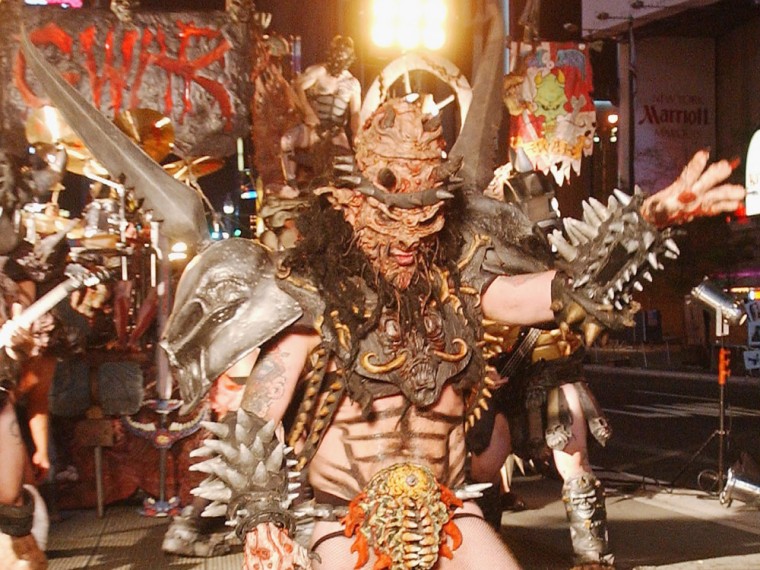 David Brockie, the frontman for the metal band GWAR, has died, Richmond, Va., police confirmed to TODAY. He was 50.
In a statement, Richmond police said they were called to a residence at about 6:53 p.m. on Sunday, and found the musician dead inside the home. "Detectives do not suspect foul play at this time, and the Medical Examiner's office will determine the cause of death," the statement noted.
Jack Flanagan, the band's manager, also confirmed Brockie's passing. 
"It is with a saddened heart, that I confirm my dear friend Dave Brockie, artist, musician, and lead singer of GWAR passed away at approximately 6:50 p.m. ET Sunday March 23, 2014," Flanagan wrote in a statement shared with TODAY. "His body was found Sunday by his band mate at his home in Richmond, Va. ... A full autopsy will be performed."
"My main focus right now is to look after my band mates and his family," Flanagan added. "More information regarding his death shall be released as the details are confirmed."
Brockie, known by his stage name Oderus Urungus, formed the band in 1984. The group is known for its elaborate stage costumes and pretends to be aliens, millions of years old, who were banished to Earth and became the planet's "only openly extra-terrestrial rock band." 
The band lost its lead guitarist, Cory Smoot, in November 2011. The group was touring at the time and found Smoot, stage name Flattus Maximus, deceased on the bus. The autopsy noted that he died from a coronary artery thrombosis.
GWAR has been nominated for two Grammy awards. The band's music was also featured on MTV's "Beavis and Butt-head."
Brockie recently appeared on "Insane Clown Posse Theater" in full GWAR costume, where he described the band as "the most obnoxious band in history," and his alter ego as "violent, inappropriate and smelly."
The band released its latest album, "Battle Maximus," last year, and recently wrapped a string of shows in Australia.