/ Source: The Associated Press
Gunnar Hansen's blood-spattered past is old news to most folks in this genteel village at the edge of Acadia National Park, but it still resonates with children at the elementary school near his home.
Every few years, according to Hansen, the school is rife with rumor about "The Texas Chainsaw Massacre" and Hansen's role in the 1974 horror classic: "You know that old guy who lives up there in that house? He was Leatherface!"
"The kids will stop and look at me, and then finally, one of them — the one kid who has a little courage — will come to me and say, 'Oh, Mr. Hansen, were you in 'Chainsaw Massacre?' And I'll say, 'yes.' And he'll turn and yell out, 'See, I told you so.'
Aside from size — he's 6-foot-4, 280 pounds — it's hard to find much in common between Hansen, a genial, 57-year-old, silver-bearded writer, and Leatherface, the psychotic, chainsaw-wielding killer who turned a van trip by five youths into a nightmare of death and dismemberment.
Hansen's heroes are Melville and Thoreau, not Freddy and Jason.
"He's a gentle giant, and he's also very intelligent and erudite. He's almost like a man of letters," said Tony Timpone, editor in chief of Fangoria, a magazine for horror movie fans.
The Iceland-born Hansen's best-known book, "Islands at the Edge of Time," is a well-received account of the barrier islands from Texas to North Carolina. Other books include local histories and a poetry collection; he spends much of his time writing scripts for documentary films on subjects that range from the Maine coast to the state's Indian tribes.
Breakthrough film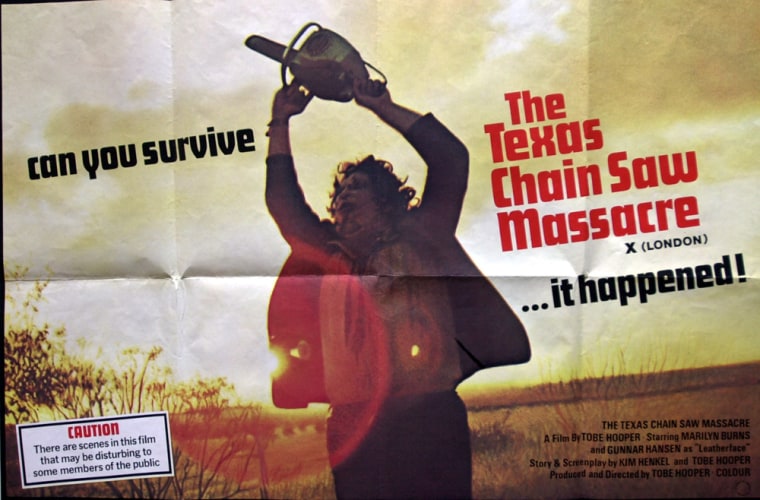 "The Texas Chainsaw Massacre," released 30 years ago this fall, was a breakthrough splatter film, winning mass audiences for the infant genre. Hansen estimated that over the years, "Chainsaw," which cost $240,000 to produce, may have grossed as much as $100 million worldwide.
"The movie really shook people up," Timpone said. "There had never been anything as visceral and gutsy and unrelenting."
Hansen came to Maine at age 5, living in Searsport until his family moved to Texas six years later. His brush with celebrity came in 1973 while he was a 26-year-old graduate student at the University of Texas, working a summer job as a carpenter.
Hansen, who had tried acting in college, heard that an independent filmmaker was looking for someone to appear in a local horror movie. He was intrigued and decided to try out.
Director Tobe Hooper was scrambling for a replacement after the actor he had hired to play Leatherface was found holed up drunk in a motel, Hansen said. Hooper was impressed by the way the hulking Hansen filled up a door.
"At the interview, he asked me if I were violent, and I said no. And he said, 'Well, are you crazy?' And I said, 'Not in the way you mean.' And then he got this worried look and said, 'Can you do it?' And I said, "Oh yeah, yeah, it's easy.' And he said, 'OK, you've got the part."'
Because Leatherface does not talk and his face is hidden by a mask, Hansen had little to work with. He visited the campus of a state school for the mentally retarded, where his mother was on staff, to observe the students' physical movements. After two days, he had mastered a shambling gait. He also tried to duplicate pig squeals to come up with Leatherface's howling yelp that gets drowned in the sound track.
The grainy, 16mm film was shot on a tight schedule, and cast members were paid $200 a week, he said. For his four weeks, Hansen earned $800, but he worked seven days a week, 12 to 16 hours a day. "I would have made more money if I'd worked in McDonald's those numbers of hours," he said.
Fan favorite
Hansen, who had never used a chain saw before he took the role, said he would have had second thoughts had he been aware of the danger. He never gained confidence with a chain saw, even after he moved back to Maine in 1975 and used one to cut cordwood for heat the first year.
Settling in Northeast Harbor, Hansen worked for about a decade as a freelance writer of magazine articles and commercial copy before focusing on books. In addition to his work on films, he has been writing a novel, which is set in Iceland, and is trying to market a book that asserts that Henry Lee Lucas, regarded by some as America's most prolific serial killer, was framed.
Hansen's life took a turn in 1987 when a friend who directs low-budget movies invited him to the West Coast to act in "Hollywood Chainsaw Hookers," a film that took three weeks to shoot.
Soon after, Fangoria published a profile on Hansen, which opened other doors. He began appearing at horror fan conventions, at spook shows in the weeks leading up to Halloween and in other horror movies — 17, by last count, not including "Chainsaw."
"Gunnar has been one of the key players on the convention circuit for the last 15 years or so," Timpone said. "Even though he has only one major claim to fame, the fans really embrace him for being the first Leatherface."
Hansen, who regards the various sequels to "Chainsaw" as dreadful, appears at an average of four conventions a year and says he enjoys the getaways.
For the most part, he signs autographs and chats with fans. On occasion, he will do a question-and-answer session or introduce a screening of "Chainsaw."
"I enjoy it," he said. "It's a great counterbalance to my life, to my day job, where most of my time is spent in the office in front of the computer screen."
Hansen neither trumpets nor conceals his celebrated movie role. His car is adorned with a rear license plate holder that reads, "What Would Leatherface Do?" Still, Hansen keeps his sideline in perspective and does not view his portrayal of Leatherface as his life's defining event.
"I'm really proud of this movie, but it's not the biggest thing I've ever done," he said. "As far as I'm concerned, it's not the most important thing in my life."