These guys just wanted to have the time of their lives.
The newlyweds channeled their inner "Dirty Dancing," but never expected the traditional first dance at their wedding to be such a crowd-pleaser, one enjoyed by many beyond their guests. A video of the routine has been viewed by more than a million people on YouTube, lifting spirits and opening up more than a few minds along the way.
The clip features an impressive dance mashup performed by Noah Aberlin, 36, and P.J. Simmons, 51. The couple got married on Oct. 7 in Coxsackie, New York, 10 years after a mutual friend helped set them up.
A video of the routine starts off with the couple slow dancing before the music comes to an abrupt halt — just seconds before the newlyweds bust out a salsa to Miami Sound Machine's "Conga."
The pair go through a series of dance moves to songs that include some '90s favorites, disco a la KC and The Sunshine Band and the tap dancing number from "Young Frankenstein." The grand finale, which pumps up wedding guests to the max, is the famous lift scene from "Dirty Dancing," executed to sheer perfection.
"We wanted the first dance to be something that got everybody really psyched to have a good time and get on the dance floor," Simmons told TODAY.
He and Aberlin compiled the routine themselves, but received some help with transitions and fine tuning from a professional dancer friend and Simmons' salsa instructors. The couple practiced for seven weeks.
"We were in Italy with Noah's parents for their 50th anniversary and we kept stealing off to these rooms when everybody else was taking a nap to start working on the choreography," Simmons said. "We pretty much kept it a secret."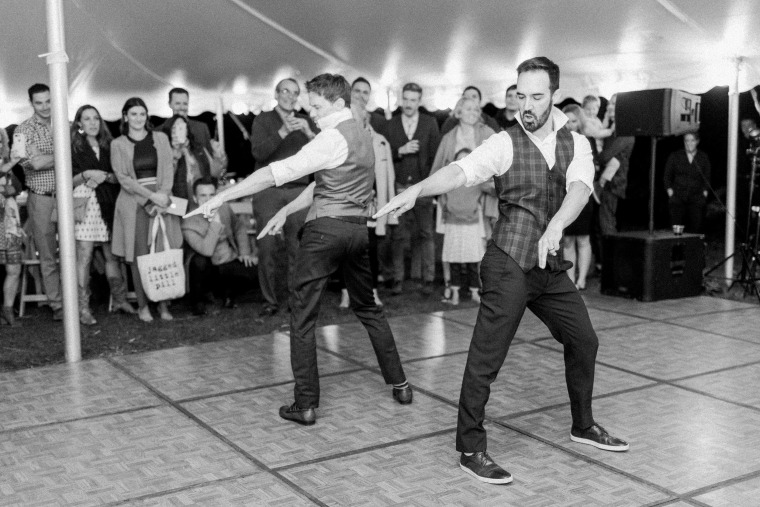 The couple initially posted the dance video to their social media accounts to share it with their friends, encouraged by the warm reaction they received from guests at the reception.
"We had so many people come up to us crying at the end of the dance. We were just stunned that people were so moved," Simmons said.
"We thought it is going to be fun and uplifting for everybody, but we had no idea. I had a straight guy who was in the service come up to me at the end of the dance, sobbing. He was like, 'You know, this is exactly what the world needs right now. There's so much love and the world needs so much more of this."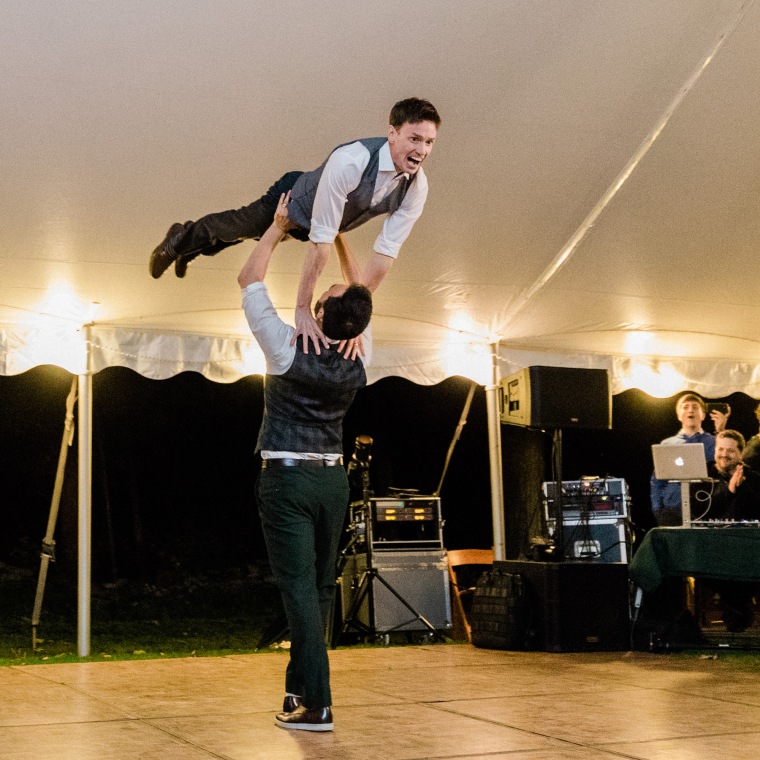 But Simmons still got nervous about posting the video to YouTube, where it has received more than 1.3 million views. He said there have been a few hateful remarks that easily take him back to his "terrified closeted 12-year-old" self, but "the positive comments outweigh the negative ones by a factor of something like 1,000 to 1."
The nasty remarks also have been seized upon by others trying to focus on the video's expression of fun and love.
"The most amazing thing is I've seen comments from straight people. This one guy that left a comment saying, 'I'm a straight guy, raised homophobic. This really helps,'" Simmons said.
Both he and Aberlin said after seeing how quickly the video became popular, they wanted to channel the attention to help raise awareness about the struggles the gay community continues to face. They created a Facebook fundraiser for the It Gets Better Project, a nonprofit group that help support LGBTQ youth.
"There are so many wonderful people all around the world rooting for love and connection, and cheering on people like me and Noah, wanting to support and share their love," Simmons said. "It is such a beautiful, inspiring thing."