Warning! This story contains spoilers for Thursday's episode of "Grey's Anatomy."
"Grey's Anatomy" gave viewers the ultimate Throwback Thursday with its latest episode.
In honor of the Mexican holiday Dia de los Muertos, aka the Day of the Dead, several familiar faces from the show's (and Meredith Grey's) past were resurrected for a sweet and touching sequence.
Meredith (Ellen Pompeo) had recently learned about the celebration that that allows the living to welcome their lost loved ones into their hearts and homes again, and as she walked the halls of Grey Sloan Memorial Hospital Thursday, several of hers appeared along the way.
Showrunner Krista Vernoff revealed how the magical moment came about.
"We had our air dates before we had our season planned and Kiley Donovan, who wrote the episode, came into the room and said, 'Hey, we have an episode that's airing on Day of the Dead, can we do a Day of the Dead episode?'" she recalled in an interview with Entertainment Weekly. "When you're brainstorming a season there are things that come with total clarity and my answer was, 'Only if all of Meredith's dead people can visit her.' OK, not 'only if' — I was thrilled by Kiley's idea to do a Day of the Dead episode."
But Vernoff got her wish all the same, as Meredith's friend George (T.R. Knight), mother Ellis (Kate Burton), sister Lexi (Chyler Leigh), husband Derek (Patrick Dempsey) and pal Mark (Eric Dane) all showed up during her walk through the hospital. Even her dog, Doc, made an appearance.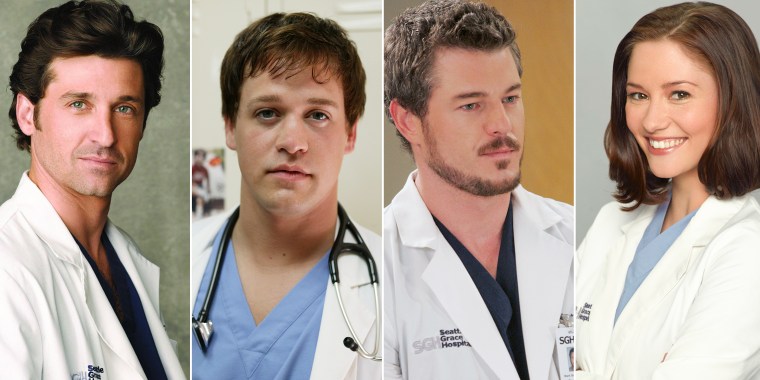 To add to the emotion, it was all set to a Spanish-language cover of Snow Patrol's "Grey's" hit, "Chasing Cars."
But the poignant scene didn't come easy. Reuniting the past with the present required some creativity.
"We talked about it for four months with the visual effects people," Vernoff explained. "You have to really plan a sequence like that. What I love about that sequence is that we have combined some old footage that aired, some old footage that didn't air — we pulled old dailies — and we shot some new stuff. Doc, we shot. Ellis, we shot. And the idea of that, for me, is that we don't know if this is in Meredith's imagination or memory, or if it's actually happening. For whatever anybody believes, there is a little bit of something."
That includes a whole lot of happy tears for fans of the long-running series — and turns out, there were almost more reasons to cry.
"We actually had an earlier version of the sequence which included Denny (Jeffrey Dean Morgan) and Dylan, the bomb squad guy played by Kyle Chandler, who blew up when Meredith had her hand in the body," Vernoff revealed in a chat with The Hollywood Reporter.
While their potential appearances could have been significant to viewers, they just didn't fit for Meredith's memorial moment.
"When I watched that version, it just felt like a stunt because I didn't believe in the emotional reality that Denny and Dylan were visiting Meredith on the Day of the Dead," she said. "I figured they'd be visiting their own families. Denny is visiting Izzie (Katherine Heigl), if anybody. It felt like a clip show as opposed to here are Meredith's beloved people and dog that she's lost coming for a visit."