Practical items used to be considered a "no-no" for Mother's Day. But these days, when multi-tasking has become the norm, most moms would welcome any device that makes life a little bit easier. Kitchen gadgets abound: Some are helpful; others just add to the clutter. Sifting through the barrage of tools out there, I found a few great gizmos for mom — all for less than $30.
A relatively new gadget, which retails for $29.95, and is quite popular is Stir Chef's sauce pan stirrer, says Matt Bunn, a buyer at cooking.com. The fist-sized, circular device with three arms clamps down onto the rim of a pot. A stirring paddle connected to a metal rod descends into the mixture. The arms adjusts to fit 1.5- and 4.5-quart sauce pans, and stirring lasts up to five hours for continuous stirring or ten hours for intermittent stirring.
At first glance, I thought "nah" — too much machine for too small a task. (I still don't own a food processor — chopping is part of the joy of cooking, isn't it?) Then, on second thought, it hit me — I decide when and where I chop. Constant stirring dictates when and where I stand, and for how long.
Stir Chef is best suited for recipes that require undivided attention, such as mixing up good old-fashioned Irish oatmeal, tempering chocolate for dipped strawberries or cooking up a pot of chili.
Like most gadgets, the concept behind the sauce pan stirrer is relatively simple but assembling the tool creates the greatest challenge. Either the directions need to be updated or the battery compartment better labeled. Once the device is put together, it always so obvious — now, why did it take me so long?
Stir Chef is available at cooking.com and many brick-and-mortar stores, including bedbathandbeyond.com, chefscatalog.com, gracioushome.com, kohls.com and surlatable.com. For a complete list of stores, see the company's Web site.
Salads made simple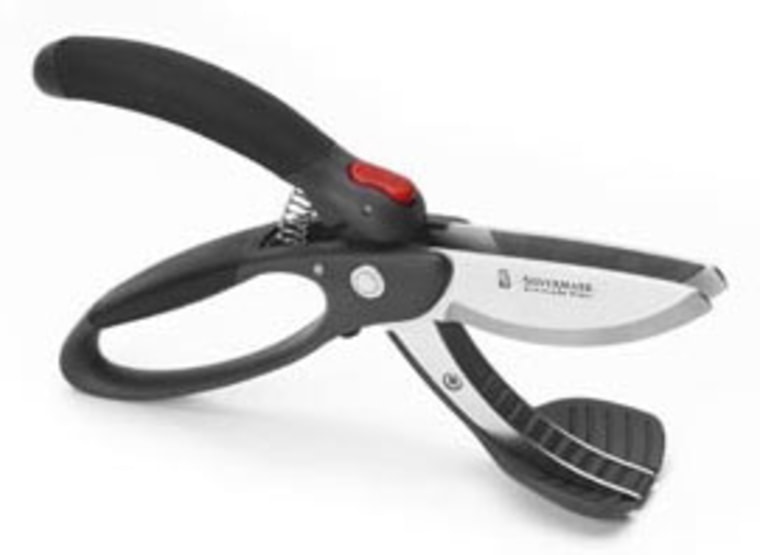 At first sight, Silvermark's Toss & Chop, a combination scissor/knife tool designed to chop salads, creates a different challenge. The device comes assembled but the question quickly arises: exactly how do I use this thing? After a quick demonstration by the company's inventors Michael and Wendy Silver, it became clear that the $24.95 tool would save chopped-salad fans time. I also have confidence most moms will figure out the Toss & Chop with a careful read of the instructions. 
The idea, once again, is rather simple: Throw everything salad-like into a bowl — from veggies to meats and cheeses — and then toss and chop all the ingredients in one swoop. Voila — chopped salad.
The stainless blade coupled with tossing tongs works best for salads but can be used to make chunky sauces, such as salsa. It's also recommended that larger vegetables or fruits, such as carrots, onions or apples, are cut down a bit before using the tool.
The smartly designed product comes packaged in clear reusable container, complete with a few recipes. The nylon resin grips set the tools apart from other handheld gadgets. The grips easily fit both right- and left-handed cooks. The Silvers have already expanded their product line to include herb snips (very nice grip also), grater tongs and a grater spoon.
The above products can be found at the company's Web site silvermk.com. Toss & Chop is also available at bedbathandbeyond.com, Linens-n-Things and local specialty retailers (See store locator for a complete list of stores.)
Culinary tools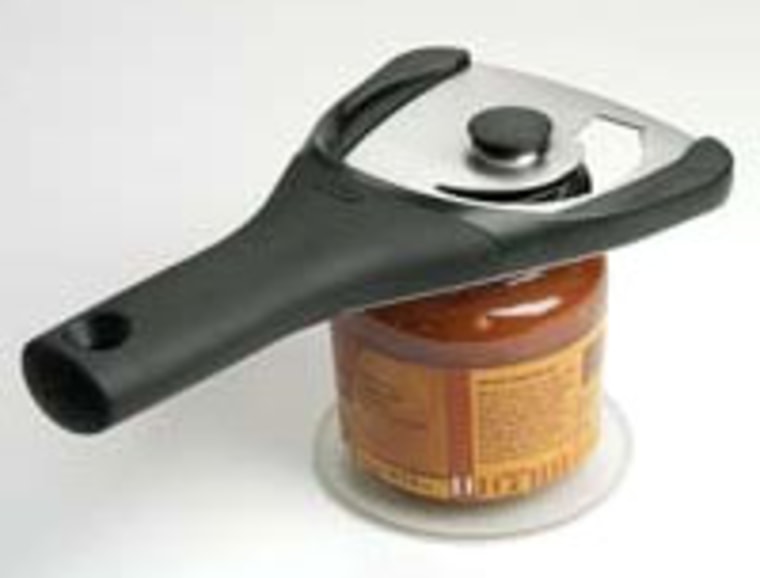 Known for its rubber gripped tools with sleek designs, OXO International needs no introduction. A new collection of tools, however, debuted this spring may need some explanation. Each tool in the I-series incorporates an "un-thought of before feature" that should make gourmet chefs pleased and/or any cooks' life easier.
The new hand-held can opener has a magnet to keep hold of the lid, a feature typically found only in bulky electric tabletop can openers. The I-series jar opener comes with a circular rubber disc, designed to reduce the force required to open the jar.
Serious cooks will notice the longer blade on the I-series swivel and Y peelers. (Both swivel tools serve the same function. Y peelers tend to be more popular in Europe.) The longer blade increases "maneuverability and surface area coverage," according to product literature. The most prominent feature, though, sure to attract attention, is the blades are removable, similar to a razor with removable blades. The peelers retail for $9.99 each. A pack of two replacement blades sell separately for $4.99.
OXO tools are available at the company's Web site oxo.com and other online retailers, such as bedbathandbeyond.com, cooking.com and kitchenetc.com.
Margaritas for mom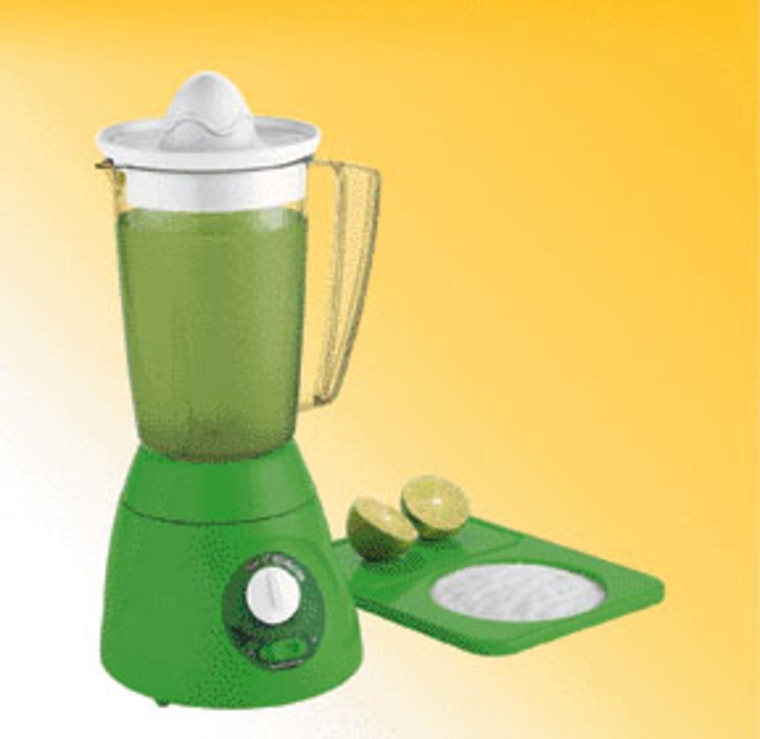 Now what about something totally fun? Fans of kitsch will welcome the "muchas margaritas" blender, just released by Hamilton Beach this April. A lid, shaped like a Mexican sombrero, tops the very bright lime green blender. No Spanish is necessary to use the blender. Just remember the speeds, which are labeled "yeehah," "siesta," "andale" and "arriba," run from slow to fast. A lo-and-hi button creates pulse action at any speed.
The lightweight blender also comes with a bright lime green utility tray that has a recessed area to dip glasses in salt as well as some cutting board space to slice limes.
Serious foodies will grimace at the quality — or lack thereof — of the plastic blender that retails for $19.99. But form — and a low price point — overrides function. The point here is not "bang for the buck" but how many margaritas can mom make before she breaks the machine. I didn't try this. Mom's Day would be the perfect day to take on the challenge. My guess is, though, at about $5 or more for a margarita, she'll make it worth her while.
The blender is sold online at kitchencollection.com or at brick-and-mortar stores such as Wal-Mart, discount club Price Chopper, Kerr Drug, and H E Butt Grocery, a supermarket chain in Texas and northern Mexico.
The "muchas margaritas" makes perfect companion gift to the plastic salsa and chip holder, (which I wrote about a few years back in a hostess gift guide.) Just press the red button on the side of the plastic dish and the decorative bowl plays the "Mexican Hat Dance." Now all you need is a can of limeade, a bottle of triple sec and some good tequila, with or without the worm.