Grayson Chrisley says his struggle to cope with his parents' prison sentences has made him "bitter."
The 17-year-old spoke about visiting his parents, Todd Chrisley and Julie Chrisley, in prison during a new episode of his older sister Savannah Chrisley's "Unlocked" podcast. The television personality spoke frankly about the toll that traveling back and forth between his parents' different prison locations has taken and of the emotional burden of seeing them behind bars.
"To me, it's worse than them dying," Grayson Chrisley remarked. "Because they're here, but they're not here. So it's just time that's being wasted. I'm saying, like, if they died, there's no possibility of you getting any more time with them. So it's over."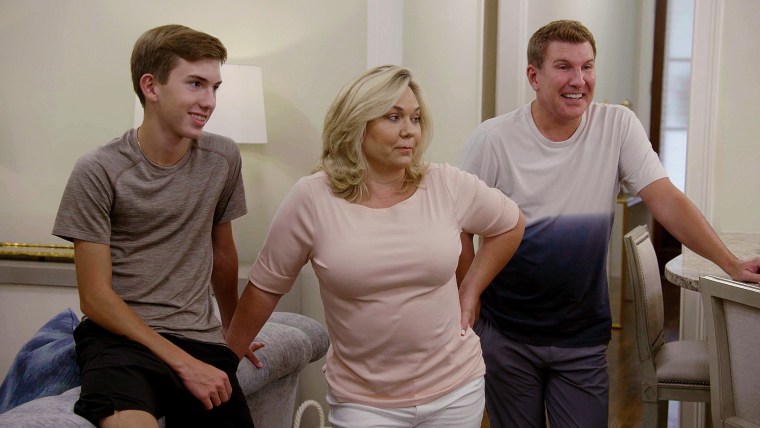 In June 2022, Todd and Julie Chrisley were found guilty of financial fraud, tax evasion and conspiracy to defraud the United States. Todd Chrisley is now serving a 12-year sentence at a Pensacola, Florida, facility. Meanwhile, Julie Chrisley — sentenced to seven years — is in a penitentiary in Lexington, Kentucky.
Savannah, who is 25 years old, is now the primary guardian of Grayson and their 10-year-old niece, Chloe.
In the recent podcast episode, Savannah and Grayson Chrisley discussed adjusting to life without their parents' presence on a day-to-day basis. The two siblings commiserated over their struggle to cope with their mother and father's absence and over keeping up with the rhythm of weekend travels to see them.
"Our schedules don't align. And then you don't see one of them for three or four weeks, and then you're struggling," Grayson Chrisley explained. 
"I struggle going back to back weeks because I'm in that mood … and then I go and start it all over again. You never really get out of it," he added.
Grayson Chrisley recently turned 17 and said celebrating his milestone birthday proved particularly challenging because of his parent's absence.
"Well, it sucked. It wasn't the greatest birthday I've ever had," he recalled. "I didn't expect it to be, though, because, like, Mom and Dad aren't there. So yeah, it kind of sucked."
Sharing a more optimistic point of view, Savannah Chrisley noted that she often feels "renewed" after spending time with her parents. Meanwhile, Grayson Chrisley expressed that he leaves his parents feeling all the more bitter about their situation.
"There is always going to be a part of you that is bitter," he added. "There's no way around it. It's gonna suck for as long as they're there."
Savannah Chrisley has spoken openly on her podcast about helping Grayson Chrisley process their parents' convictions and sentencings in previous episodes.
During a Jan. 31 episode of "Unlocked," Savannah Chrisley spoke about watching her younger brother experience a "breakdown."
"I'm definitely put in a really unique situation right now because I'm helping to guide Chloe and Grayson through this process," she said.
"I'm trying to stand strong and not break and be strong for them so that they feel comfortable enough to break down ... Grayson is 16 years old ... there's so much growth going on with him right now, and it breaks my heart to know that my parents are missing out on that."