Grandmaster Flash would like to wish you a happy birthday. Grandmaster Flash needs your address to send you a letter from your dad. Grandmaster Flash really wishes you'd stop using those offensive words on Facebook.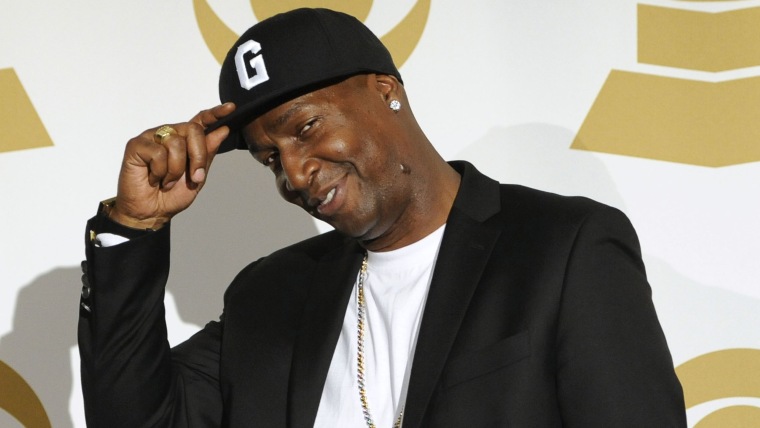 OK, those notes aren't really from Grandmaster Flash, the hip-hop pioneer and Rock 'n' Roll Hall of Fame member. Instead, dozens of grandmothers who've ventured into the Facebook tech jungle are accidentally tagging the musical icon when trying to sign a post to their grandkids.
Start typing "Grandm--" on a Facebook post, and the overly helpful social-media service may leap to fill in the rest of the word with a link to musician Grandmaster Flash's official page instead. If the typist realizes the mistake, she can erase the link by filling out the word she really wanted, but if your grandma still has a digital clock flashing "12:00," what are the odds she's going to catch this?
A Tumblr dubbed "Love, Grampa and Grandmaster Flash" has been set up to capture some of the resulting posts, and the results are hilarious.
One shared a delicious-sounding grandmotherly recipe for pineapple-coconut pie, signing the note, "Enjoy and love u oodles, Grandmaster Flash."
Another writes to her grandson: "I have a letter to send you from your dad so give me your address please. And please don't use those offensive words. Grandmaster Flash." (He apologized for the swearing. Forgot Grandmaster Flash could read it.)
Grandkids get into the act, too. Writes one, "Do you know who I love? Yep, I love you Grandpa and Grandmaster Flash."
The posters often realize their mistake later on, even if they don't quite understand how it happened. "This computer has a mind of its own," wrote one. Others adopt the mistake as a brand-new grandparent nickname.
And some use the opportunity to musically educate the Facebook community, as when one confused user wrote, "Who is grandmaster flash?" and a friend responded, "Somebody awesome."
Grandmaster Flash himself noticed the extra attention he's been getting from seniors on Facebook, but he didn't know the reason behind it until he spotted a Buzzfeed post about the Tumblr roundup.
Now he's getting in on the act and encouraging his fans to do the same.
Follow Gael Fashingbauer Cooper on Google+.