While organizers always push for a memorable Grammy Awards ceremony, some years — including 1996 — are more successful than others.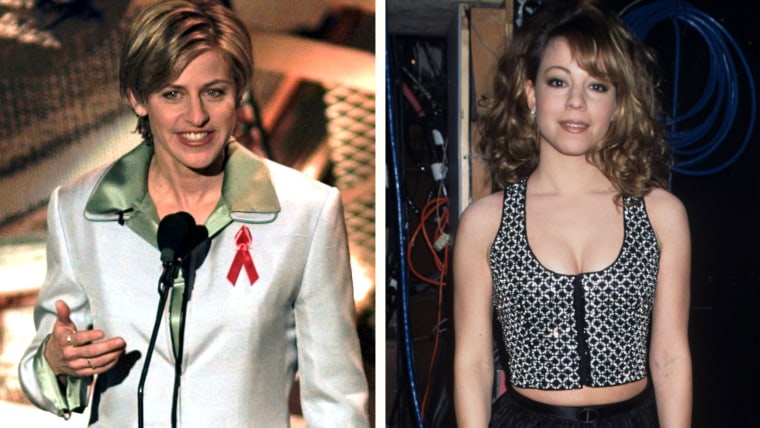 And although planning once-in-a-lifetime musical collaborations is one way to make that happen, sometimes artists will say or do something that shakes things up in a complete different way.
Before tonight's ceremony delivers its share of viral vittles, intended or otherwise, TODAY.com is traveling back to Feb, 28, 1996, to rank the 11 most unforgettable moments.
11. Ellen DeGeneres kept things fun as host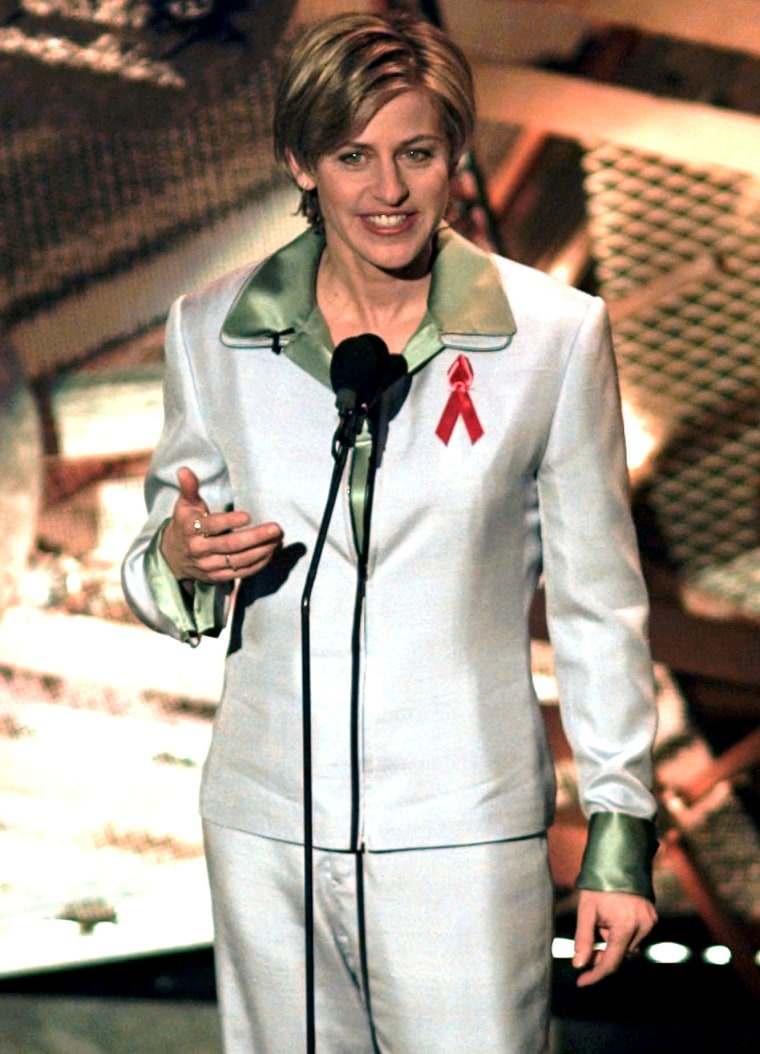 According to author David Wild, DeGeneres promised/warned viewers, "This is not your father's Grammys," which, in some ways, wound up being true, as many of the night's winners reflected the era (and, in some cases, only that era). More transcendent was DeGeneres herself, whose Grammy dance training — complete with "booty-slap" choreography — helped develop her patented moves for her subsequent talk show, premiering seven years later and still going strong in 2016.
RELATED: Jennifer Aniston, Justin Timberlake surprise Ellen DeGeneres on her 2,000th show
10. Hootie and the Blowfish won Best New Artist
In category that some fear is the kiss of death, Hootie and the Blowfish beat out Alanis Morissette (who won almost every other award she was up for that night), as well as Brandy, Joan Osborne and Shania Twain.
RELATED: Darius Rucker brings his 'Southern Style' to the TODAY summer concert series
9. Tupac Shakur presented with KISS
In another attempt to keep things new-school, Shakur announced, "Let's shock the people!" That's when KISS, in full costume and makeup, emerged to join the late West Coast rapper to announce the award for Best Pop Performance by a Duo or Group with Vocal. The winner: Hootie and the Blowfish for "Let Her Cry," which beat out TLC's "Waterfalls" and the Rembrandts' "Friends" theme, "I'll Be There for You."
RELATED: 'Friends' reunion: Here's a first look at the cast together again
8. Whitney Houston joined Ce Ce Winans and Shirley Caesar for a rousing gospel medley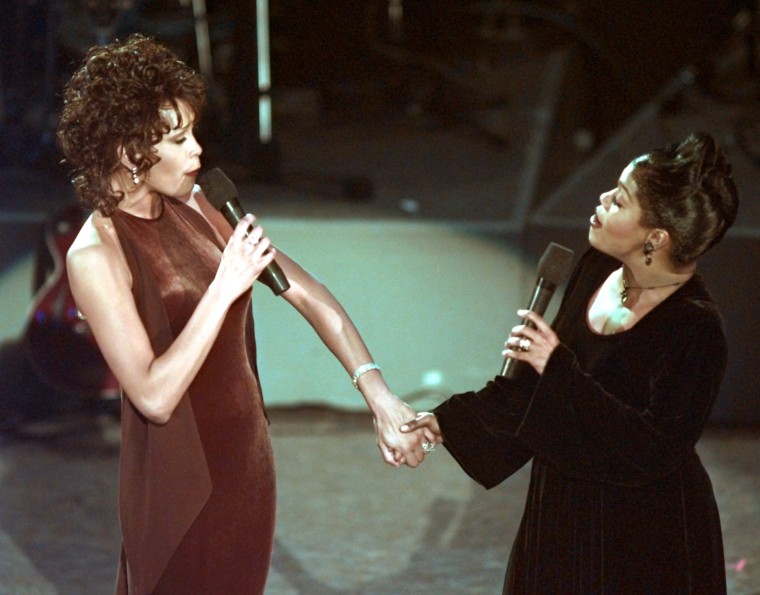 Whether or not you're a person of faith, it's hard not to be moved by this all-star performance of "A City Called Heaven," introduced and enhanced by the late, great Whitney Houston. Their performance brought the entire crowd to its feet.
RELATED: Whitney Houston's brother reflects on her 1991 Super Bowl performance
7. Joni Mitchell and her ex-husband Larry Klein charmingly made the most of a delightfully awkward situation
Mitchell said she and Klein "made this album in the state of divorce," then laughed, "I promise I won't finish your sentences" as she yielded the rest of her speech time to Klein. He noted, "I'd like to thank Joan who is, I think, the best songwriter around these days, and thank her for 10 years of instruction."
RELATED: Pop Fix: Did Joni Mitchell diss Taylor Swift?
6. Boyz II Men and Mariah Carey perform the monster hit "One Sweet Day" but fail to win a Grammy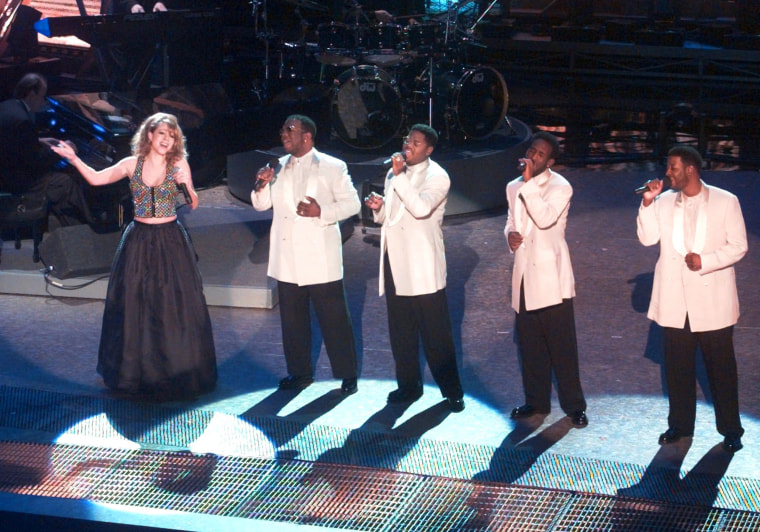 Despite its huge success (as it remains the longest-running No. 1 song on the Billboard Top 100 chart) and being Carey and Boyz II Men's most successful single, the collaborators went home empty handed. Don't feel too bad, though, as Carey has won five Grammys and Boyz II Men collected four of their own.
RELATED: Nick Cannon reacts to Mariah Carey's engagement: See the funny Instagram photo
5. Seal won two biggies and sang a soulful tribute
Seal's "Kiss From a Rose" snagged two major victories: Record of the Year and Song of the Year. He also won big with his beautiful tribute performance of Marvin Gaye's "What's Goin On" with fellow Grammy-winner Annie Lennox.
RELATED: Super Bowl 50: Watch the best commercials (and vote for your favorite!)
4. Eddie Vedder didn't know what to make his Best Hard Rock Performance win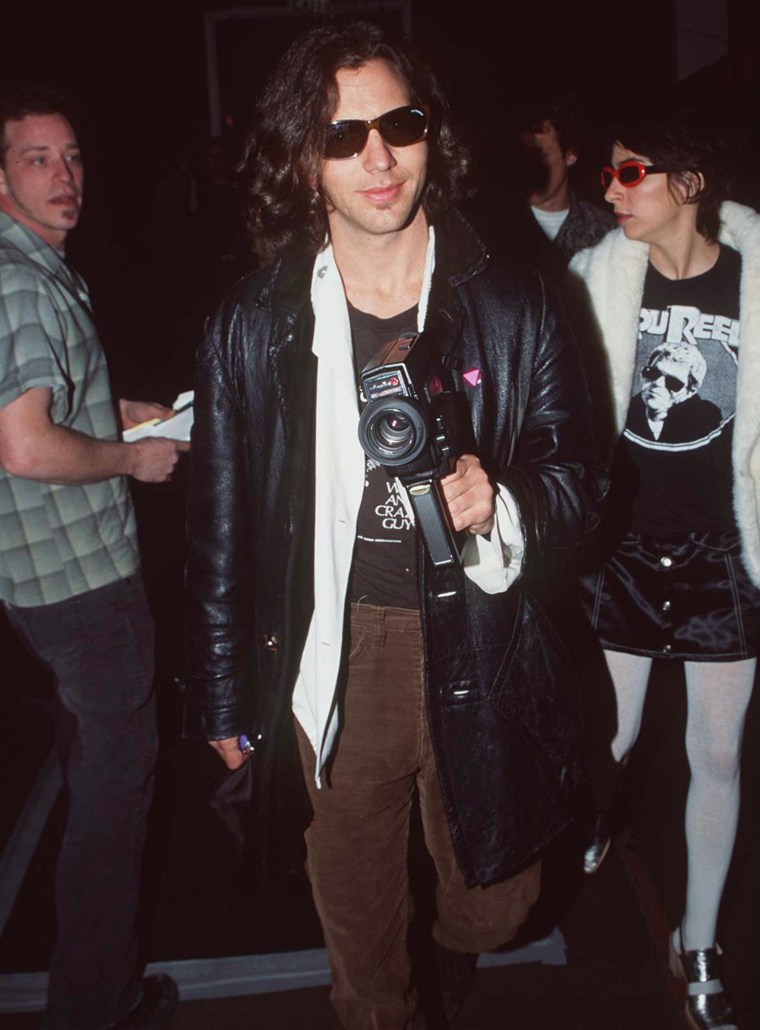 The band's lead singer told the audience, "I don't know what this means. I don't think it means anything. That's just how I feel. There's too many bands, and you've heard it all before. My dad would've liked it; my dad died before I got to know him. He would've liked it, so, that's why I'm here. Thanks, I guess." Some viewers found the sentiment rude and ungrateful; others cheered him for favoring art over hardware.
RELATED: Hitting the right notes: Pearl Jam's Eddie Vedder honors doctor onstage
3. TLC performed and won multiple awards, but made even bigger news backstage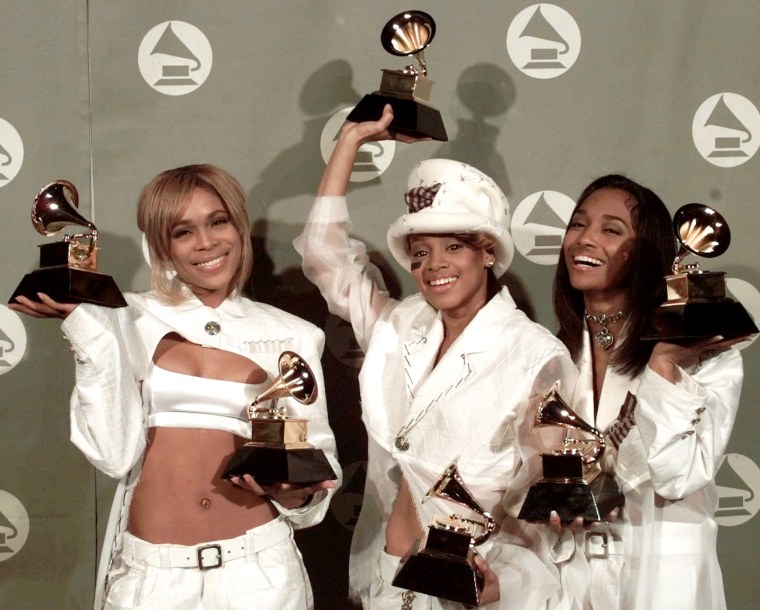 Despite peaking as one of the best-selling girl-groups of all time, this was the night TLC announced, backstage, that they were bankrupt.
RELATED: Bette Midler goes chasin' 'Waterfalls' with cover of TLC hit
2. Coolio wins for "Gangsta's Paradise," but has a few words for "Weird Al" Yankovic's parody, "Amish Paradise"
More drama unraveled backstage when Coolio ripped Yankovic's reinterpretation of his song. "I ain't with that," Coolio told the press after his win, according to Splitsider. "I think that my song was too serious. I really…don't appreciate him desecrating the song like that…. His record company asked for my permission, and I said no. But they did it anyway." A shocked Yankovic expressed confusion over the issue, but apologized anyway, and the two later patched things up.
RELATED: 'Weird Al' Yankovic: 5 of his sweetest moments
1. Album of the Year and Best Rock Album went to Alanis Morissette
At age 21, Morissette was youngest to claim Album of the Year honors until Taylor Swift achieved the same feat at age 20 in 2010. The two teamed up to perform "You Oughta Know" on Swift's star-studded tour last year.
RELATED: 'You Oughta Know' what celebrity breakups inspired these 10 hit singles
Other notable moments from the 1996 ceremony:
Follow TODAY.com writer Chris Serico on Twitter.