Lady Gaga delivered a powerful tribute to David Bowie at Monday night's Grammy Awards ceremony.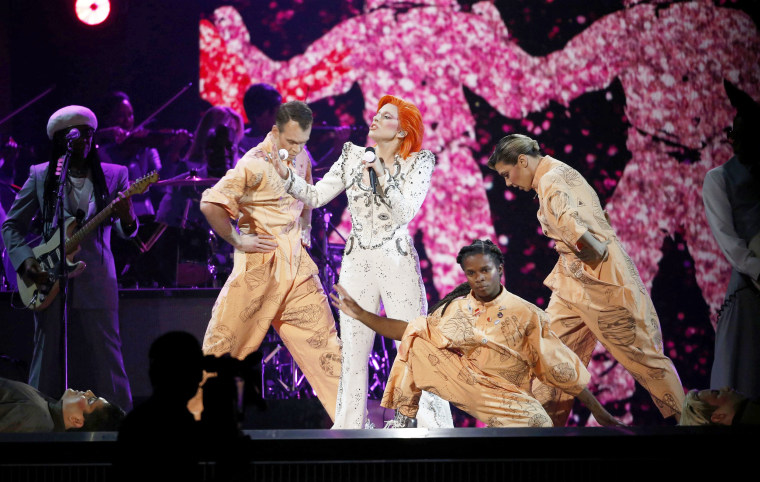 Her rapid-fire medley opened with a close-up of her face as she sang "Space Oddity." As she did so, special-effects projections gave the illusion that Bowie's signature red lightning bolt and astral images were being painted onto her face.
Emerging onto the stage in a cape similar to one Bowie once wore, Gaga quickly dispensed of that frock to reveal a white vintage suit that Bowie might've sported in the mid-'70s and played some keyboards. A barrage of Bowie's biggest hits followed, including "Changes," "Ziggy Stardust," "Suffragette City," "Rebel Rebel," "Fashion" and "Fame," with Gaga relishing every last note, lyric and dance move along the way.
RELATED: Super Bowl 50: Lady Gaga's National Anthem brings glittery start to game
For a rousing rendition of "Let's Dance," Gaga wrapped her arm around a guitar-playing Nile Rodgers, who co-produced Bowie's hit album of the same name. She capped her stunning performance with "Heroes," repeating the chorus lyrics of "We can be heroes / just for one day." As the crowd offered a standing ovation, Gaga looked skyward, then grabbed Rodgers' hand.
Gaga's tribute began on the red carpet, where, before the ceremony's broadcast, she sported a shock of red hair and a psychedelic wardrobe reminiscent of Ziggy Stardust-era Bowie.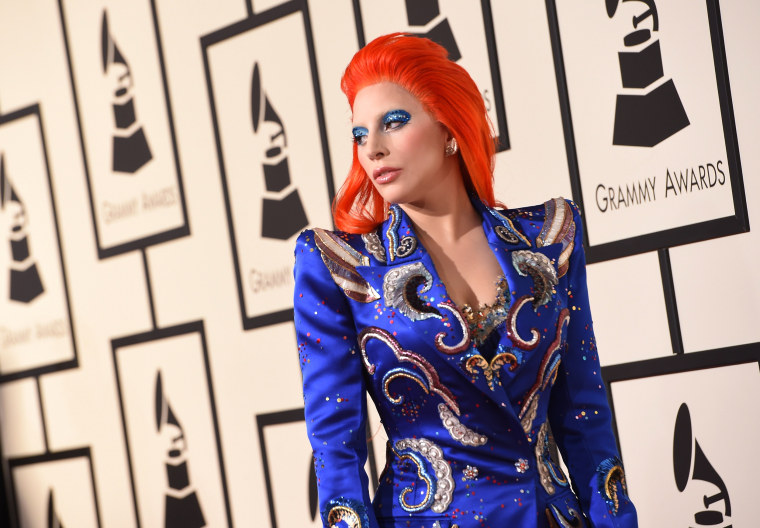 Gaga took her Bowie fandom to another level hours earlier, as a Sunday-afternoon video posted to Twitter showed her apparently getting a tattoo of the late music icon's "Aladdin Sane" album cover above her left hip.
RELATED: 'I lost a hero': David Bowie's death inspires touching celebrity reactions
In a podcast conversation with The Hollywood Reporter recorded days before Bowie's death, Gaga praised the late rocker for his contribution to art, society and her music.
"When I fell in love with David Bowie, when I was living on the Lower East Side, I always felt that his glamour was something he was using to express a message to people that was very healing for their souls," she said, 12 minutes into that podcast. "He is a true, true artist and I don't know if I ever went, 'Oh, I'm going to be that way like this,' or if I arrived upon it slowly, realizing it was my calling and that's what drew me to him. I don't know."
She continued, "I just know that you can use the theater of your imagination to entertain people beyond their wildest dreams, and then you can put something inside of that that changes the world. And that, to me, is when you make something truly great as an artist."
Follow TODAY.com writer Chris Serico on Twitter.