Plastics. Seduction. Mrs. Robinson. Escape.
If you haven't seen 1967's "The Graduate," it's high time you did. The film, which turns 50 this year, is still one of the greatest coming-of-age movies Hollywood has ever made and elevated the careers of everyone associated with it, from director Mike Nichols to stars Anne Bancroft (Mrs. Robinson) and Dustin Hoffman (as the titular graduate Benjamin Braddock) and even Simon & Garfunkel, whose music provided a pitch-perfect backdrop to the unfolding events.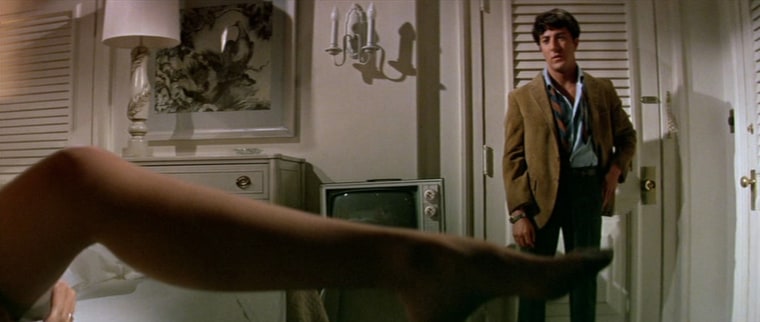 Still, while you may know the song "Mrs. Robinson," have heard lines like "Just one word ... plastics" and "Mrs. Robinson, you are trying to seduce me," and recognize that climactic final scene in the church, which has been re-enacted in shows and movies from "The Simpsons" to "Wayne's World," there's still a lot to learn about the film!
So pull out your pens and pencils and get ready for a little "Graduate" refresher course, courtesy of the film's 90-year-old producer, Lawrence Turman, who spoke to TODAY in honor of the film's anniversary.
1. Dustin Hoffman and Anne Bancroft were not the filmmakers' first choices.
Nichols was excited to have Robert Redford play the role of Benjamin; Turman wanted Doris Day in the Mrs. Robinson part. (And Candice Bergen auditioned for the role of daughter Elaine, but didn't land the job, either.)
Redford was a great actor but bad for the part, explains Turman. "I said, I'd love him, but who's going to believe when he is inept or insecure around a girl? Bob was a skilled, wonderful, intelligent actor doing everything right [in his screen test] but he had such a masculinity and such command and power that in the middle of [watching] the [screen] test Mike Nichols turned to me and said, 'Turman, you son-of-a-bitch, you're right.'"
Day, on the other hand, never got the script: Her husband/manager refused to forward it on to her. "We were obviously quite lucky in our choices," says Turman.
2. The book the film is based on was a flop until it became a movie.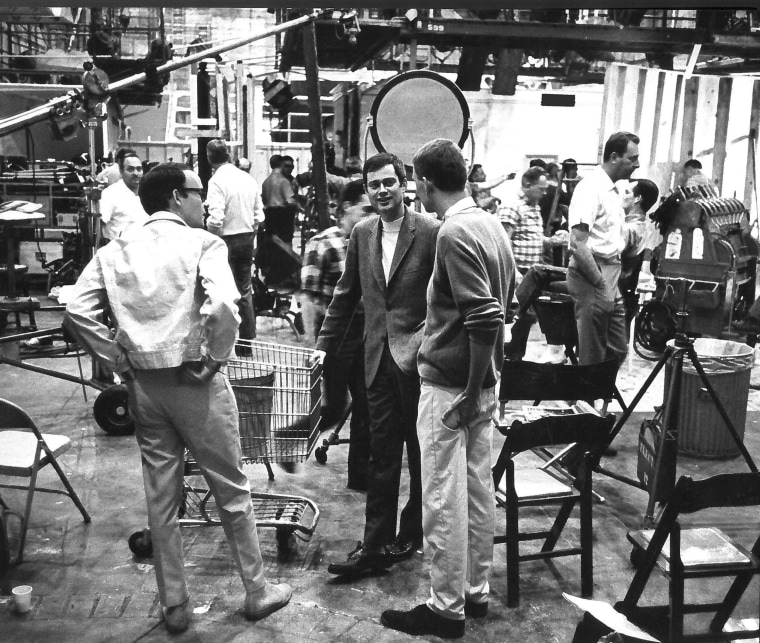 New graduate and aspiring author Charles Webb's debut 1963 novel, "The Graduate," had only sold about 2,000 copies when Turman fell in love with several key scenes and optioned it for $1,000 (not a small amount in those days); eventually Embassy Pictures paid the rest ($19,000) once filming got started. After the movie was a hit, the book sold millions. A sequel, "Home School," was published in 2007, but was not well-received. (Another of Webb's books, 2002's "New Cardiff," was turned into the 2003 film "Hope Springs.")
3. Hoffman and Bancroft were only six years apart in age.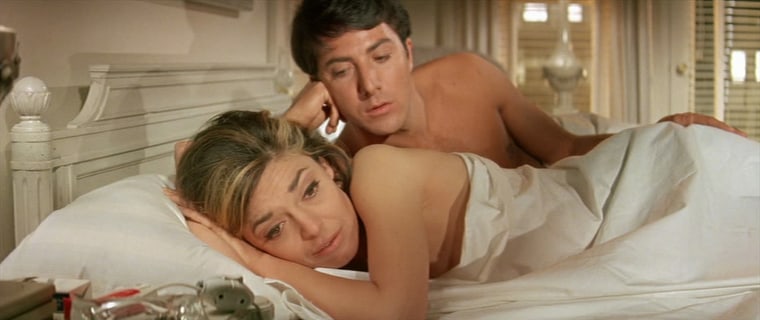 Bancroft might have been playing the mother of the grown young woman Benjamin ultimately runs off with, but the actors were practically peers: Hoffman a 30-year-old actor playing a new college graduate, while Bancroft (who died in 2005) was in her mid-30s at the time of the filming. (Elaine, Mrs. Robinson's daughter, was played by Katharine Ross, who was in her late 20s when the movie came out.)
4. Paul Simon's "Mrs. Robinson" started out as "Mrs. Roosevelt."
Paul Simon and Art Garfunkel were far from new when their 1966 album "Parsley, Sage, Rosemary and Thyme" began to obsess Nichols, but they were open to contributing some of the songs from that album (including "The Sound of Silence" and "Scarborough Fair") to the film. Nichols heard a new song Simon was working on called "Mrs. Roosevelt" and asked if he could change it to "Mrs. Robinson."
"The emotional quality of those songs fit hand in glove with the emotional quality of the movie itself," says Turman. "The stars were aligned."
5. Exactly why the film still feels fresh and relevant is a mystery to its producer.
Even Turman isn't sure why "The Graduate" resonated so strongly, but he does know his $20,000 was money well spent. He recalls that toward the end of filming Life magazine interviewed him and asked about Benjamin; Turman said Benjamin "was me." When the reporter asked Nichols the same question, Nichols gave the same answer. But why did he identify with Benjamin?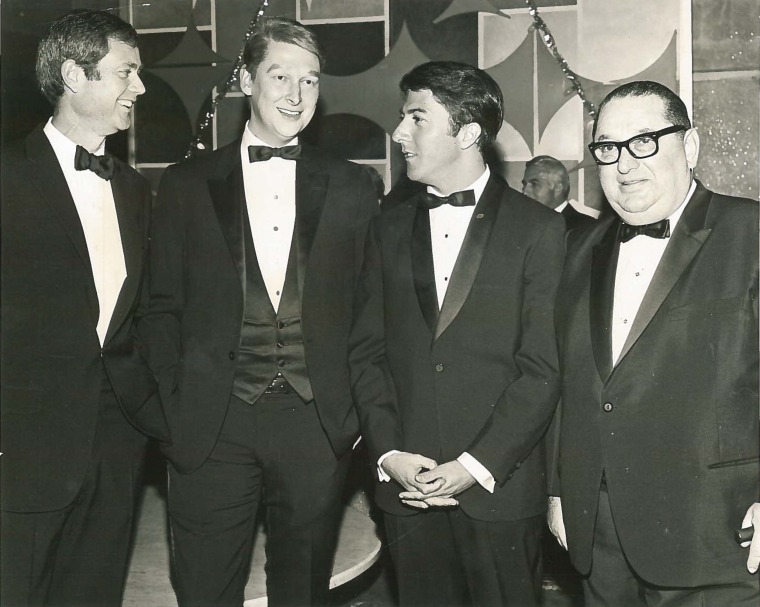 "A touch of perversity," says Turman. "I don't mean sexually with Mrs. Robinson. But there's something ineffable about his character, in that situation."
An all-new 4-K digitally restored version of "The Graduate" will be in theaters on Sunday, April 23, and Wednesday, April 26. Find out if it's in your town by going to Fathom Events.
Follow Randee Dawn on Twitter.