If anyone can recognize a great heartbreak tune, it's Adele. The singer has an incredibly deep well of soul that she draws from for her own hits, from "Rolling in the Deep" to "Hello," so if she's ready to list the six tracks that helped her get over being shattered by love, we're ready to take notes.
As she told People magazine, which published the list, after a breakup, "I mope around for a little while. I do embrace the fact that I'm heartbroken. I don't move on quickly. I don't know if that's because it seems that I'm only really creative when I'm a bit momentarily depressed."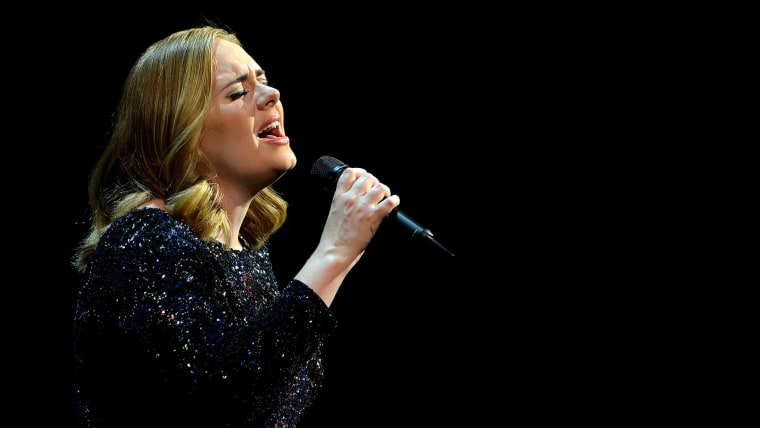 So far as we know, Adele is the opposite of momentarily depressed these days, with a hit record, a superhot concert, a loving significant other in Simon Konecki, and a baby. But listen up! You never know when songs like these will come in handy:
1. Bonnie Raitt, "I Can't Make You Love Me"
"'Cause I can't make you love me if you don't/You can't make your heart feel something it won't," sings Raitt from her 1991 hit. Adele clearly loved it so much she covered it live.
MORE: Adele burps onstage at Glastonbury, blames it on a 'dirty burger' (and it's so charming)
2. Mumford & Sons, "After the Storm"
"But there will come a time, you'll see, with no more tears/And love will not break your heart, but dismiss your fears," sang Mumford & Sons on their album "Sigh No More" from 2009.
3. Florence + The Machine, "Cosmic Love"
"No dawn, no day, I'm always in this twilight/In the shadow of your heart," sang Florence + the Machine on their single from 2010.
4. David Gray, "This Year's Love"
"This years love had better last," insists Gray in a tune that's less about wallowing in one's sorrows than protecting yourself against the next heartbreak. The song was first released in 1999 and was featured in an episode of "Dawson's Creek."
5. Katy Perry, "Not Like the Movies"
"I didn't feel/The fairy tale feeling, no/Am I a stupid girl/For even dreaming that I could," crooned Perry on the ballad, released in 2010.
MORE: Facebook users' top breakup songs revealed
6. Etta James, "All I Could Do Was Cry"
"Oh, I saw them holding hands/She was standing there with my man/I heard them promise 'til death do us part/Each word was a pain in my heart," sang the legendary James in this wrenching tune from 1960, which Beyoncé made fresh again when she sang it in 2008's "Cadillac Records."
An incredible selection! Now excuse us, we have to go curl up under a blanket with a pint of ice cream and listen to every one of these again.
Follow Randee Dawn on Twitter.