Kristen Bell might have voiced "Gossip Girl's" iconic "XOXO" voiceover for the past six years on the CW series, but who was actually the writer behind the juicy dirt that wreaked havoc on the Upper East Side?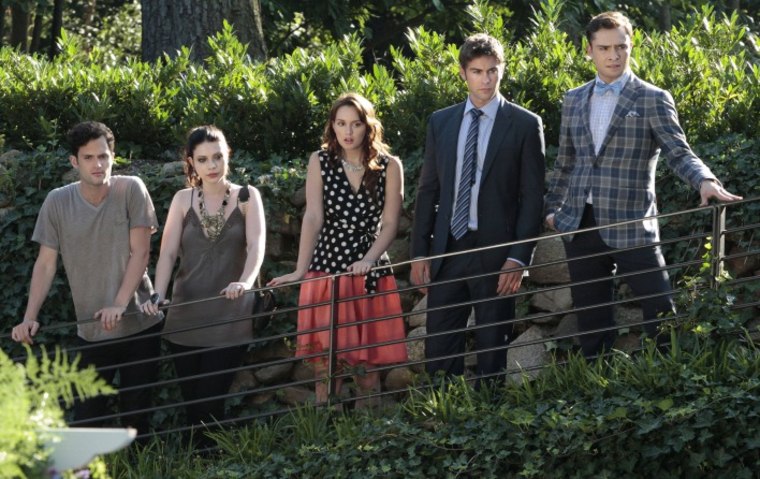 (SPOILER ALERT!) 
Photos from AH: Blake Lively: From Hollywood To The Upper East Side! 
Monday's series finale was filled with a slew of major events, including two weddings: Blair (Leighton Meester) married Chuck (Ed Westwick) and Serena (Blake Lively) married Dan (Penn Badgley) – but the biggest twist happened when we learned that Gossip Girl actually turned out to be a Gossip Guy! 
Penn Badgley's Dan Humphrey character (AKA Lonely Boy) was the person behind the blog. 
Photos from AH: Penn Badgley: From 'Gossip Guy' To Big Screen Star 
"The Upper East Side was like something from Fitzgerald or Thackeray – teenagers acting like adults, adults acting like teenagers, guarding secrets, spreading gossip all with the trappings of truly opulent wealth. And membership into this community was so elite you couldn't even buy your way in. It was a birthright – a birthright that I didn't have. And my greatest achievements would never earn it," Dan is heard saying in a voiceover. 
"All I had to compare it to was what I read in books. But that gave me the idea: I wasn't born into this world ... maybe I could write myself into it. I overheard enough conversations to mimic the voice of the Constance girls, but every writer needs his muse and it wasn't until that photo of Serena in the white dress that I knew I had something strong enough to actually create a legend and launch a website. 
"Within weeks I was getting dozens of emails with stories about Upper East Siders, so I posted them anonymously. And then I got more. Before long it was a monster. Everyone was sending tips ... When Serena came back from boarding school, I wrote my first post about me, Lonely Boy, the outsider, the underdog. I might have been a joke but at least people were talking about me." 
Photos from AH: 'Gossip Girl' Bad Boy Ed Westwick 
The news was met with some of the show's trademark drama. 
"Gossip Girl ruined our lives," Blair said. "He schemed and lied and spread horrible stories." 
Photos from AH: 'Gossip' Guy Chace Crawford 
Serena appeared at peace with the revelation, saying, "What he did was … write a love letter and not just to me, to all of us. It made me realize that I don't want to run away, that you guys are my family. I belong here. And so does Dan." 
"I guess that means it's all over now," Blair added. "That we can all grow up and move on." 
"Yeah," Dan said. "Gossip Girl's dead." 
Dan's version of Gossip Girl might be over, but is there a new blogger just waiting to dish the dirt? 
As the viewers saw a crop of new high-school students, Kristen Bell's voiceover returned, saying, "You may be rid of Dan Humphrey, but you'll never be rid of me. There's always someone on the outside. ... Who am I now? That's one secret I'll never tell." 
Were you surprised that Dan was the blogger? What did you think of the finale overall? Tell us on our Facebook page!
More in The Clicker: