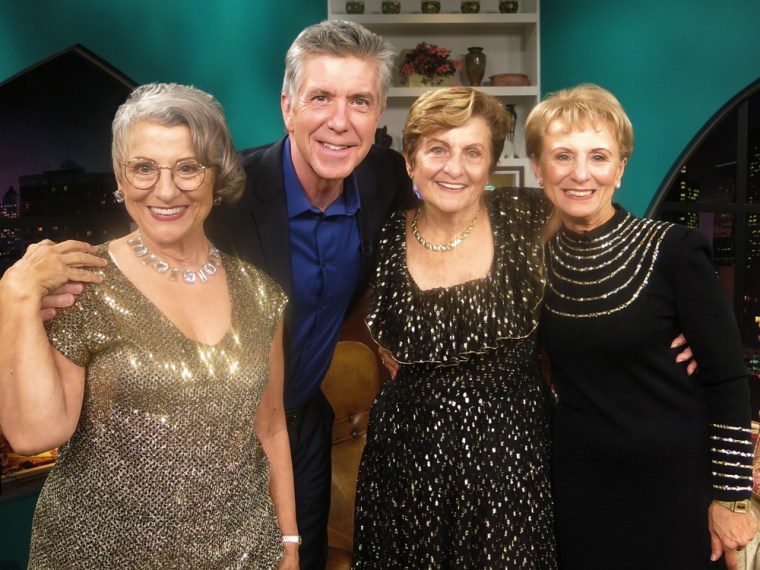 It's almost time to say so long to 2013, but before the year's out, OWN's "Golden Sisters" will give it an appropriate celebrity send-off with their "2013 Countdown: Best Pop Culture Moments." Of course, not every big moment of the year could make the cut.

At least one huge headline hit after the production on the special was over, and TODAY spoke to Mary Bartnicki, Josie Cavaluzzi and Teresa Dahlquist to get their take on the one that got away — the hubbub surrounding "Duck Dynasty's" Phil Robertson and his recent anti-gay and racially charged comments to GQ.
"Oh, what a jerk!" Teresa said at the mention of the show's family patriarch.
But while the "Duck Dynasty" gang are standing together in the face of the controversy, the gals from the "Golden Sisters" aren't in agreement.
"I don't think he said anything wrong," Mary said. "He just quoted the Bible. ... Oh, my God! I love that whole family."
Josie had something to say about that.
"Hey, Mary, in the Bible it also says 'judge not,' so the Bible is contradictory," she countered. "It says 'judge not' and then they judge gays. … So I think they were 100 percent wrong."
Josie even offered an easy solution to such celebrity PR problems.
"I think if you're going to hurt people, keep your mouth shut," she said.
Maybe Robertson will make the sisters' list for next year. As for the other stars they expect to see top the list of pop culture talkers in 2014, the sisters believe it will mostly be more from the same familiar names.
"I think Justin Bieber will continue having scandals," Teresa mused.
"Jennifer Aniston — she's gonna get dumped," Mary predicted.
"I think it will still be Miley Cyrus," Teresa added. "She's not finished making headlines."
But if Miley's going to make headlines for more of her undressed antics, Josie has some advice for her too.
"Keep your clothes on," she said. "I would say keep your parts covered."
Once again, it's a topic that the divides the sassy siblings.
"I think Miley Cyrus could give us advice, with what she did and how she moves," Mary insisted. "Oh, my God! In fact, I really, really love Miley. I can't see her doing anything wrong. She's just a beautiful little sweetheart."
"I agree with that," Teresa said backing up her 82-year-old big sister. "(Miley's) young, and she's having a lot of fun. She's pushing the envelope. And if she's in the nude ... we've seen that in museums. It's not such a big deal. I love Miley Cyrus."
One thing that unites the ladies is their take on celebrities giving their babies wacky names. It's a practice that seems unlikely to slow down anytime soon, and none of them are fond of it. When they learned that Kate Winslet and Ned Rocknroll named their new son Bear, the women had something to say about that.
"Now all his friends are going to make fun of him," 74-year-old Josie guessed. "That is mean."
"It's not mean, Josie," twin Teresa said. "It's just they don't use their brains."
See what else the sisters have to say when they stop by TODAY Friday morning, and catch the "Golden Sisters 2013 Countdown: Best Pop Culture Moments" Dec. 27 at 10 p.m. on OWN.