What do Tatiana Maslany,Michael Sheen, and Andy Samberg have in common besides their Golden Globe nominations? They can say the Golden Globes really, really liked them before the Emmys did.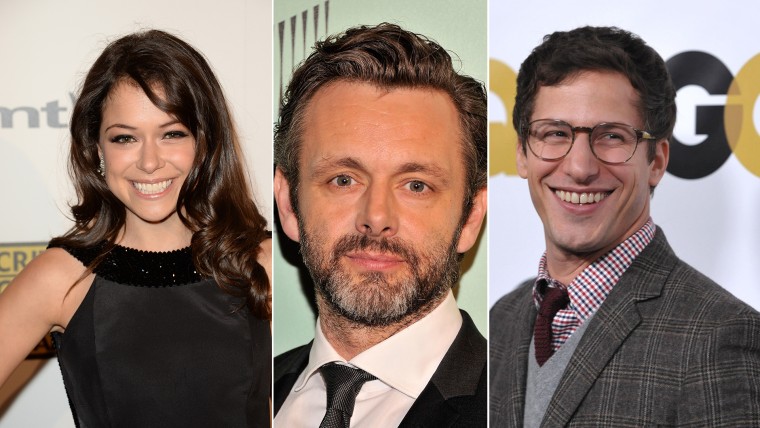 The Globes have a time-honored tradition of picking certain TV shows and actors to recognize before the Emmys. Neither Samberg, the star of Fox's "Brooklyn Nine-Nine," or Sheen, the lead in Showtime's "Masters of Sex," were eligible for Emmys this fall, which makes them all the more attractive to the Hollywood Foreign Press Association, which gives out the Globes.
In Maslany's case, the nomination is more about correcting a wrong. The Canadian actress, who plays seven different characters who are often in scenes together on BBC's "Orphan Black, sparked a critical outcry when the Emmys snubbed her this year. All is better in her world now.
But the Globes aren't perfect. With only five nominations in each category and some categories that encompass both drama and comedy, it's easy to come up with a long list of misses. "The Americans" on FX, for one. Or HBO's "Game of Thrones." 
What other choices did the awards show known for its surprises make?
Samberg's "Brooklyn Nine-Nine" was the only freshman comedy to make the cut for best comedy, although its sister show, NBC's "Parks and Recreation," was also nominated for the first time. Michael Schur and Dan Goor of "The Office" produce both shows. "Girls," which won last year, was nominated again.
Along with Sheen's nomination, Showtime's "Masters of Sex" was included in the best drama race. But actresses Lizzy Caplan and Allison Janney, both riveting in these roles, were weirdly left out. Netflix gambled by pitting "House of Cards" and "Orange is the New Black" against each other (many insiders believed "Orange" would be entered as a comedy) and only "House of Cards" was nominated.
James Spader, star of NBC's "The Blacklist," was the only lead actor on broadcast television recognized. Last year's winner Damian Lewis of "Homeland" was left out.
In the lead dramatic actress race, Julianna Margulies was the only nominee who was also recognized last year. Like her "Homeland" co-star Lewis, last year's winner Claire Danes was also snubbed. The new nominees include Kerry Washington of ABC's hot "Scandal," and Netflix's Robin Wright of "House of Cards" and Taylor Schilling of "Orange is the New Black."
The exclusion of Louis C.K., who was nominated last year, was a surprise in the lead comedy actor category. But it made room for beloved actor Michael J. Fox, star of "The Michael J. Fox Show" on NBC.
Golden Globe winner Edie Falco was the only new face for best comedy actress, replacing Tina Fey. Falco was last nominated in 2011.
In another move that corrects an Emmy wrong, Monica Potter was recognized for her heart-wrenching work on NBC's "Parenthood" last year. 
The Golden Globes show will air on NBC on Jan. 12.