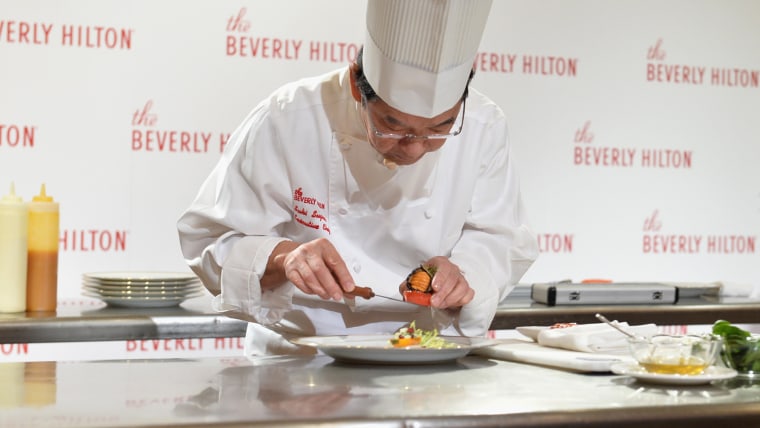 The Golden Globes Awards, which celebrates its 71st anniversary this Sunday on NBC, is the biggest dinner party of the year. 

Unlike more formal award shows, the Golden Globes nominees are seated at tables, enjoying a full meal (and lots of bubbly) while the hosts — Tina Fey and Amy Poehler have the honors again this year — heckle them from the stage.

The executive chefs of the Beverly Hilton, the Golden Globes' home for the past four decades, recently unveiled the "golden" menu enjoyed by the year's best in television and film.
The appetizer, explained executive chef Suki Sugiura, is served in three "compartments": grilled eggplant with sun-dried tomatoes, pine nuts, and hummus on seared tomato; a mini sweet pepper with feta cheese, pomegranate, herbs and California olive oil on grilled pita; and a grilled artichoke on multigrain tabbouleh and tahini. 
The entrée, created by executive sous chef Chris O'Connell, is an elegant surf 'n' turf: Mediterranean spice-crusted braised beef short rib and sautéed smoked filet of Atlantic trout, with spinach, sweet corn ragout and a light cream of tomato dill sauce. 
Finishing the gold-themed meal is a "gusto mango" dessert, featuring an almond sponge cake with crème Anglaise and tropical compote, topped with a gold-dusted chocolate arc. 
Nervous nominees will have lots of liquid courage on the table: Moet & Chandon Grand Vintage 2004 will flow throughout the meal, with over 125 cases of Brut magnums on hand, as well as Terrazas chardonnay and Malbec.

Knowing that some Hollywood palates can be particular, do the chefs make any special menu concessions?
"We do," O'Connell told TODAY. "For any event we do we're very conscious, first of all, about allergens. We have a lot of gluten free, 'non-allergeny' seafood. (And) when we do a vegetarian dish, we try to make it gluten-free and vegan to take care of everything in one shot."
The special dishes are just as tasty as the main offerings. "The days of boiled vegetables and steamed spinach are over," the chef said. "We do a lot of fun stuff. My banquet chef and I came up with a vegan moussaka, so we do the grilled eggplant, we use coconut milk and thicken it with corn starch or soy almond milk, and layer it with various vegetables."
Although they don't know ahead of time just how many people will request the vegan option, "We have a pretty good formula on the size of the group. In an event like the Golden Globes, say we seat 1300 people, we'll probably do 150-160 vegan/vegetarian dishes." 
The chefs consider the meal a success "when the room is quiet (and) you know people are eating," laughed O'Connell.

But in the case of many Hollywood actresses who watch — instead of eat — their calories, are the chefs' feelings hurt they don't touch their plates?
"No," he insisted, adding graciously, " As long as you come and have a great time, and you walk away with a great experience, it's a win for me." 
Catch all the winners of the 71st Annual Golden Globe Awards Sunday live coast-to-coast on NBC, starting with the pre-show at 7 p.m. ET.