In some ways, 1996 doesn't seem like it was 20 years ago. Some of that year's Golden Globe Award winners, including Brad Pitt and Nicole Kidman, remain A-list properties today.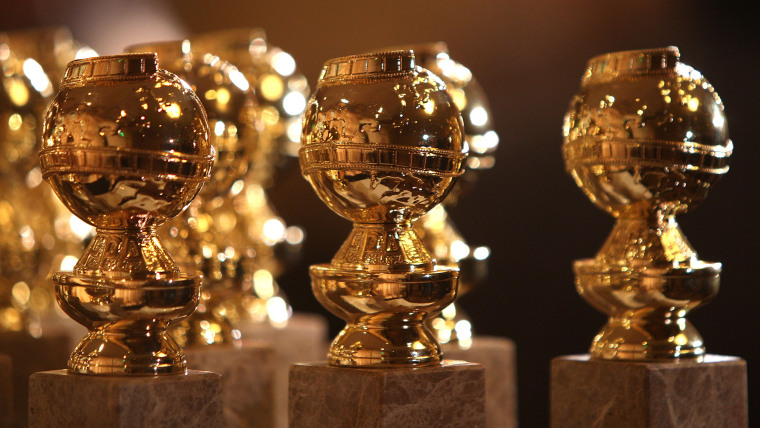 But upon further review, clips and photos from that ceremony hearken back to a time when the late, great Dick Clark was infatuated by Sharon Stone's "cellular phone."
TODAY.com flashes back to recap the 10 most memorable moments from the 53rd annual Golden Globe Awards, held Jan. 23, 1996.
10. Check out that intro, whose retro copy has a Movietone feel, and whose montage of arriving stars includes Fran Drescher wearing a full bouquet atop her head.
That headpiece at the 36-second mark is almost enough to distract the viewer from a group of fans, who appear three seconds later, on a Beverly Hilton hotel room balcony overlooking the action to offer a "gown rating" to passing celebrities. That may be the closest thing to a live-action Twitter, which wouldn't be founded for another decade.
9. While reading nominees for best actor in a TV drama, Dennis Franz announces a brown-haired George Clooney, who just looks happy to be there; mispronounces the last name of David Duchovny, who jokingly is upset about it; and celebrates a win for "NYPD Blue" cast mate Jimmy Smits.
There's barely a gray hair on Clooney's head, but even then he seems to own the room.
8. While interviewing Sharon Stone, who seemed shocked to win best actress in a dramatic film for "Casino," executive producer and unofficial host Dick Clark seems captivated by the fact that she'd just used her "cellular phone."
Clark appears disappointed that they didn't capture Stone's wireless phone call on camera, then asked, "Is it impolite to ask who you were calling?" Stone replies that she'd called her "best friend," actress Mimi Craven.
7. In an annual ceremony that typically features a Miss Golden Globe, Freddie Prinze Jr. is a rare Mr. Golden Globe.
In a tradition that has honored children of one or more Hollywood icons since 1962, Prinze Jr. shares 1996 duties with a Miss Golden Globe, Jaime Nicole Dudley.
RELATED: See 8 celebrity kids who have been Mr. or Miss Golden Globe — and the 2016 pick
6. Nicole Kidman's acceptance speech for her leading role in "To Die For" begins with a supportive laugh from then-husband Tom Cruise, whom she credits for "such tender love and happiness."
Kidman's acting achievements aside, there's an inherent sadness to this clip, in retrospect. After 10 years of marriage, Cruise filed for divorce in February 2001.
5. The cast of "Friends" looks especially '90s.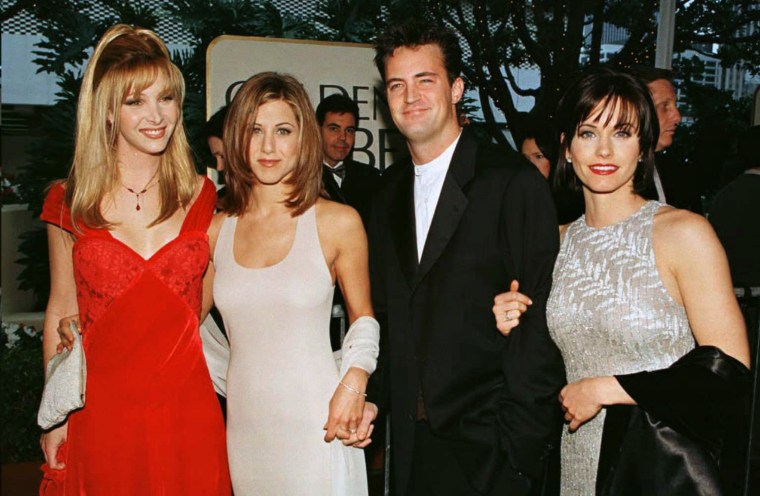 Looking like the very embodiment of 1996 has its charms, but it doesn't result in a win that year for best musical or comedy series. "Friends," "Seinfeld," "Frasier" and "Mad About You" lose that category to "Cybill," which also yields a best-actress award for star Cybill Shepherd.
4. "Party of Five" wins best TV drama, which, um, is an interesting choice.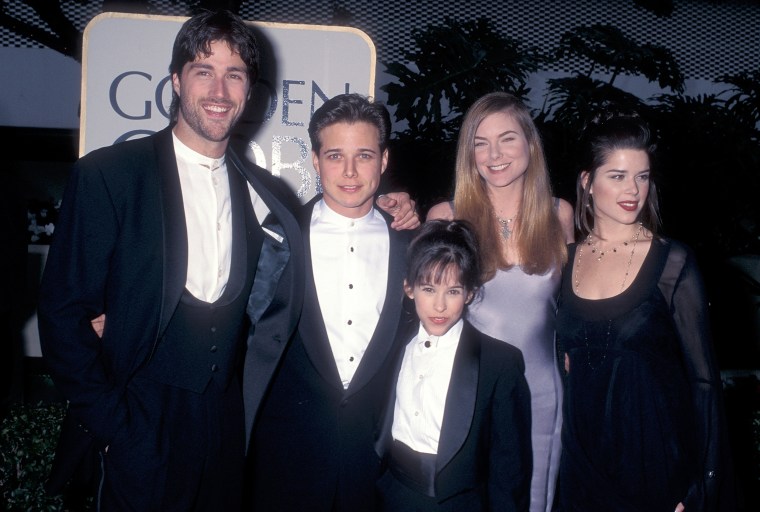 "Party of Five" was up against "Chicago Hope," "ER," "Murder One" and "NYPD Blue," so that win is a bit of an upset, but the Golden Globes are known for making more divergent picks than, say, the Oscars. Almost as surprising is the win for best film in the musical or comedy category, as fans of the pig-centric "Babe" go hog-wild for its win over "Get Shorty," "Sabrina," "The American President" and "Toy Story."
3. "12 Monkeys" star Brad Pitt thanks "the makers of Kaopectate" while accepting the Golden Globe Award for best supporting actor in a film.
While revealing a bit too much about his digestive system, Pitt sports a gigantic protruding collar that looks like a "Saturday Night Fever" costume worn by John Travolta — who, for his performance in "Get Shorty," also wins a Golden Globe in 1996.
2. Sean Connery accepts the Cecil B. DeMille Award for lifetime achievement and declares, "I prefer my audiences stirred, not shaken."
The original cinematic 007 says he can relate to the legendary movie producer and director for which the award is named. "[Demille] was one of those who knew the secrets of successful film-making," Connery says. "He understood the audience's natural attraction to themes with great moral issues, messages — and with a lot of sex and violence."
1. Channeling Jane Austen, Emma Thompson delivers a hilarious speech while accepting the best screenplay award for "Sense and Sensibility," which would also win for best dramatic film.
Envisioning how the 19th-century English novelist might perceive that year's ceremony, Thompson — who'd won an Oscar three years earlier for her acting in "Howards End" — transforms her 1996 Golden Globes acceptance speech into another engaging work of fiction. If there were a Golden Globe category for best speech, Thompson would have had to prepare another one the following year.
Follow TODAY.com writer Chris Serico on Twitter.