The 75th Annual Golden Globes ceremony, hosted by Seth Meyers, included a heavy dose of politics and protest at Hollywood's biggest yearly party.
The free-spirited Globes, which kick off Hollywood's awards season by honoring the best in film and television, are a who's who of A-listers — and on Sunday night, many of them opted to wear black. The monochromatic look, spearheaded by the newly launched Times Up coalition, united stars in protest against sexual misconduct and discrimination in Hollywood and other industries.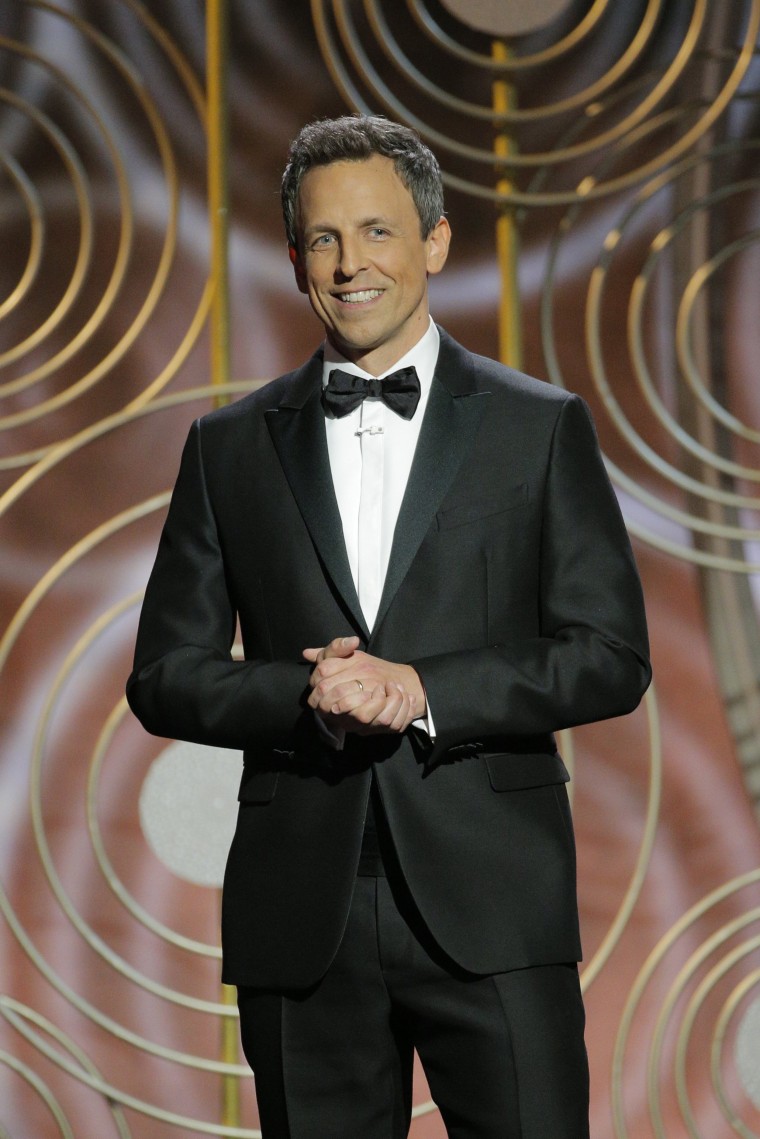 Meyers' hilarious monologue
Host Meyers found fresh ways to be funny amid all the sexual misconduct furor — and the prickly political climate — in his opening monologue.
"It's 2018. Marijuana is finally allowed and sexual harassment isn't," the late-night funnyman joked to thundering applause.
"A lot of people thought it would be more appropriate for a woman to host these awards and they may be right," Meyers told viewers, "but if it's any consolation I'm a man with absolutely no power in Hollywood."
Meyers held nothing back while skewering Hollywood's accused harassers, including actor Kevin Spacey and disgraced Hollywood mogul Harvey Weinstein, who, joked Meyers, would one day be "the first person booed in the In Memoriam."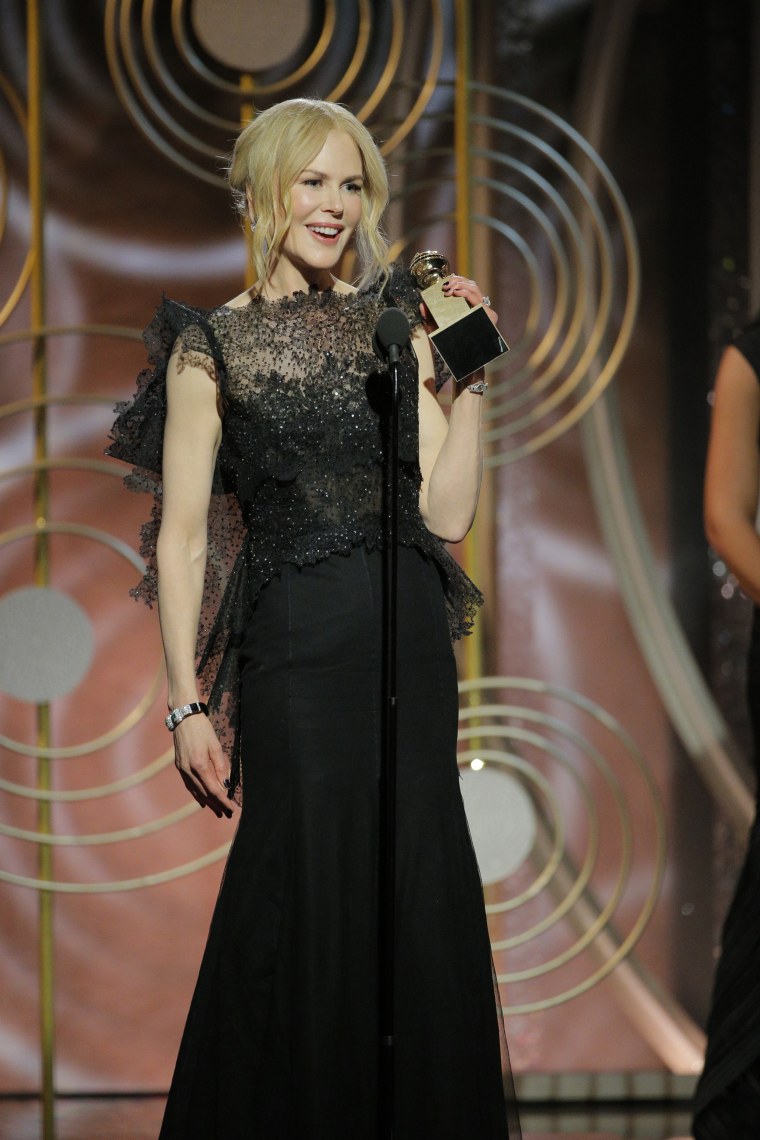 Big wins for 'Big Little Lies'
Nicole Kidman won the night's first award, for Best Actress in a Limited Series or TV Movie, for her role as Celeste in HBO's "Big Little Lies." Kidman celebrated "the power of women" by thanking her female co-stars, especially series producer Reese Witherspoon.
"We did this because of our friendship, our creative union and our support of each other, and I love you," Kidman said, addressing Witherspoon in the audience.
Kidman's male co-star Alexander Skarsgard picked up the award for Best Actor in a Supporting Role in a Series, Limited Series or TV Movie.
Laura Dern also won the award for Best Actress in a Supporting Role in a Series, Limited Series or TV Movie for her role as Renata on the show.
Late in the evening, "Big Little Lies" nabbed the award for Best Television Limited Series or TV Movie.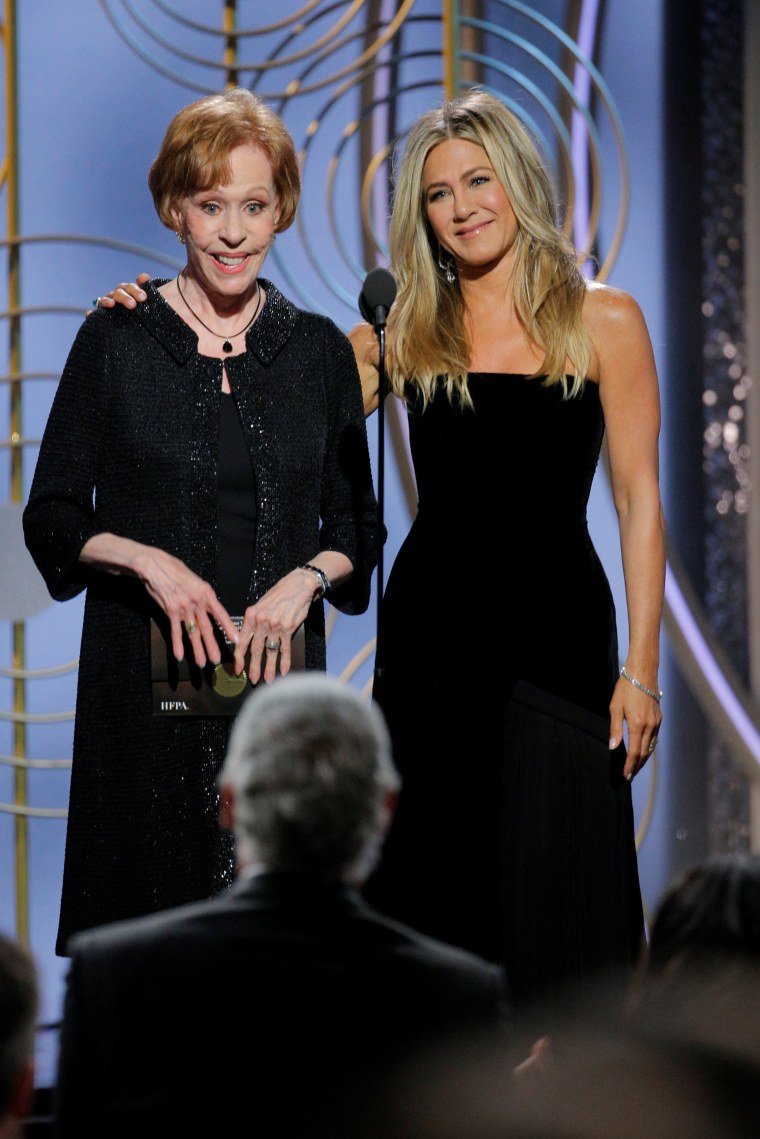 A standing ovation for Carol Burnett
Legendary TV funny lady Carol Burnett took to the stage with "Friends" alum Jennifer Aniston to present a pair of awards to television actresses. Aniston gushed that Burnett was her idol, to which Burnett, hilariously deadpan, responded, "I'm happy that you're coming back to television. 'Will & Grace' was one of my favorite shows."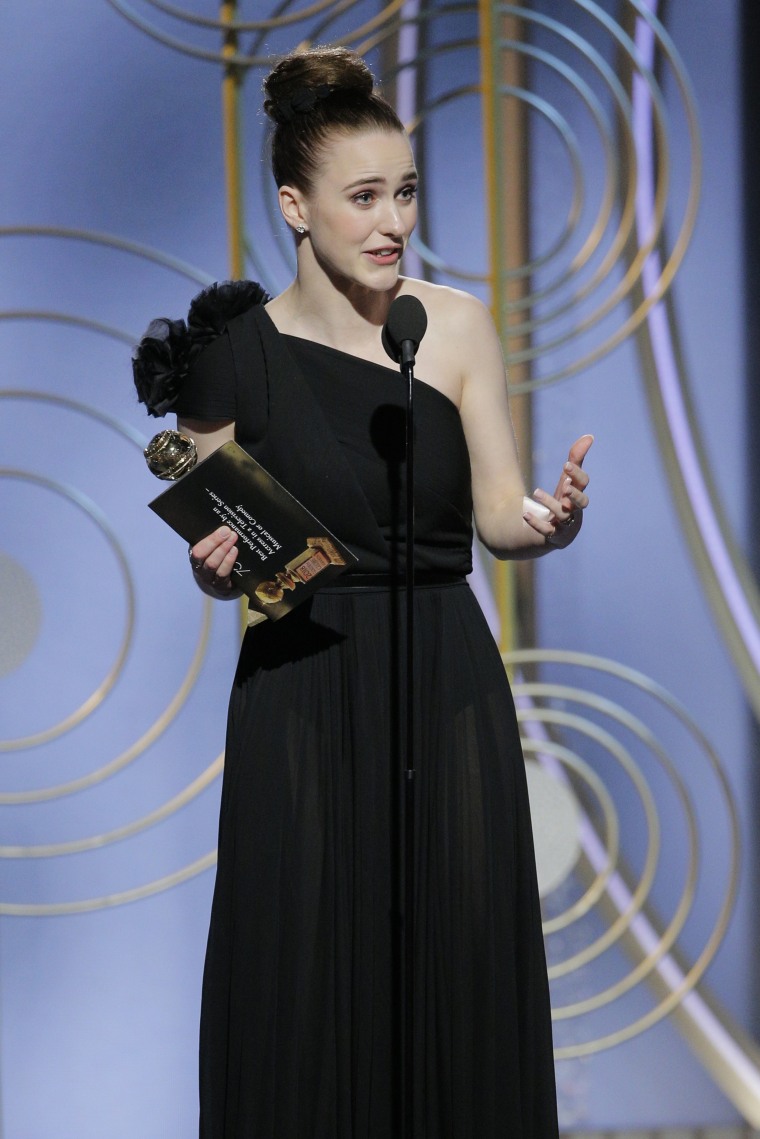 A celebration of women
Kidman's "power of women" sentiment echoed throughout the night.
Talented Rachel Brosnahan, star of "The Marvelous Mrs. Maisel," nabbed the award for Best Actress in a TV Series —Musical or Comedy for her role as Midge, a housewife who pursues a career in stand-up comedy in the 1950s.
"This is a story about a bold and brilliant and complicated woman and I'm endlessly proud to be a part of it. But there are so many women's stories out there that still need and deserve to be told," Brosnahan said in her acceptance speech. "So, as we enter this new year, please let's continue to hold each other accountable and invest in and make and champion these stories."
"The Marvelous Mrs. Maisel" also picked up the award for Best TV Series — Musical or Comedy.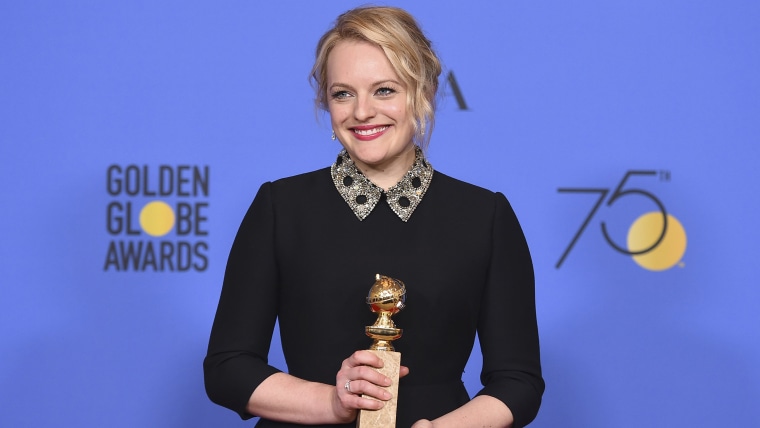 "The Handmaid's Tale" star Elisabeth Moss accepted her award for Best Actress In A Television Series Drama with a similar sentiment. "We are the story in print and we are writing the story ourselves," said Moss.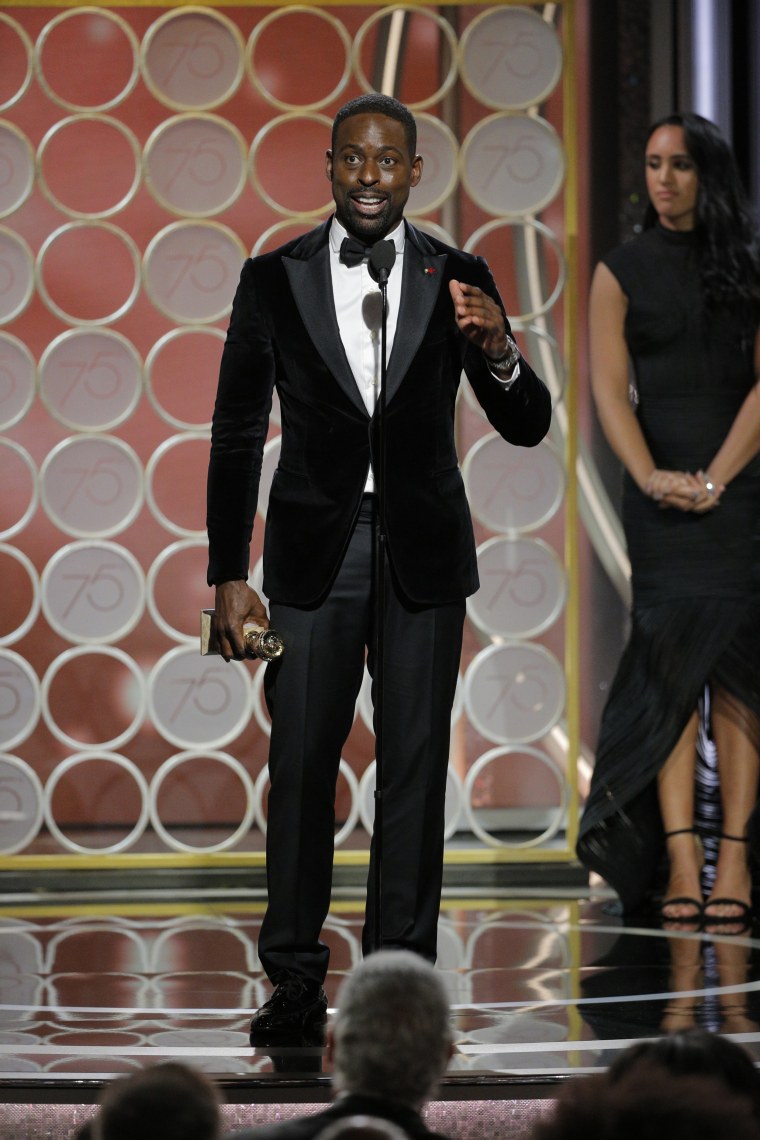 Sterling K. Brown wins for 'This Is Us'
Sterling K. Brown picked up the award for Best Actor In A Television Series — Drama by thanking show creator Dan Fogelman. "You wrote a role for a black man. That can only be played by a black man. I'm being seen for who I am," said Brown.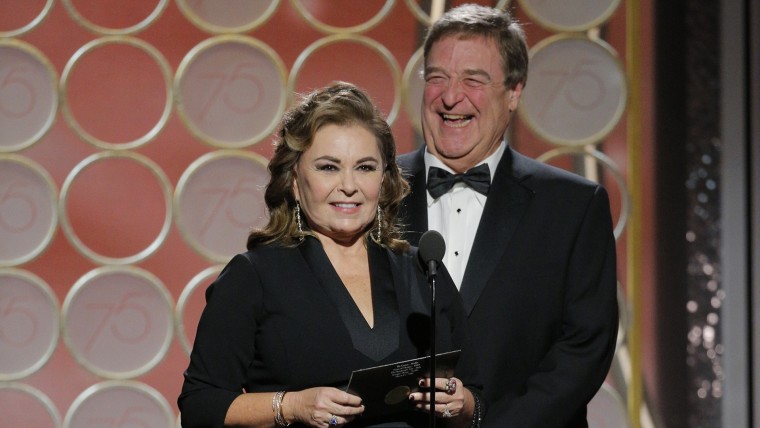 'Roseanne' reunion
The crowd roared when reunited "Roseanne" cast mates Roseanne Barr and John Goodman took to the stage to present the award for Best Television Series — Drama to "The Handmaid's Tale."
Earlier on the red carpet, Barr told TODAY's Al Roker that she was excited about ABC's upcoming "Roseanne" revival: "It's a time for laughter, and we hope we give them some."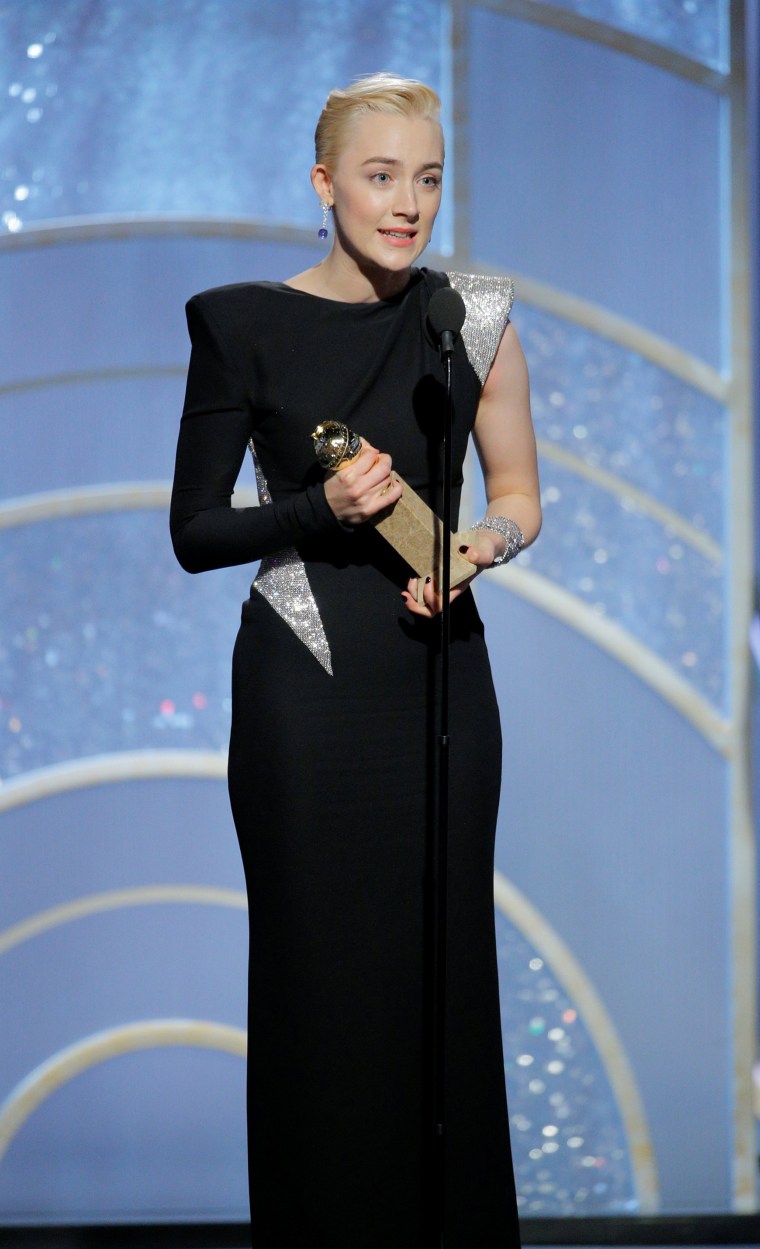 Saoirse Ronan wins a Best Actress award
Young "Lady Bird" star Saoirse Ronan won in the Best Actress in a Motion Picture —Musical or Comedy, beating out Hollywood heavyweights including Helen Mirren and Judi Dench.
"Lady Bird," directed by Greta Gerwig, also won the award for Best Motion Picture — Musical or Comedy.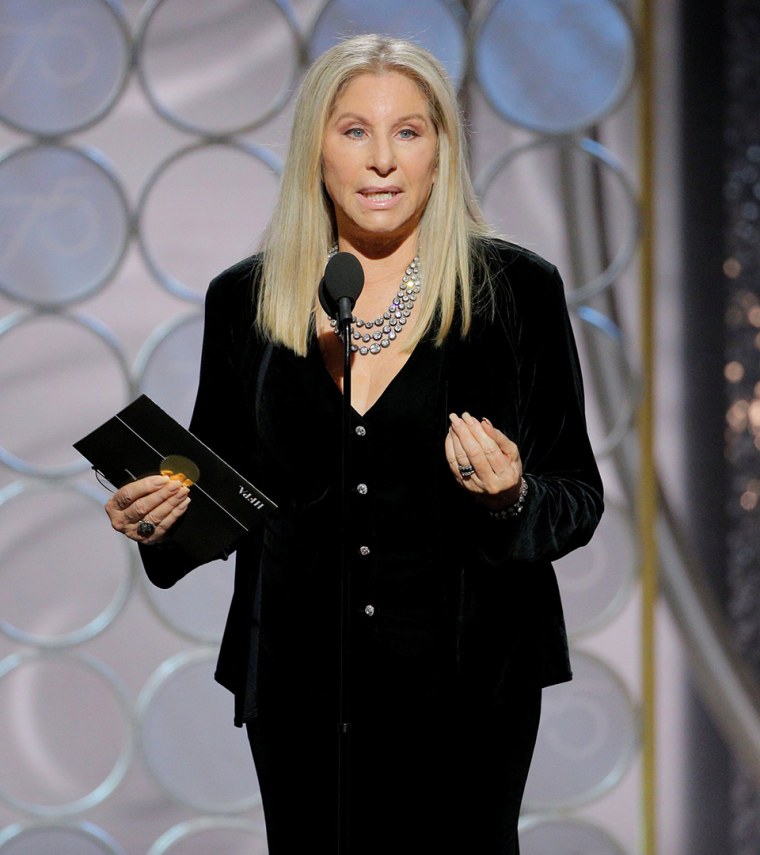 Barbra Streisand says "Time's Up"
Just before Barbra Streisand presented the Best Movie — Drama award to "Three Billboards Outside Ebbing, Missouri," she discussed the fact that she is the only woman to ever be given the Golden Globe award for Best Director (for 1983's "Yentl.")
"That was 34 years ago?" Streisand said in disbelief. "Folks, time's up!"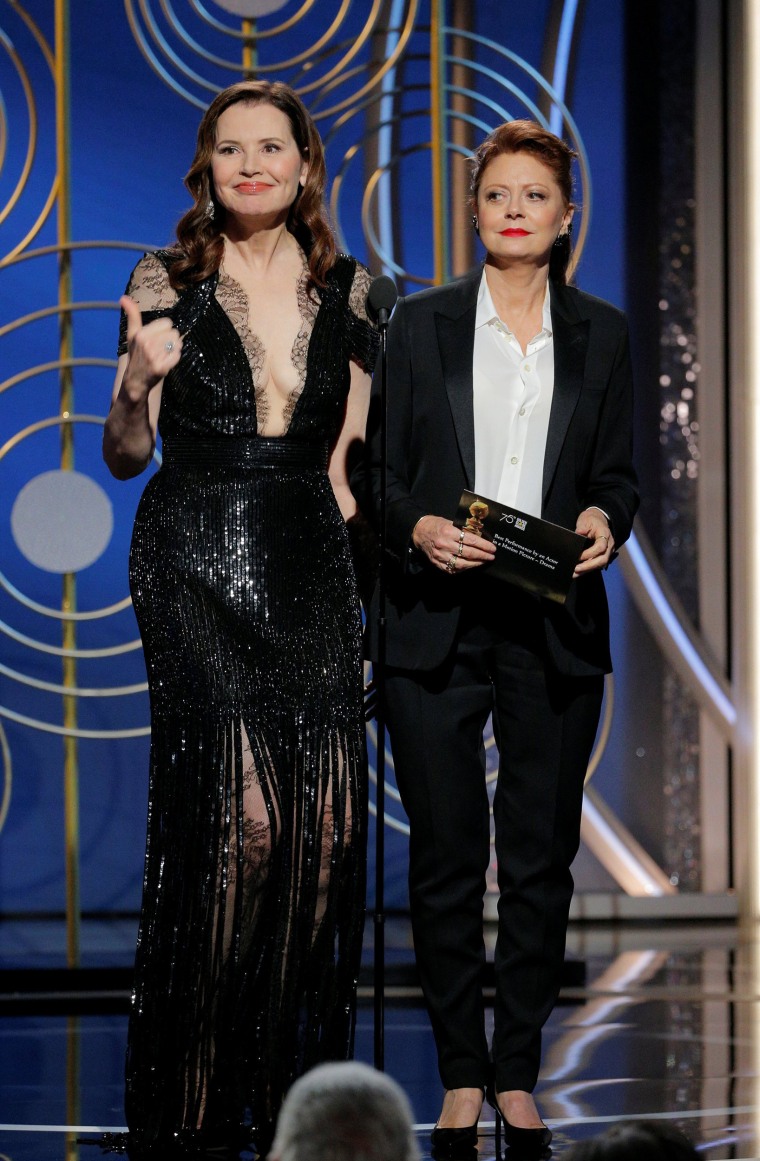 The return of Thelma & Louise
Susan Sarandon and Geena Davis, stars of the 1991 movie "Thelma & Louise" reunited to present the Best Actor in a Motion Picture — Drama award.
"These five nominees agreed to give half their salaries back so the women can make more than them," joked Davis.
The winner? Gary Oldman for "Darkest Hour."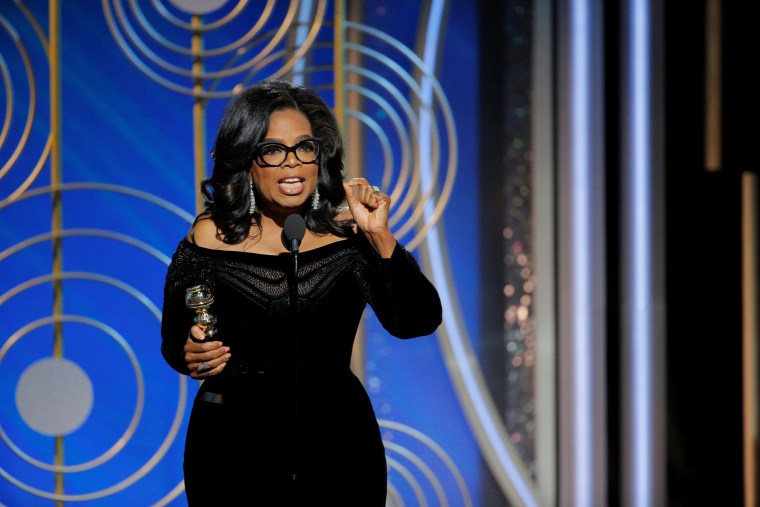 Oprah Winfrey receives the 2018 Cecil B. DeMille Award
Reese Witherspoon presented the prestigious Cecil B. DeMille Award to her "A Wrinkle In Time" co-star Oprah Winfrey. Witherspoon gave a heartfelt speech gushing about Winfrey's hugs, her wisdom, and her "powerful contributions to the world of film and television."
"You've changed our lives," Witherspoon told the star, sitting in the audience.
Winfrey accepted the award by revealing how powerful it was for her as a young black girl watching Sidney Poitier become the first black actor to win an Academy Award for Best Actor in 1964. "I had never seen a black man being celebrated like that," she said.
"In 1982, Sidney received the Cecil B. DeMille Award right here at the Golden Globes," Winfrey continued. "And it is not lost on me that at this moment, there are some little girls watching as I become the first black woman to be given the same award."
Winfrey's speech then turned rousing, as she encouraged viewers to "speak their truth" and expressed gratitude to women everywhere who endured abuse and injustice and were unable to speak out.
"I want all the girls who are watching here and now to know that a new day is on the horizon!" she said.