Many of Hollywood's biggest stars mingled, drank and toasted to the year in entertainment at Sunday's Golden Globe Awards, which marked the return of Ricky Gervais as host — and big wins for "The Revenant," "The Martian" and "Mr. Robot."
11:04: "Thank you, I'm afraid that's it," Ricky Gervais says as the credits roll. "We're out of time. For myself and Mel Gibson, shalom."
11:02: Harrison Ford announces that "The Revenant" is the night's final (and biggest) winner, as it claims best picture in the drama category — and its third Golden Globe of the evening.
RELATED: Golden Globe winners 2016: See the full awards list
10:55: In what may be the precursor to his first Academy Award victory, Leonardo DiCaprio wins best actor in a motion picture drama ("The Revenant"). "This film was about survival, it was about adaptation, it was about the triumph of the human spirit, but more than anything it was about trust," he says while accepting his third Golden Globe. "And there's no one more deserving of that trust than our director, Alejandro González Iñárritu." He concludes by thanking "first-nations people represented in this film, and all the indigenous communities around the world."
10:52: Brie Larson wins best actress in a motion picture ("Room"), and thanks friends, family members and Hollywood types, then adds, "I'm sorry to anyone I forgot; I'll write you a thank-you card."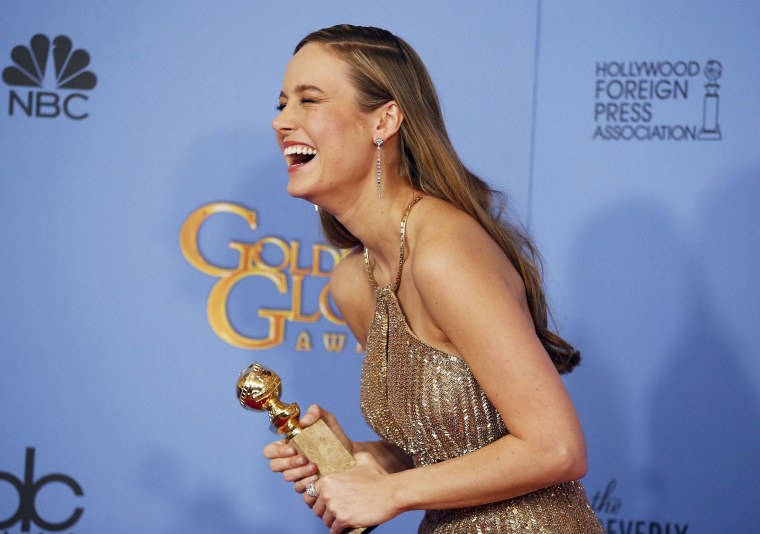 10:43: "The Martian" wins best motion picture in the alleged comedy category. Director-producer Ridley Scott accepts the award and goes way over his allotted acceptance-speech time, which probably doesn't win him any new fans among people who like comedies that are, you know, comedies.
10:41: "Thank you, I am two-time Golden Globe winner Jim Carrey," says two-time Golden Globe winner Jim Carrey. "When I go to sleep at night, I'm not just a guy going to sleep; I'm two-time Golden Globe winner Jim Carrey going to get some well-needed shut-eye." And so on.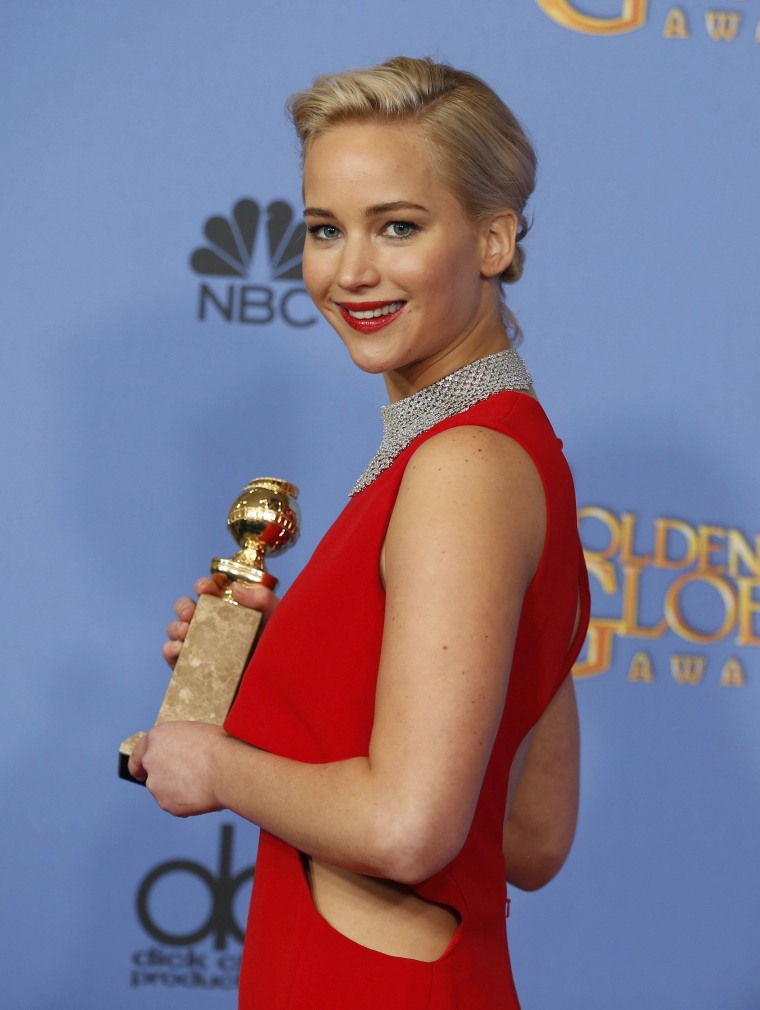 10:32: Jennifer Lawrence wins her third Golden Globe Award, this time for her comedic work in the movie "Joy," and thanks director David O. Russell, who directed all three movies that yielded those wins. "You make movies like you don't even care if anyone ever sees them," she says. "I mean that as a compliment."
RELATED: Golden Globes red carpet 2016: The best-dressed celebrities
10:25: "Cookies for everyone tonight!" says Taraji P. Henson, who distributes literal cookies to Leonardo DiCaprio and other celebrities on the way to accepting the award for best actress in a dramatic TV series ("Empire"). When she sees she's being asked to wrap her speech, she protests, "I waited 20 years for this. You can wait!"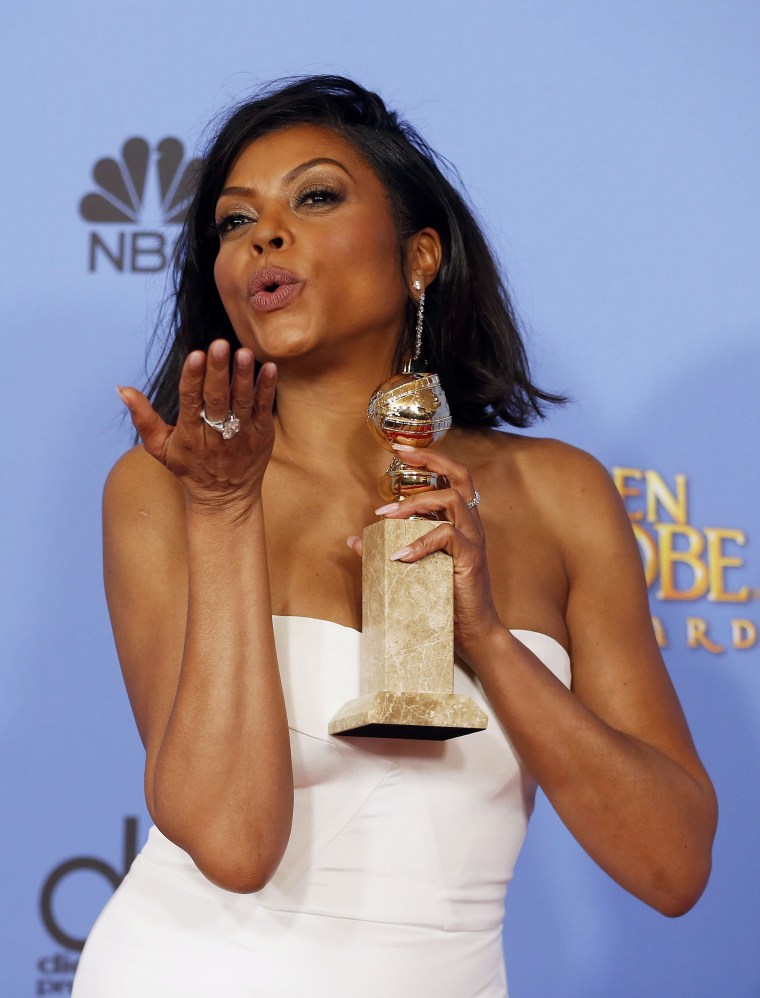 10:23: Alejandro González Iñárritu wins best director, for the movie "The Revenant." He says every film is difficult to make, but adds, "pain is temporary, but a film is forever."
10:21: "Our next presenter is the most respected actor in the room," an exhausted Gervais reads off a card. "That isn't saying much. Please welcome Morgan Freeman."
10:13: After an incredible montage of Denzel Washington's greatest movies (and "2 Guns"), his speech is extemporaneous, as, without his glasses, he struggles to read what he'd written. He thanks family members, Hollywood big-wigs and the Hollywood Foreign Press, "who have always made me feel like a friend or part of the party."
10:07: Tom Hanks presents his "Philadelphia" co-star, Denzel Washington, with the Cecil B. DeMille Award for lifetime achievement: "If Washington doesn't ring out loud enough, then let the first name carry all the weight — and that first name is Denzel."
9:55: "Mr. Robot" wins its second Golden Globe of the evening, this time for best TV drama.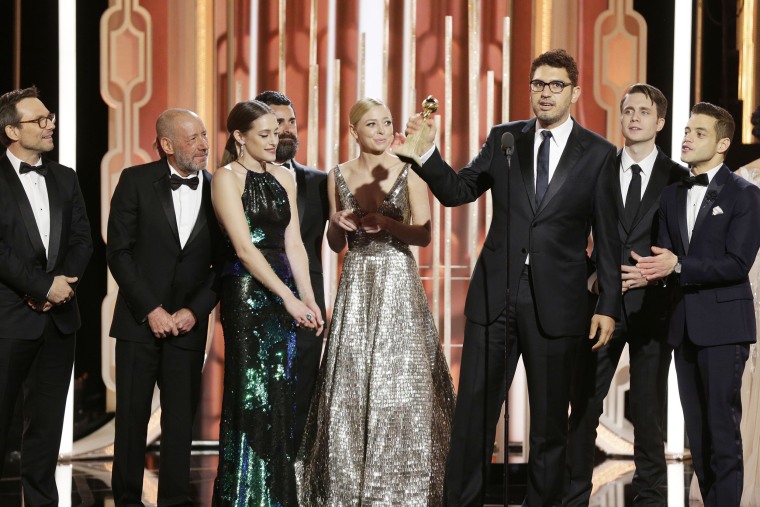 9:53: Gervais finds himself in the "awkward position" of having to introduce Mel Gibson, something he infamously did a few years ago. Having a laugh, Gervais says, "I blame NBC for this terrible situation; Mel blames, well, we know who Mel blames. … I'd like to say something nice about Mel before he comes out [on the stage]: I'd rather have a drink with him, in his hotel room, tonight, than with Bill Cosby." After Gervais gives him a hug and removes his beer from the podium, Gibson fires back: "I love seeing Ricky once every three years, 'cause it reminds me to get a colonoscopy."
9:51: It may not have been as popular as Adele's "Skyfall," but the Sam Smith-performed "Writing's on the Wall" is the latest James Bond theme song to win a Golden Globe. Among other nominees, it beats out "See You Again," perhaps the sentimental favorite, as "See You Again" aided "Furious 7's" tribute to the late Paul Walker.
RELATED: Vin Diesel sings sweet Paul Walker tribute at People's Choice Awards
9:43: Celebrating "one of the greatest moments of my life," Lady Gaga gets emotional when she wins best actress in a TV miniseries or TV movie for her work on FX's "American Horror Story: Hotel."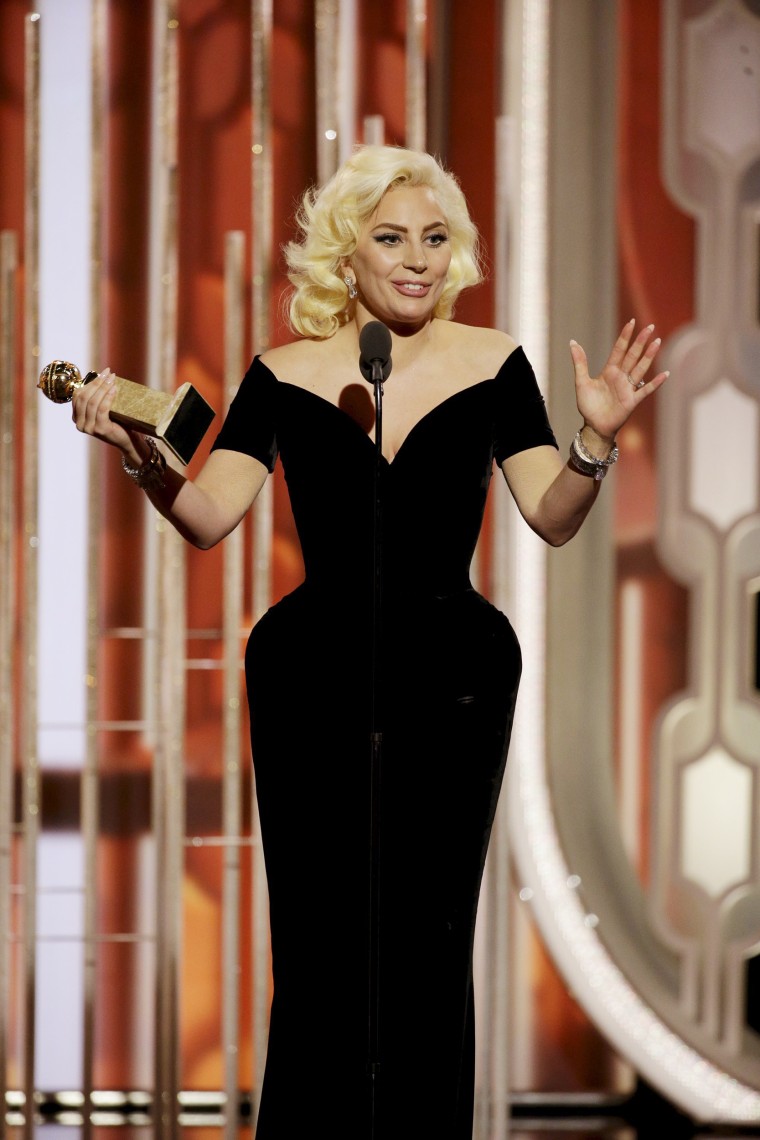 9:39: Helen Mirren is happy to announce that Hungary's "Son of Saul" wins for best foreign-language film, in part because it marks the first time that country has produced a film to win that award. "The Holocaust has become, over the years, an abstraction; for me, it's more a face, a human face," writer-director László Nemes says. "Let us not forget this face."
9:32: Gael García Bernal wins the night's second award for Amazon's "Mozart in the Jungle," this one for best actor in a TV comedy.
9:29: "Steve Jobs" writer Aaron Sorkin wins for best movie screenplay. "Honest to God, I thought I had as much chance of winning the screenplay award tonight as I had of winning best actress in a musical," he says.
9:19: For best supporting actor in a motion picture, Sly Stallone knocks out the competition with his first Golden Globe win. "I'm going to try not to get emotional, because I am the sum total of everyone I've ever met, and I'm lucky I've absorbed some of it," Stallone, who won for his performance in "Creed," says. After thanking his wife and his colleagues, he closes his speech with a shout-out to his most famous role: "I'm going to thank my imaginary friend for being the best friend I ever had."
9:15: Pixar's "Inside Out" wins for best animated film. Not to be confused with "Joy," the Golden Globe-nominated live-action movie starring Jennifer Lawrence, it's a big win for Joy, the "Inside Out" character voiced by Amy Poehler. (Sorry, Sadness.)
9:05: Matt Damon wins the award for best actor in a motion-picture comedy or musical, as "The Martian" which is a bit of a controversial pick as, well, it's not a comedy in the traditional sense — as Gervais noted earlier in the broadcast. "It's literally been 18 years since I've been here [accepting a Golden Globe]," he says, "and with a little more context, I know how lucky I am to do this for a living."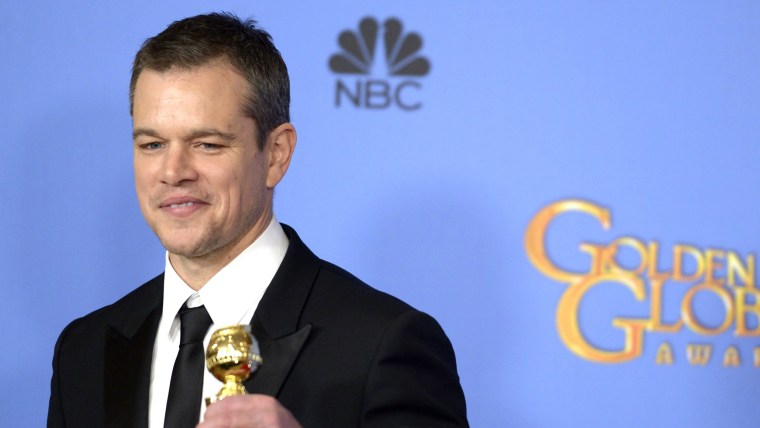 9:03: After Jennifer Lawrence introduces herself as J.Law and Amy Schumer decides she's "A.Schu," Lawrence declares celebrity nicknames must come naturally. J.Law asks co-presenter, and recent BFF, Schumer what people usually call her. Schumer's answer is censored from the broadcast, but viewers get the picture. Admits Lawrence, "We can forget about that, but that's true."
RELATED: Jennifer Lawrence, Amy Schumer win our hearts at the Golden Globes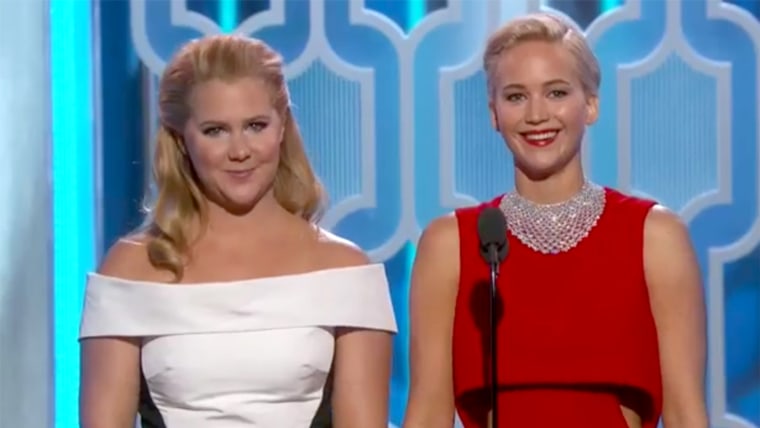 8:57: For his final work on AMC's "Mad Men," Jon Hamm wins his second Golden Globe — but just the first televised win, as the first one wasn't broadcast due to the Writers' Guild strike. He thanked series creator Matthew Weiner and added, "Thank you for not taking my suggestion and ending the entire series on Chumbawamba. You picked the right song."
8:54: "Eva Longoria and America Ferrera aren't just beautiful, talented actresses," Gervais says, beside a mostly empty glass of beer. "They're also two people who your future president, Donald Trump, can't wait to deport."
8:53: Jamie Foxx has high praise for Miss Golden Globe, who just happens to be his daughter, Corinne.
RELATED: See 8 celebrity kids who have been Mr. or Miss Golden Globe — and the 2016 pick
8:51: For best original score in a motion picture, presented Jamie Foxx goes full Steve Harvey. "And the winner is 'Straight Outta Compton,'" says Foxx, who's clearly joking as that wasn't a nominee. "I'm sorry, folks, I made a mistake. It's right here on the card. I take full responsibility." The real winner, as it turns out, is Ennio Morricone for "The Hateful Eight," and Quentin Tarantino accepts.
8:48: For his work on the instant cult-favorite, "Mr. Robot," Christian Slater wins his first Golden Globe. "Hi, Harrison," he says, likely referring to Harrison Ford as this is apparently the 10-minute span in which all "Star Wars" stars must be honored. "Thank you, Hollywood, for letting me do what I love to do for the last four decades," he adds.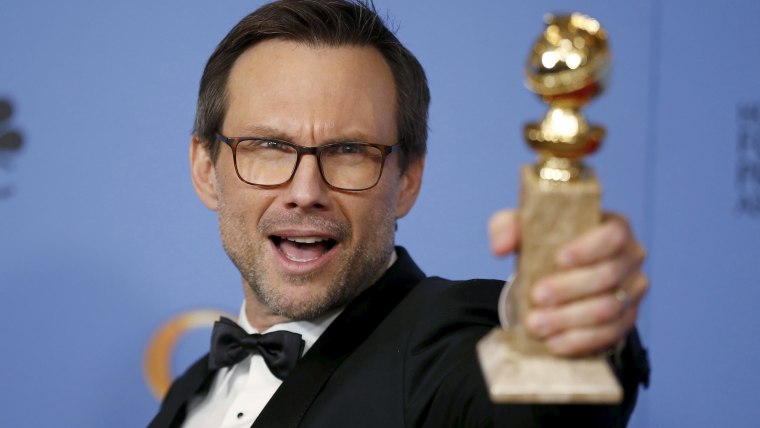 8:40: After "Wolf Hall" wins for best TV-movie or miniseries, Oscar Isaac takes the trophy for best actor in a TV minseries or movie, thanks to his outstanding work on HBO's "Show Me a Hero." (His subsequent appearance in "Star Wars: The Force Awakens" couldn't have hurt his chances, either.)
8:26: "Mozart in the Jungle" wins for best TV comedy, in case you needed a reminder you were watching the Golden Globes. Your friend who watches it probably thinks it's good, and the Hollywood Foreign Press Association agrees.
8:23: An ecstatic Rachel Bloom wins the award for best actress in a TV comedy for her work on The CW's "Crazy Ex-Girlfriend," then tells the audience how the show almost never aired.
8:14: Maura Tierney wins for best supporting actress in a TV series or TV movie for her work on "The Affair."
8:10: Kate Winslet wins for best supporting actress in a motion picture ("Steve Jobs"). "What an incredible year for women in film," she says, earning audience applause. "These categories, they're so crowded and crammed with incredible skill and integrity, and I feel prouder than ever this year to be included."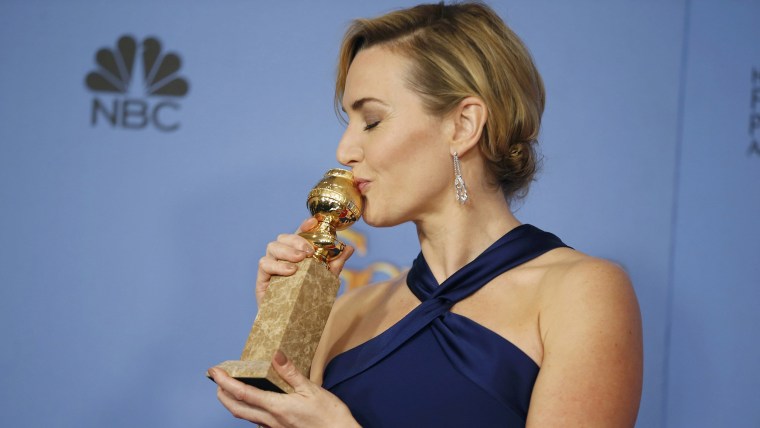 8:06: "Jennifer Lawrence made news when she demanded equal pay for women in Hollywood, and she received overwhelming support from people everywhere," Gervais notes. "There were marches on the street with nurses and factory workers saying, 'How the hell can a 25-year-old live on $52 million?' … I'm getting paid exactly the same as Tina [Fey] and Amy [Poehler] did last year for hosting. I know there was two of them, but it's not my fault if they want to share the money, is there?"
8:02: "I've changed," Gervais says, "Not as much as Bruce Jenner, obviously, now Caitlin Jenner, of course. What a year she's had: She became a role model for trans people everywhere, showing great bravery in breaking down barriers and destroying stereotypes. She didn't do a lot for women drivers."
RELATED: Ricky Gervais goes for cutting laughs, personal jabs as Golden Globes host
8:00: "Shush, shut up," Gervais says while reprising his role as Globes host for the first time in four years. The creator and star of the British version of "The Office" endeared himself to some and offended others when he emceed the ceremony from 2010 to 2012. He took over for Tina Fey and Amy Poehler, who co-hosted the event from 2013 to 2015.
RELATED: TODAY goes to the Golden Globes: See Matt, Savannah and more hit the red carpet
Follow TODAY.com writer Chris Serico on Twitter.